Agents of S.H.I.E.L.D, la Serie Tv statunitense targata Marvel, creata per la ABC da Joss Whedon, Jed Whedon e Maurissa Tancharoen e basata sull'agenzia di spionaggio S.H.I.E.L.D. (Strategic Homeland Intervention, Enforcement and Logistics Division) dei fumetti Marvel Comics, ha ottenuto un successo planetario, ed è ormai giunta alla quarta stagione.
Moltissimi fan, ovviamente, si chiedono cosa succederà al programma e se Agents Of  S.H.I.E.L.D riuscirà ad ottenere la Green Light anche per una quinta stagione.
Anche Jeph Loeb, produttore della Serie del gruppo Marvel TV, spera in un rinnovo di Agents of S.H.I.E.L.D. per una quinta stagione da parte di ABC. Scambiando alcune parole con TVLine, ad un evento di presentazione di Marvel's Cloak & Dagger e Marvel's New Warriors, il produttore non ha speso molte parole a proposito, ma è stato piuttosto diretto, dicendo: "speriamo in un rinnovo".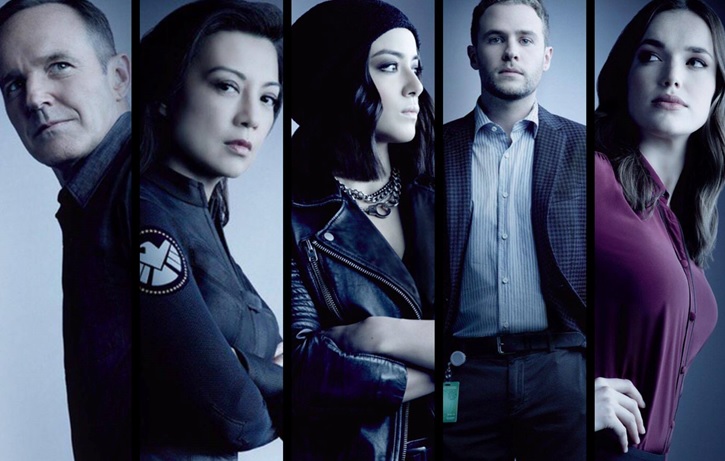 Al momento, il Network ABC ha confermato rinnovi solo per Serie TV come Grey's Anatomy, Scandal, Le Regole del Delitto Perfetto e The Middle.
Agents of S.H.I.E.L.D ha aperto la sua quarta stagione con 3.4 milioni di spettatori, scendendo a due milioni nel mese di febbraio, ma ha mantenuto una buona media con 2.4 milioni di spettatori durante tutto il corso degli episodi.
Anche il presidente di ABC, Channing Dungey, durante un'intervista, ha voluto dire la sua sulle prossime uscite di Marvel Television e cosa aspettarci da Marvel's Agents of SHIELD.
Guardate, siamo molto fiduciosi. La produzione della stagione 4 di Agents of S.H.I.E.L.D. è stata creativamente la più difficile. Gli episodi sono sempre migliori e più forti. Siamo voluti passare dal 9 al 10 e stiamo cercando, ogni giorno, di mantenere quel 10, vogliamo che lo spettatore sia convinto di tornare tra 7 giorni non al 100% ma al 110%
Quindi quando le è stato chiesto direttamente sul futuro della serie, Dungey ha risposto di essere molto fiduciosa sul fatto che Agents of SHIELD avrà una quinta stagione. Ecco le sue parole:
Assolutamente. Sono veramente contenta di SHIELD, e siamo anche eccitati per le prossime produzioni che abbiamo con Marvel, ABC Studios e IMAX che stiamo preparando per il prossimo autunno.