Amanti di Harry Potter e di Game of Thrones, una grande notizia vi aspetta. Sembra che presto rivedremo in azione due volti noti ai fan di queste famosissime saghe cartacee, rese (con successo), sul grande e piccolo schermo. Ron Weasley (Rupert Grint), il braccio destro di Harry Potter, e Ramsay Bolton (Iwan Rheon), il non troppo simpatico abitante del Nord, si ritrovano insieme in un progetto particolare, "Adolf the Artist".
Il film in questione viene descritto come un film satirico che ha come protagonista proprio lui, Adolf Hitler. La storia racconterà le vicende di un giovane Adolf, molto lontano ancora da politica, dittatura e guerra. Non tutti forse sanno che, da ragazzo, Hitler desiderava diventare un artista. Nel 1907, a diciotto anni, provò ad entrare all'Accademia di Belle Arti di Vienna, ma venne rifiutato. Ci riprovò ancora l'anno successivo, trasferendosi addirittura nella grande città per vivere in mezzo ad altri artisti. In cerca di riconoscimenti per il grande talento che lui era convinto di possedere, sperava in questo modo di riuscire a maturare il proprio stile e ad affinare le proprie capacità. Si ritrovò così immerso in un mondo fatto di droghe, alcool e sesso, in cui però non si ritrovava del tutto.
"Adolf the artist" seguirà da vicino la storia di Adolf, le sue insicurezze nel dover ridare l'esame di ammissione e i tentativi per realizzare il suo sogno di diventare un grande artista. Come sappiamo, purtroppo, le cose sono poi andate diversamente. Potrebbe però essere interessante vedere altri lati più nascosti di una delle personalità più controverse della storia, scoprire le sue origini e cosa sarebbe potuto essere.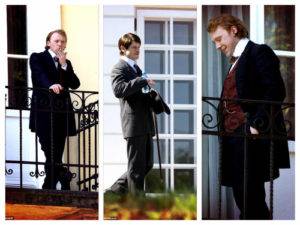 Iwan Rheon interpreterà Adolf Hitler, mentre Rupert Grint sarà August "Gustl" Kubizek, un musicista e amico d'infanzia di Hitler. Il film debutterà su Sky Arts, ma nessuna data d'uscita è stata ancora confermata. Siamo sicuri che, dopo la magnifica interpretazione del sadico Ramsay, Iwan sarà in grado di rendere alla perfezione un altrettanto complesso personaggio.