L'articolo che segue non contiene spoiler sulla prima stagione di The Crown.
L'abbiamo già detto nella recensione dedicata a chi ha già visto la prima stagione, ma è giusto ribadire il concetto: The Crown non è il solito period drama. Netflix ha vinto una sfida difficile, proponendo una versione di Elisabetta II d'Inghilterra e dei primi anni del suo regno che non avremmo mai immaginato di poter vedere. Un ritratto intimo, senza fronzoli. Fortemente legato alla realtà dei fatti, senza particolari licenze. Se avete voglia di dedicare una decina di ore della vostra vita alla scoperta dei mille volti che può assumere la nobiltà in un'epoca nella quale è sempre meno contestualizzabile, The Crown è la serie tv che fa al caso vostro.
Dal re che abdicò alla giovane regina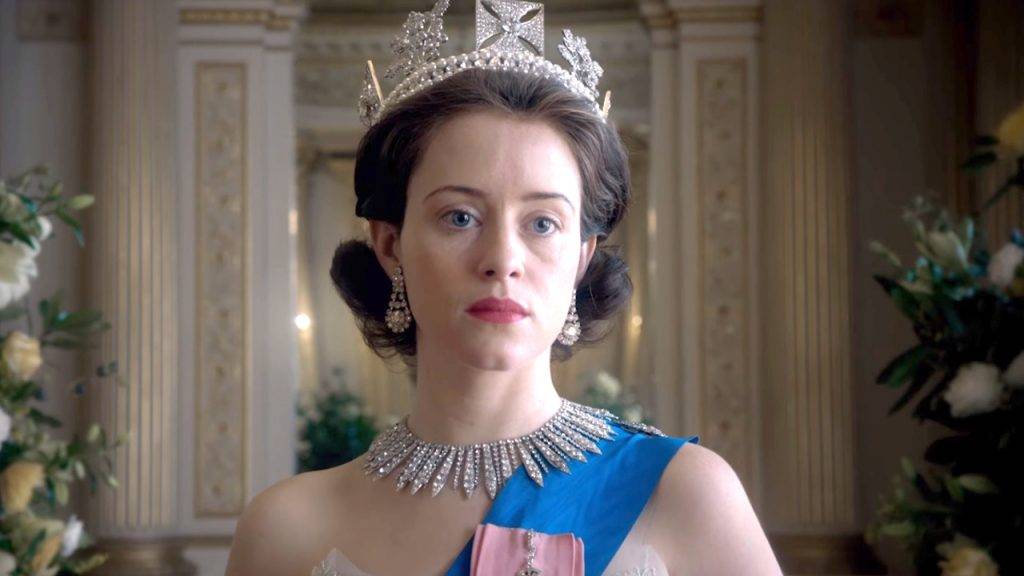 L'arco narrativo della prima stagione va dal 1947, anno nel quale la giovane Elisabetta sposò Filippo Mountbatten, al 1955. In questo periodo emergono con forza le difficoltà della nuova regina, succeduta nel 1952 al padre Alfred, nell'affrontare gli oneri della Corona, a metà strada tra la disgregazione del vecchio Impero e la ricerca necessaria di modernità. Elisabetta deve vedersela con l'ultimo Winston Churchill, monumento vivente di un Paese appena uscito dalla II Guerra Mondiale che non vuole cedere il passo alle nuove generazioni, con la sorella Margaret, associabile per molti versi allo zio Edward, re per un anno nel 1936 prima di abdicare per amore, e con l'evoluzione del rapporto col marito Filippo, incapace di accettare pienamente un ruolo da subalterno di lusso.
The Crown scava dentro la personalità di ognuno dei personaggi, mai tratteggiati con superficialità. La Storia corre ma resta quasi sullo sfondo, lasciando spazio alle difficoltà di una Corona che cerca una nuova identità compatibile con le tradizioni imprescindibili. La maestosità degli ambienti ricostruiti grazie ad un ricchissimo budget (Netflix ha investito la bellezza di 100 milioni di euro, record assoluto per l'azienda californiana), fa emergere la solitudine dei protagonisti, divisi indelebilmente tra il cognome che portano e l'umanità che rappresentano. The Crown ci fa capire che la vita non è semplice persino per chi nasce col sangue blu: è questo il punto di forza principale della serie.
A questi aspetti, di per sé intriganti, si aggiunge un cast di prim'ordine. Claire Foy ci regala un'Elisabetta equilibrata e sorprendentemente normale nelle sue insicurezze. Matt Smith, già interprete dell'indimenticabile Undicesimo Dottore di Doctor Who, mette in luce una notevole versatilità attoriale e dona anima e corpo a Filippo d'Edimburgo, il personaggio più ambiguo dell'universo Windsor. Vanessa Kirby, Eileen Atkins, Jared Harris e John Lithgow completano un quadro sontuoso: ognuno di loro ci stupisce continuamente con apparente semplicità. La vera protagonista di The Crown è però l'Inghilterra, immortale nel suo fascino e proposta con una fotografia elegante che prescinde dalle smarmellate de I Medici. La terra d'Albione è un Paese dalle mille contraddizioni, tra una Regina da tutelare ed una normalità da acquisire.
The Crown è una serie tv perfetta per chi vuole conoscere una pagina importante della storia contemporanea e intende comprendere meglio i meccanismi complessi della Corona e della politica britannica. Oppure a chi cerca un period drama ambizioso e allo stesso tempo non troppo pesante. Associarla ad altri prodotti seriali non è affatto semplice e provarci sarebbe inutile: The Crown farà scuola, e le sei stagioni previste ci regaleranno più di una sorpresa. La storia di Elisabetta II, infatti, è ricca di episodi intriganti da scoprire e analizzare (il rapporto con Margaret Thatcher e Lady Diana, per esempio). Ogni stagione esaminerà un decennio del suo regno con la dovizia di particolari di un documentario e la gradevolezza di una serie tv d'ultima generazione.
Avete bisogno di sapere altro per convincervi a guardare almeno il pilot? Probabilmente no. Vi immaginiamo già davanti allo schermo, pronti ad immergervi per dieci episodi in una storia dai mille volti. God Save the Queen.
Antonio Casu 
LEGGI ANCHE: