Grosse novità fra le fila dell'emittente Netflix: i creatori di Game of Thrones, David Benioff e D.B. Weiss, sbarcheranno sulla piattaforma grazie a un enorme nuovo accordo.
Secondo il magazine Deadline, i due autori sono stati occupati dietro le quinte e ora hanno firmato un enorme accordo esclusivo con Netflix.
La notizia arriva sulla scia di una guerra di offerte per il duo, che ha visto almeno sei studi, tra cui anche Disney e Amazon. L'accordo siglato con la piattaforma li vedrà scrivere, dirigere e produrre sia film che serie televisive con il banner Netflix Original.
Non sono stati svelati dettagli ufficiali su quanto guadagneranno i due showrunner dall'accordo, ma le fonti parlano di numeri a 9 cifre. L'amministratore delegato di Netflix, Ted Sarandos, ha detto questo in merito all'accordo: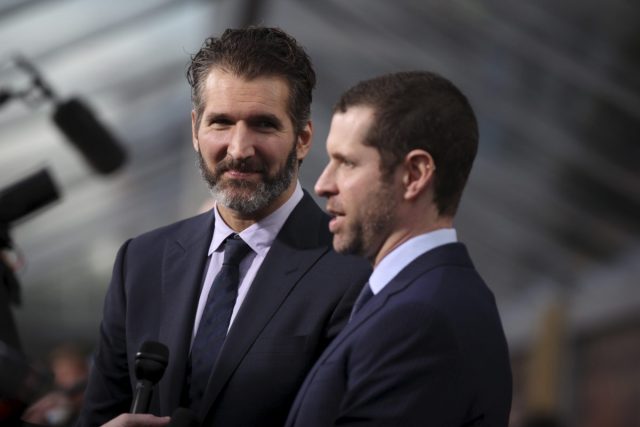 Siamo entusiasti di dare il benvenuto ai maestri narratori David Benioff e Dan Weiss su Netflix. Sono una forza creativa e hanno deliziato il pubblico di tutto il mondo con la loro epica narrazione. Non vediamo l'ora di vedere cosa porterà la loro immaginazione ai nostri membri.
Benioff e Weiss si uniranno a creatori famosi come Shonda Rhimes e Ryan Murphy, che hanno firmato i loro accordi con Netflix nei mesi scorsi.
L'ultima acquisizione mostra che Netflix non ha intenzione di rallentare la sua spinta aggressiva versi contenuti nuovi e originali. È troppo presto per dire che tipo di progetti Benioff e Weiss hanno in mente, soprattutto visti i loro impegni esistenti, che include anche un progetto per Universal. Oltre ad un adattamento di Dirty White Boys per Fox/Disney.
Ovviamente sia gli abbonati della piattaforma streaming, sia i fan del duo, si aspettano un progetto che possa essere al pari della grandiosità è successo di Game of Thrones.
Che cosa ne pensate?