Netflix e Marvel hanno deciso di scombussolarci definitivamente proponendoci in continuazione nuove serie, nuovi personaggi, nuovi supereroi a cui affezionarci. Daredevil, Jessica Jones, Luke Cage, The Punisher e chi più ne ha più ne metta. L'obiettivo è quello di riportare il mondo dei supereroi Marvel nuovamente al successo, dopo un lento e inesorabile declino con le ultime produzioni cinematografiche scadenti e con una casa di produzione sull'orlo del fallimento. La Marvel ha così deciso di affidarsi a Netflix e non poteva, di certo, fare scelta migliore. Oggi, dopo aver già analizzato in più di un'occasione la prima stagione di Daredevil e quella di Jessica Jones, passiamo al setaccio la 2° stagione del "Diavolo di Hell's Kitchen", rilasciata il 18 Marzo e divenuta già una delle stagioni più viste nel mondo sulla piattaforma streaming. Segno inequivocabile che l'attesa creata dall'antipasto che ci avevano regalato era spasmodica e snervante.
The Punisher è la nuova minaccia che sconvolge Hell's Kitchen. In città è arrivato infatti un uomo che ammazza a sangue freddo solo ed esclusivamente i criminali. Si è eretto a giudice mandando direttamente al creatore coloro i quali la giustizia non riesce ad incastrare, o che semplicemente a suo dire non meritano di vivere, conducendo la loro vita all'insegna del crimine e dell'illegalità. Ma chi è realmente The Punisher? Se di notte infatti Daredevil cerca in ogni modo di contrastarlo e combatterlo, rischiando persino di rimetterci la pelle, di giorno Matt Murdock, insieme a Foggy e Karen si mobilitano per capire chi è Frank Castle, cosa lo ha portato a diventare The Punisher e ad uccidere in maniera così spietata. Arrivando persino a difenderlo come studio legale, dopo che Daredevil stesso lo aveva consegnato alla giustizia. Frank è un ex marine pluridecorato al quale è stata strappata la famiglia (moglie, figlio, figlia) durante una sparatoria alle giostre che ha coinvolto tutte le bande criminali della città. Lui stesso è vivo per miracolo con un proiettile ficcato in testa. Quindi è diventato ciò che è ora per vendetta nei confronti della sua famiglia e di chi ha fatto in modo che il caso venisse insabbiato e che i colpevoli non pagassero.
Se già il confine tra bene e male delle volte è una linea talmente sottile che difficilmente non si riesce a superare, in questo caso siamo veramente a un filo invisibile. Tra chi considera The Punisher un eroe che libera la città dalla malavita e la ripulisce, a chi lo considera semplicemente un assassino, alla stessa stregua delle persone che lui uccide. Karen cerca di capirlo, di comprendere il suo dolore, la sua rabbia, riuscendo a trovare in lui qualcosa di buono, di vero; Foggy invece non riesce a vedere in quell'uomo null'altro che uno spietato assassino pur difendendolo con estrema professionalità e bravura. Fino ad arrivare a Matt, che vuole a tutti i costi il caso per cercare di garantire un giusto processo a Castle, ma allo stesso tempo è continuamente distratto da altre questioni, fino a quando Daredevil non deve praticamente allearsi con lo stesso The Punisher per evitare il caos più assoluto in città.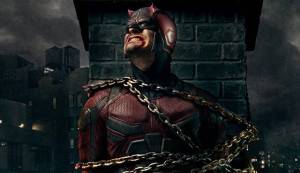 Si perché la 2° stagione di Daredevil non è solo l'arrivo di The Punisher, ma di carne al fuoco ce n'è davvero tantissima. Nel frattempo che tra Matt e Karen sembra infatti nascere un sentimento importante, la vita di Matt viene sconvolta dalla ricomparsa di Elektra, sua ex ragazza ai tempi del college. Inizialmente la donna vuole solo avere un aiuto per recuperare dei soldi di un cattivo investimento fatto dal padre con la Roxxon ma, quando lui vorrà vederci chiaro, capirà che sotto c'è qualcosa di molto più grosso. Elektra infatti vuole in realtà liberarsi degli yakuza rimasti a New York e per ottenere il suo aiuto gli rivela di essere a conoscenza della sua doppia identità. In realtà si aprirà uno scontro apparentemente senza fine, nel quale sarà coinvolto anche Stick, l'anziano cieco che ha addestrato Matt e che si capirà essere il leader dei Casti, un'organizzazione nata per contrastare la Mano, potentissima setta segreta giapponese alla ricerca della Black Sky, un'arma potentissima, e guidata da Nobu, il ninja che Daredevil sembrava aver sconfitto durante la prima stagione e che invece si scoprirà avere il dono di tornare in vita una volta morto. In tutto ciò Elektra è molto di più di quello che dice di essere, essendo stata anch'essa addestrata da Stick e tra i membri migliori proprio dei Casti. Inizierà una lotta senza esclusione di colpi nella quale La Mano e I Casti si sfideranno ovunque e in ogni modo possibile, con Daredevil affianco ad Elektra e Stick contro il nemico comune Nobu e il suo esercito di ninja silenziosi.
In mezzo a questa guerra non poteva mancare Wilson Fisk che ha preso il pieno controllo della prigione sfruttando l'arrivo di Castle per farlo evadere successivamente in modo da scatenarlo contro le altre organizzazioni criminali di New York per poterne riprendere il potere una volta terminata di scontare la sua pena, sempre ammesso che non decida deliberatamente di uscire prima, considerato come è riuscito a impadronirsi in brevissimo tempo della prigione di Riker's Island. Fisk era un personaggio talmente perfetto, talmente bravo nel suo interprete (Vincent D'Onofrio) e talmente imponente come figura che non poteva cessare di esistere dopo una sola stagione, né tantomeno arrendersi alla prigione così facilmente.
Con tutto questo crimine, gli eroi e i punitori, le forze dell'ordine continuano a fare da contorno. Daredevil consegna The Punisher a Mahoney dicendogli di prendersi il merito dell'indagine e infatti l'agente diventerà a breve detective proprio grazie a quell'arresto. E poi c'è il procuratore distrettuale Reyes, una donna avida di potere che pensa solo alla carriera e che vuole sfruttare il caso-Castle, portandolo ad una condanna a morte per candidarsi a sindaco di New York e che in seguito si scoprirà essere l'artefice del plurimo omicidio della famiglia di Frank: lo scontro a fuoco alle giostre è infatti una conseguenza di una retata finita male organizzata dalla Reyes tramite un agente sotto copertura per incastrare il signore della droga Blacksmith e finita in tragedia per la mancata evacuazione dei civili dal luogo dell'incontro. Non appena la Reyes terminerà di confessare le sue azioni a Foggy e Karen, verrà freddata nel suo ufficio da un cecchino.
Se da un lato Daredevil combatterà con ogni mezzo il male che cerca di impossessarsi di Hell's Kitchen, dall'altro lato Matt fallirà in ogni sua azione, rovinando quanto di buono stava costruendo con Karen e persino l'amicizia e il rapporto di lavoro con Foggy che, dopo il processo a Castle, deciderà di mollarlo e di chiudere lo studio Nelson & Murdock e, successivamente, di accettare il lavoro alla Hogart, Chao and Benowitz su invito di Jeri Hogarth, già conosciuta come l'avvocato che ingaggiava Jessica Jones come detective. Anche Karen deve darsi da fare e inizia una nuova collaborazione con il New York Bulletin come giornalista freelance, scoprendo di essere tagliata per le inchieste e per scoprire cose che gli altri non riescono a vedere.
Come già detto precedentemente in questa stagione di carne al fuoco la Marvel e Netflix ne hanno messa davvero tantissima. Se nella prima infatti abbiamo soltanto scoperto come Matt stava diventando Daredevil (tanto che il costume con il caschetto compare solo alla fine) e abbiamo conosciuto parte del suo passato, nella seconda invece vediamo come il diavolo mascherato stia crescendo e diventando un supereroe a tutti gli effetti; anche nel mondo criminale, nella prima stagione abbiamo dovuto fare i conti principalmente "solo" con Fisk, scoprendo anche di lui come fosse arrivato a diventare quel criminale spietato e allo stesso tempo dalla maschera di uomo per bene, e con il suo enorme potere, con stampa, media, poliziotti e persino agenti dell'FBI a libro paga. Nella seconda stagione invece c'è di tutto, da The Punisher, un bravissimo Jon Bernthal (Shane di The Walking Dead) che è un cattivo travestito da buono, e viceversa, allo stesso Fisk che non se ne può certo stare con le mani in mano a marcire in carcere, fino ad arrivare a Nobu, scoperto potentissimo e addirittura in grado di resuscitare e alla sua spietata organizzazione criminale.
Daredevil sta crescendo a vista d'occhio ed è diventata realmente la miglior serie sui supereroi realizzata fino ad ora. La terza stagione, già annunciata, si preannuncerà sicuramente qualcosa di ancor più grande considerato il finale di questa stagione e i piani che Wilson Fisk continua ad avere per Hell's Kitchen. Noi in tutto questo non possiamo far altro che sperare di ritrovare presto Matt/Daredevil, Karen, Foggy, lo stesso Fisk, Castle ed Elektra. E siamo sicuri che ci sarà da divertirsi!
Paolo Martina