Quando mi approcciai a Love Death & Robots, la prima cosa che pensai fu: "Wow, sono finita dentro Blade Runner?".
Netflix ha sfornato una serie antologica di diciotto brevi episodi in grado di raccontare una storia in pochi minuti. E con uno stile di animazione di volta in volta diverso. Alcuni episodi possono piacere di più rispetto ad altri (anche se noi pensiamo che questi abbiano una marcia in più).
Ma non si può certo negare che un prodotto come Love Death & Robots sia una serie innovativa nel suo genere. Non a caso è stata rinnovata per una seconda stagione.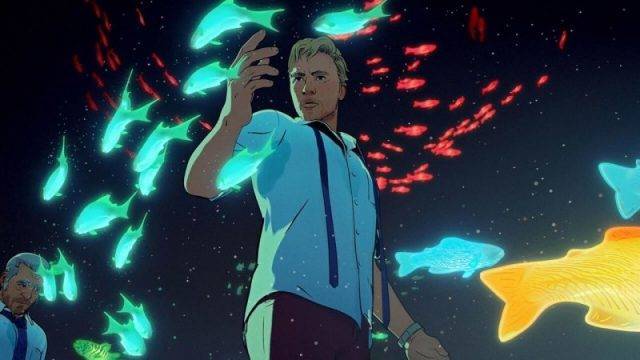 Un'altra sua particolarità è legata alla riproduzione casuale degli episodi, che appaiono in ordine diverso tutte le volte. Non per tutti la sequenza è la stessa, in modo tale da rendere imprevedibile il percorso di ogni spettatore. Ma oggi vogliamo focalizzarci su un episodio in particolare: La Testimone (The Witness).
Che la serie sia piaciuta o meno, La Testimone mette a tacere tutti e diventa uno degli episodi più apprezzati e meglio animati della serie.
E non è un caso, visto chi c'è dietro la sua realizzazione. Se siete fan del mondo dell'animazione o se negli ultimi mesi siete andati al cinema e avete seguito gli Oscar, forse il nome Spiderman – Into the Spiderverse (di cui si vocifera di una possibile serie tv, qui per dettagli) vi suona familiare. Infatti Alberto Mielgo, uno dei visual consultant che ha partecipato alla realizzazione del film, si è occupato della creazione, scrittura e direzione dell'episodio che tanto ha affascinato il pubblico di Love, Death & Robots.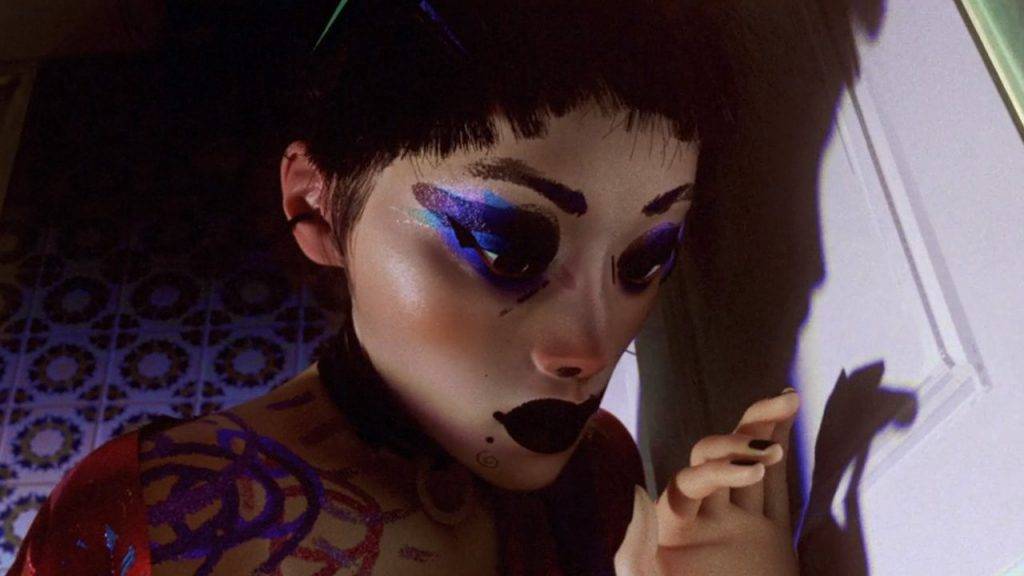 Ma chi è Alberto Mielgo?
Di origini spagnole, Alberto ha da sempre lavorato nell'ambito dell'animazione. Si è occupato dei visual effects per Harry Potter e i Doni della Morte (Parte 1), ha fatto parte del dipartimento artistico per la realizzazione de La Sposa Cadavere e ha vinto un Emmy e un Annie come miglior Production Designer per Tron Uprising. Più recentemente ha partecipato alla realizzazione del già citato film Spiderman – Into the Spiderverse, dove possiamo riconoscere già qualche impronta dello stile che verrà utilizzato anche all'interno de La Testimone. Mielgo ha diretto anche un intero film, The Windshield Wiper, che uscirà nelle sale quest'anno.
Dopo aver assistito a un omicidio, una donna scappa dall'assassino fuggendo per le strade di una città surreale.
C'è chi ha definito La Testimone come sci-fi surrealism per la presenza del loop temporale e per la rappresentazione dell'ambientazione e dei suoi abitanti, intrappolati in un universo post-moderno con filtri vaporwave, luci al neon colorate e completini neri traslucidi.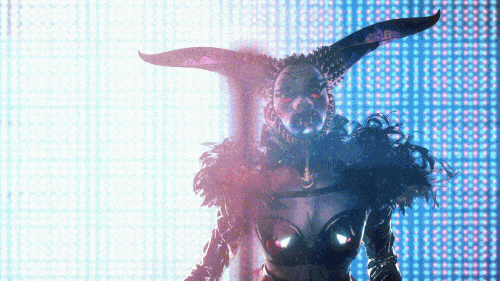 L'atmosfera si piazza bene a metà tra Blade Runner di Ridley Scott e Ghost in the Shell di Rupert Sanders.
Gli edifici, gli oggetti e gli stessi personaggi a tratti sembrano ripresi direttamente dal mondo reale attraverso l'uso della CGI. Secondo alcuni, sarebbe stata utilizzata perfino la tecnica del rotoscope per rendere le figure animate realistiche, sulla scia di esempi ripresi dal cinema contemporaneo come Waking Life di Richard Linklater.
Ma Alberto Mielgo ha negato tutto questo in un'intervista (che trovate qui).
Lo stile grafico realistico dell'episodio nasce dall'utilizzo di due programmi di animazione come Marvelous Designer, utilizzato per le simulazioni degli abiti e per renderne il movimento fluido, e la tecnica di keyframing. Il keyframe è un tipo di fotogramma definito da un'animazione fatta al computer, messo insieme ad altri fotogrammi attraverso una serie di software. Questa tecnica viene utilizzata in particolar modo per restituire il movimento, la forma e il colore degli oggetti animati.
Alberto Mielgo: "Il mio riferimento principale proviene dal cinema e dai dipinti, non necessariamente dall'animazione. Non provo mai a copiare nessuno stile di animazione esistente. Non potrei dire che questo è un anime. Non potrei dire che è Disney o Pixar. Sono solo cose che faccio senza farle incastrare bene ovunque."
Ciò che ha creato più confusione nel pubblico è stato trovarsi davanti a quello che sembrava un live action in CGI.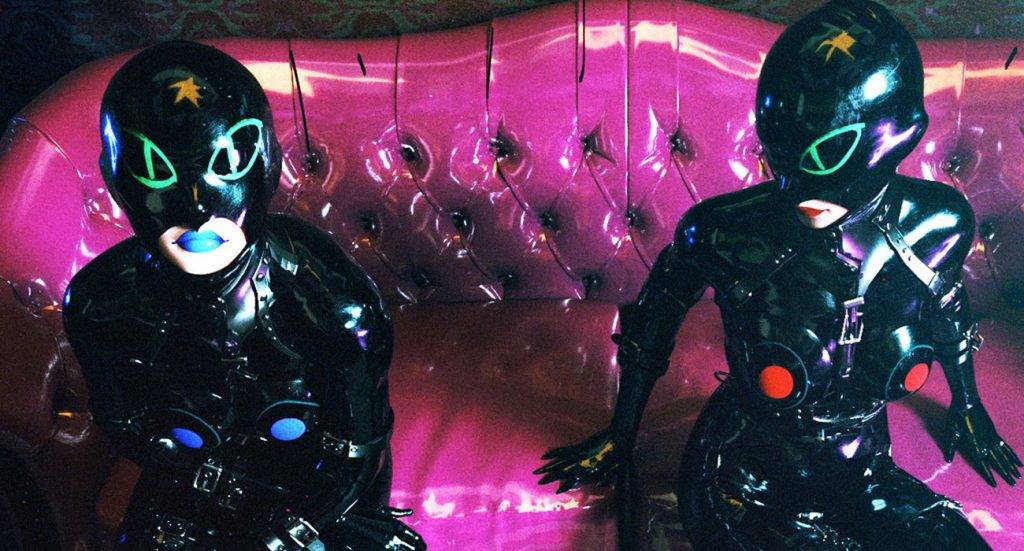 Eppure non è così. Alberto Mielgo ha giocato sull'uso di personaggi ripresi dal vero e su animazioni riprese dagli albi fumettistici. Questo è particolarmente evidente nell'interazione con gli oggetti: ad esempio, quando la ragazza bussa sul tetto del taxi, il gesto è accompagnato da un'onomatopea che ne riproduce il suono.
A rendere questo effetto di realismo ci pensa anche la telecamera mossa e l'inquadratura che alterna riprese a fuoco con fuori fuoco. La sensazione che si ottiene è quella di assistere a un inseguimento con la macchina a mano. Questo senso di coinvolgimento reso da una telecamera "schizofrenica" dà l'idea di trovarsi davanti a un live action realizzato in motion capture.
"Volevo che la macchina da presa e l'obbiettivo si sentissero vivi. E tutto questo viene fatto manualmente. Dà molto un senso di realismo perché sembra una vera macchina da presa, ma stiamo solo giocando con i colori, i filtri, a volte è soltanto un mix di colori sulla parte superiore della macchina da presa a creare quell'effetto. Così sembra che sia creato a mano e sia artisticamente ben fatto, solo per ottenere qualcosa che appaia realistico."
L'illuminazione ha giocato in particolare un ruolo importante nel rendere questa impressione di realtà.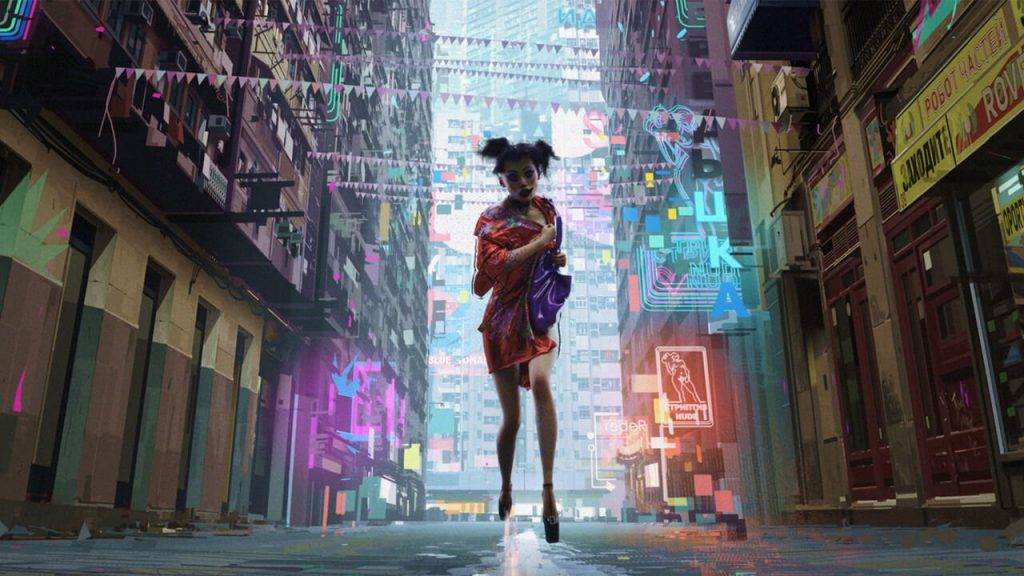 Mentre di solito vengono inserite le luci all'interno di un set in 3D e poi vengono inseriti i personaggi in 3D, Alberto e il suo cast avevano disegni fatti a mano e hanno distribuito la luce direttamente sul bozzetto attraverso l'uso di accendini che dessero la direzione della luce, proprio come nella realizzazione di un dipinto. La vera prova era inserire il personaggio nel disegno ombreggiato e illuminato nel modo giusto senza che questo sembrasse fuori posto, con il rischio di rendere l'inquadratura piatta.
"Quello che avevamo era un disegno piatto, al posto di un set in 3D. Poi – e penso che da qui sia nato un certo scetticismo tra le persone, del tipo, 'Come ci sono riusciti?' – dopo che l'inquadratura è stata composta e restituita in questo modo, ho preso ogni fotogramma e ho giocato con i livelli. Stavo riflettendo su come una macchina da presa si comporta quando è sovraesposta alla luce o come reagisce quando un personaggio le passa davanti. Sai, se un personaggio sta passando molto velocemente davanti alla telecamera, la sua esposizione all'improvviso cambia, e poi torna gradualmente all'originale. In pratica mi stavo divertendo a fare questo."
La verità dietro la realizzazione dell'episodio ha reso la sua fama ancora più grande. Se non avete ancora presente di cosa stiamo parlando, vi invito a recuperarvi subito l'episodio su Netflix.