"[…] Fai tuo lo spirito e l'emozione di quelle quarantadue persone sedute là fuori, nell'orchestra. Nella musica c'è la loro essenza e tu riesci a sentirla. È tradotta in un modo che non può essere reso da un sintetizzatore. Per me, la migliore musica è quella suonata dalle persone e che crea un legame che viceversa non avresti potuto avere"
Michael Giacchino
Quando mi confrontai per la prima volta con Lost ero poco più che un adolescente. Mi avvicinai a quest'opera con i dubbi e le curiosità che solo un ragazzo può avere. Con la speranza – poco fondata – di trovare delle risposte. Dei valori nei quali riconoscermi. Un senso ai dolori e alle difficoltà che tutti in vita nostra abbiamo provato e, forse, continuiamo a provare. Cari lettori, so quanto possa sembrare sciocca e ridicola una tale confessione. Alcuni di voi sorrideranno, altri, forse, smetteranno di leggere. Eppure, se pensate attentamente a quel periodo della vostra vita e se riflettete a fondo sui vostri bisogni e sul coinvolgimento catartico che trovate in alcune Serie, film o libri forse capirete. Forse mi capirete.
Non avevo grosse aspettative. In me era però un'urgenza interiore.
Un desiderio recondito che cercava soddisfazione in ogni cosa. Lost era solo una speranza. Una delle tante. Ma non lo sarebbe rimasta a lungo. Qualcosa dopo il quinto episodio della prima stagione mi fece capire che c'era qualcosa di diverso. Jack aveva inseguito il suo coniglio bianco, si era inoltrato nel bosco e scoperto la bara del padre. L'aveva aperta e trovata vuota. Poco dopo prese le redini del gruppo: "Se non riusciremo a vivere insieme, moriremo da soli". In quell'immagine si fondò il mio amore per Lost. In quella scena capii che quella foresta sarebbe stata la mia foresta e quel monito alla vita il mio credo: vivere insieme.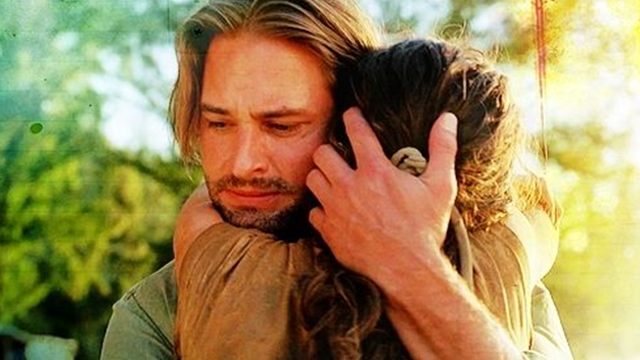 E in quell'istante partì una delle più belle melodie che potei ascoltare in vita mia. Una musica che mescolava il classico al contemporaneo e che toccò per la prima di numerose volte le corde del mio cuore. In quelle note scoprii la delicatezza di un istante, il disegno nascosto di una vita, la drammatica sofferenza della morte e del suo mistero. In ogni acuto, in ogni delicato e inconsistente tocco del piano c'era la vita. Ma c'era anche la tristezza nostalgica di una morte che sembrava avere la meglio. La caducità dell'esistenza, la sua eterna sconfitta davanti al tempo e al vorticoso roteare del mondo.
Il pianto e la rabbia di Jack davanti al vuoto della morte, a quel corpo sottratto per sempre al cordoglio, alla possibilità di vedere per l'ultima volta il proprio padre fu il mio pianto, la mia rabbia. Da quel momento Lost si legò per sempre alle mie esperienze vissute. Tracciò il solco di una crescita sofferente, contraddittoria e carica di rimpianti. Ma anche di gioie, momenti di felicità e di lotta forsennata. Lost divenne parte della mia vita.
Life and Death è una composizione delicata. Un contrappunto di due voci. Della vita e della morte.
In quelle voci c'è l'uomo, ci siamo noi. C'è il nostro cammino, il percorso incerto di chi non ha una guida né una meta. Di chi si trova catapultato nel mondo e deve tentare di rimanere a galla in un mare senza appiglio. Tutti noi siamo naufraghi. Viviamo costantemente alla disperata ricerca della nostra àncora, di un approdo sicuro, di un'idea su cui fondare la nostra vita. Rischiamo di affogare, di essere sopraffatti dall'acqua. Da quei dolori, dubbi e vuoti che ci bagnano e ci circondano e sembrano essere l'unica immagine, fissa, all'orizzonte.
Ogni cosa ci scivola, liquida, tra le mani. La perdiamo, non ne riusciamo ad assaporare la consistenza, a stringerla al petto. Tutto scorre e noi rimaniamo soli in quel mare di impalpabilità. In quell'immagine c'è la morte. C'è la nota del piano che scorre segreta in ogni attimo. La morte ci accompagna sempre. Lo fa a piccole dosi e talvolta con colpi inaspettati e durissimi acuti. I tasti del pianoforte nella loro delicatezza ci ricordano che c'è tristezza, c'è perdita, c'è nostalgia.
Ma in quel sostrato, in quel mare inafferrabile c'è anche altro.
All'orizzonte c'è un'isola. Non è un porto sicuro. Non è una certezza. Ma è terra ferma. È la possibilità di riscatto, di riconquista di qualcosa. Di un valore. Di un'esistenza che si fonda sui rapporti umani. Ecco allora il violoncello che si eleva, la liricità di una vita che diventa compartecipazione, il contrappunto al dolore e alla morte. Da quelle note isolate di un tristemente dolce piano nasce la partecipata compagnia dei violoncelli. Dapprima uno solo. Una vita che nasce, una vita che palpita, che spinge e preme per emergere sopra il pianoforte, sopra quella tristezza, sopra il dolore. E poi due violoncelli, e tre, e quattro. In quella melodia che diventa corale c'è il rapporto con l'altro. C'è la scoperta dell'umanità nella relazione, nell'amore. Jack incontra Kate, James, Hugo e tutti i Losties. Ci si scopre a vivere insieme.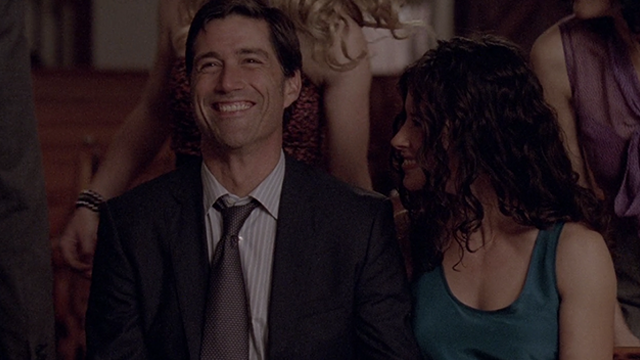 L'isola è una possibilità di riscatto. Un luogo in cui trovare un nuovo senso alla propria esistenza, in cui scoprire di non essere soli. Non è un cammino facile, non è per nulla scontato. Necessita di apertura, di forza. Bisogna saper trasformare quella melodia isolata in una lirica collettiva. Bisogna riuscire a diventare orchestra, allinearsi alle note degli altri violini per creare una sinfonia. Sym-phōnía, "suoni insieme", "accordo di suoni". Non si vive da soli. Si vive insieme, in quel gruppo che siamo in grado di costruirci passo passo, nel quale finiamo per scontrarci, allontanarci, riavvicinarci ma che sempre consideriamo la nostra famiglia. Che ci fa crescere, emozionare e scoprirci forti.
Là in quella sinfonia di vita e morte, in quell'incontro di dolore e gioia c'è l'esistenza più piena. Ci siamo noi. Pianoforte e violoncelli, vita e morte. Solitudine e comunione.
Lost mi accompagnò per anni. Divenne motivo di dibattito, spinta a condividere idee con gli altri, sprone ad approfondire argomenti di filosofia, storia e letteratura. Lost divenne il compagno di ogni giorno. Divenne lo spunto per la mia più profonda espressione di comunicazione: l'approccio al mondo delle Serie Tv e alla scrittura. Scoprii di poter vivere insieme all'altro, di poter superare l'ostacolo che separa due individualità. Scoprii quello che è tuttora il modo più intimo in cui possa comunicare con voi, lettori. Capii di non essere solo.
Quando quel lontano ma vivissimo 23 maggio del 2010 andò in onda l'ultima puntata compresi che il senso di quel viaggio non era stato superficiale. Che quel mio interesse partecipato aveva trovato valore nella forza di una storia che era soprattutto un'idea. Un'idea di amore. In quel finale c'era il senso di tutto. Torna Life and Death e ci appare nuova e più piena per un'ultima, conclusiva volta. Le dita sfiorano appena i tasti del pianoforte. Alla solitudine del piano segue la partecipata compagnia dei violini e dell'arpa.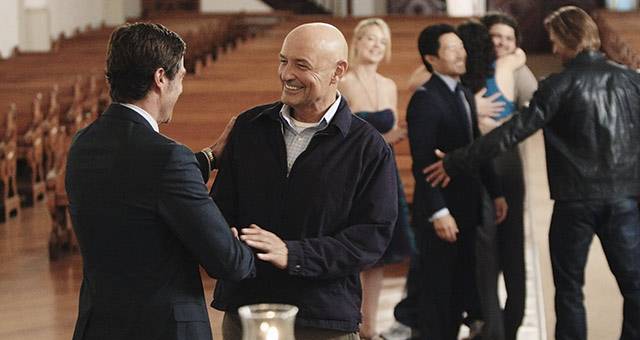 Si vive insieme, ci si scopre uniti nella morte.
Il "live together, die alone" è ribaltato. Jack e Vincent, uno accanto all'altro. Il piano e i violini. Le corde del nostro cuore che sono sospinte. La musica che s'innalza e ci avvolge tutti dolcemente. Sentiamo l'abbraccio dei Losties, l'amore che li ha legati e li legherà per sempre. Che sopravvive alla morte e permette loro di "move on", di andare avanti. Di superare il trauma della morte, la solitudine di una vita che sembra venir meno.
Ci parla, "Life and Death". Ci racconta una storia fatta di emozioni. La liricità sale. Jack si accascia. La musica si fa più lenta. Più semplice. Ecco gli archi che accompagnano l'incontro di Jack con i Losties. Tutti sono riuniti. Sono pronti ad "andare avanti". La musica si eleva ancora. Un ultimo acuto. Poi: la delicatezza del violino. E quell'ultima nota. L'occhio si chiude. Il ventre uterino dell'isola accoglie Jack. La musica si ferma. Vita e morte. Insieme. Per sempre.