«We had come to do the work that must be done to strip ourselves of the fog of life before»
Si è conclusa, appena una settimana fa, una delle Serie sicuramente più geniali e particolari di questo 2017, Legion. E se è vero che ancora l'anno si deve concludere, sembra comunque abbastanza difficile che possa sbucar fuori un prodotto altrettanto … MARVELlous.
Legion è una boccata d'aria fresca in un panorama quale quello televisivo che si sta sempre più appiattendo sul prodotto facile di consumo, per quanto riguarda il mondo supereroistico.
La recensione contiene SPOILER, non proseguite se non avete visto tutti ed otto gli episodi.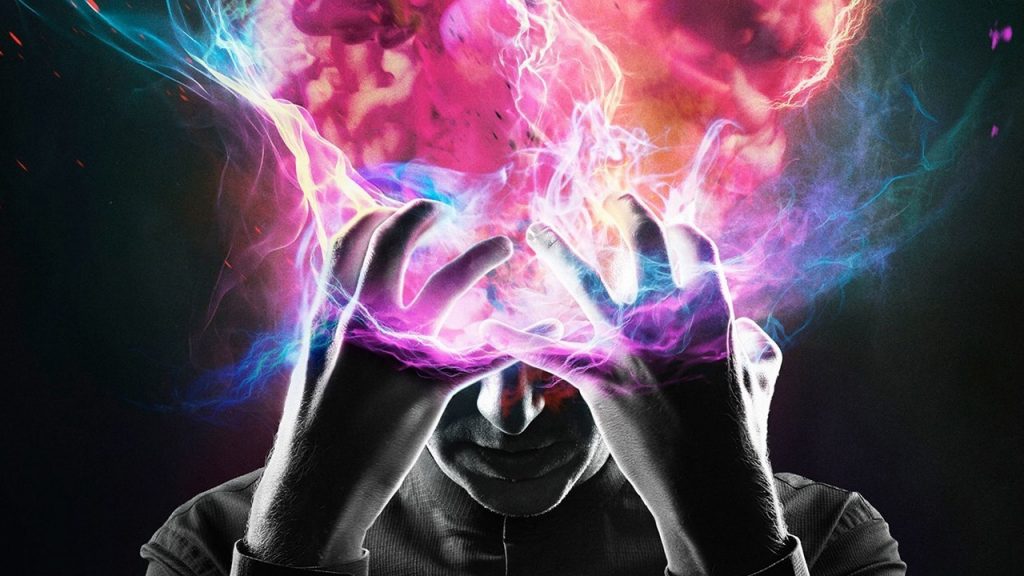 Protagonista della serie è David Haller, interpretato da un magistrale Dan Stevens. David ha passato tutta la vita entrando e uscendo da reparti psichiatrici: tutti intorno a lui e lui stesso credono che sia schizofrenico. Credono, appunto. Perché ad un certo punto questi suoi cosiddetti sintomi si rivelano essere in realtà tutt'altra cosa. È proprio in un ospedale psichiatrico, il Clockwork, che la vicenda ha inizio e si complica alla stessa velocità con cui vediamo scorrere la vita di David sullo schermo.
Legion riesce da subito lì dove la maggior parte delle altre Serie Tv sui supereroi e in realtà della maggior parte delle Serie Tv in generale sta invece fallendo. Se Iron Fist continua a battere strade già ampiamente battute non riuscendo a raccontare nulla di nuovo e utilizzando una parola spenta e stanca, la Serie Tv firmata da Noah Hawley e in onda su FX stravince.
Creatore di quel gioiellino che è Fargo (qui il trailer della terza stagione), Hawley mette in scena una partita a scacchi, lenta ma non noiosa, viva ma ad un livello più profondo e meno appariscente, una partita mentale tra David e Lenny aka The Angriest Boy in the World aka King aka lo Shadow King.
È anche una partita che supera la barriera televisiva e diventa il nostro gioco, il nostro tentativo di arrivare ad afferrarne il risultato finale, il nostro viaggio attraverso una narrazione folle, labirintica e aliena.
Proprio perché folle, riesce a essere anche geniale, a spiazzarci e incuriosirci, di conseguenza ne vogliamo ancora. Siamo noi i malati adesso, in attesa di una nuova dose, di un un nuovo indizio che ci permetta di addentrarci ancor di più nel labirinto di David, che è anche il nostro, e dell'essere umano in toto.

Una narrazione quella di Legion che per certi aspetti ricorda quella di un'altra Serie evento di quest'anno, Westworld. Se la seconda però ha un carattere filosofico ed etico, la prima procede su un piano prettamente psicologico.
Gli aspetti più tecnici di montaggio e fotografia vanno a servire quell'intento di rappresentazione di un costante conflitto, prima silenzioso e poi sempre più esplosivo, tra le due entità a confronto. Così abbiamo un parallelismo continuo tra rosso (pericolo) e blu (salvezza); lunghi piani sequenza, dissolvenze e slow motion; gli occhi disseminati ovunque che scrutano, registrano e controllano David per diventare infine gli occhi di Lenny, enormi sulla parete della stanza di bambino di David.
Un generale senso di smarrimento che viene sottolineato dall'assenza di una identificazione temporale precisa: per tutto il tempo non viene fatta menzione sull'anno in cui si svolgono i fatti. I vestiti parrebbero suggerire che ci troviamo negli anni '60 ma la tecnologia presente smentisce subito questa idea. Anche questo aspetto è funzionale alla storia.
La vicenda d'altro canto è quella di un uomo che non sa cosa sia reale e cosa no, per tutta la stagione David continua a porsi domande, a non fidarsi neppure di se stesso, soprattutto di se stesso. E noi siamo con lui perché per almeno metà della narrazione la domanda è "the Devil with the Yellow Eyes esiste davvero? O è solo frutto della mente malata di David? O piuttosto è un suo stesso alter ego?"
Ma nei fumetti chi è David Haller? David aka Legione è, appunto, un mutante che crede di essere pazzo per gran parte della sua vita per poi scoprire che le voci che sente non sono frutto della sua immaginazione ma vere e proprie entità che abitano nella sua mente. Il bello è che ognuna di esse controlla un potere. David è un mutante di livello omega, (figlio del professor Charles Xavier!) ha un potenziale impressionante ed è uno dei pochi capace di contenere in sè l'entità nota come Shadow King, un mutante antichissimo che vive solo sul piano astrale e solo su questo può essere sconfitto. Da una delle varie storyline che riguardano il personaggio di Legione nei fumetti, Noah Hawley ha costruito il suo labirinto allucinato.

Sono due i grandi punti di forza di Legion. Uno è il cast su cui spiccano Dan Stevens e Aubrey Plaza, bianco e nero, il biondo e la bruna, l'inglese e l'americana. L'altro è la sceneggiatura.
Dan Stevens, classe 1982, britannico doc, è noto ai più per aver interpretato Matthew Crawley in Downton Abbey. Oggi è l'uomo giusto al momento giusto: al cinema veste i panni della Bestia nel campione d'incassi Beauty and the Beast, accanto a Emma Watson; in Tv è uno dei grandi protagonisti di questa stagione televisiva (chissà se all'Academy piacciono i mutanti …). Dan ci regala un'interpretazione da brividi dando vita e anima a un uomo complesso, distrutto, insicuro e malato. Malato di quella malattia che è il desiderio di essere normali, di amare e soprattutto di distinguere la verità dalla finzione. Attraverso quegli occhi di un celeste limpidissimo, da capogiro, Dan mette via l'accento inglese e si abbandona al trip onirico. Siamo ancora con lui, incapaci di capire cosa stia realmente accadendo, desiderosi solo di uscirne, di avere delle risposte, di essere liberi.
E poi c'è il vero mostro, non lo Shadow King in sé per sé ma colui anzi colei che gli dà vita.
Sensuale, pazza, ironica, violenta, cattiva, Aubrey Plaza supera ogni aspettativa (il personaggio era stato pensato per un uomo di mezza età) portando in scena non solo un villain ma la perfetta incarnazione del lato oscuro celato in ognuno di noi, quello che non ha peli sulla lingua, totalmente egoista ed egocentrico che vive da parassita in attesa di un nostro passo falso, di un'insicurezza, per poter uscire finalmente allo scoperto e prendere il controllo. Parafrasando in chiave fumettistica, è proprio questo che succede in Legion, lo Shadow King aspetta nell'oscurità della mente fragile di David, succhiandone i poteri e l'energia vitale fino a che non si sente messo a rischio.
E cosa lo preoccupa? L'amore. Ultima metafora suprema per allontanare il male, l'amore di Sidney permette a David di trovare la forza per affrontare i propri incubi.
Aubrey Plaza si muove nella Serie passando da un personaggio all'altro con folle naturalezza, un'amica che sussurra all'orecchio di David, che prende le fattezze di qualcuno di caro e di buono. "I'm you, I'm me, I'm everything you wanna be". La manipolazione dell'alter ego che parla con tono suadente è più pericolosa dei nemici reali del mondo di fuori.

Il secondo grande punto di forza come ho detto è la sceneggiatura.
Essa funziona come una sala di specchi in cui tutto è lì davanti ai nostri occhi ma in qualche modo impossibile da afferrare. Attraverso sequenze surreali (la scena di ballo nel pilot o il viaggio nella dimensione astrale dove è bloccato Oliver), innovative trovate di narrazione (quando sono tutti muti nella casa d'infanzia di David o la meravigliosa sequenza in bianco e nero nel penultimo episodio) e una parola che non perde mai colpi ma ferisce sottile fin sotto la pelle, Noah Hawley dimostra che anche il fumetto può trovare nuove trasposizioni e che si può sempre rinnovare.
In contrasto con gli adattamenti che non hanno nulla da dire e che puntano sul fragore delle azioni, Legion dimostra che ciò che è realmente stupefacente è la mente umana.