Nel giorno di Halloween ci sono delle cose che non possono assolutamente mancare: il "Trick or Treat" dei ragazzini, le feste in maschera, i denti di Dracula, le serate coi film dell'orrore. E, naturalmente, l'episodio speciale dei Simpson.
Andato in onda per la prima volta nel 1990, durante la seconda stagione del cartone animato, l'episodio di Halloween è diventata una tradizione portata avanti nel corso degli anni. Ventinove sono gli episodi del ciclo Treehouse of Horror (La paura fa novanta) andati in onda finora in Italia.
Di recente vi abbiamo parlato dell'episodio di quest'anno, che avrà come tema la parodia di Stranger Things, ma nel corso degli anni abbiamo collezionato una serie sterminata di storie, parodie e racconti dell'orrore targati Matt Groening.
Cos'hanno di speciale le puntate del Treehouse of Horror dei Simpson?
Innanzitutto lo schema narrativo: la trama non segue i canoni classici degli episodi dei Simpson. I personaggi diventano protagonisti di storie che spaziano dal genere horror a quello fantascientifico, storie in cui può accadere di tutto e in cui l'elemento sovrannaturale è un must.
Ma soprattutto, sono divertenti, inquietanti e perfettamente in linea con il mood del giorno di Halloween.
Proviamo a selezionare i cinque migliori episodi speciali di Halloween dei Simpson andati in onda il 31 ottobre.
1) Clown senza pietà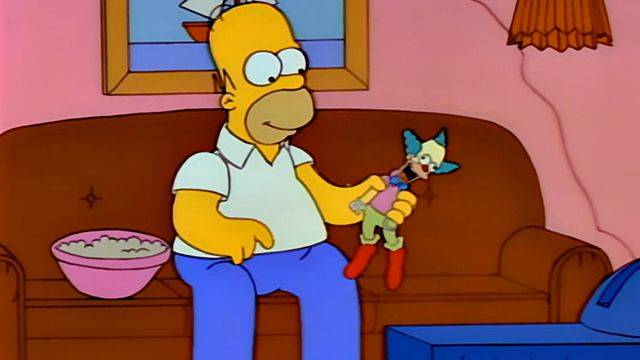 Un incubo per chi lo ha visto in tenera età. La bambola parlante di Krusty il Clown che perseguita il povero Homer.
È una citazione dell'episodio La bambola vivente della quinta stagione della serie Ai confini della realtà.
È angosciante, folle. C'è questa bambola assassina, posseduta, che vuole appagare la sua sete di sangue. Homer prova a sbarazzarsene in tutti i modi, la chiude in un sacco e la getta in una fossa profonda. Ma la bambola di Krusty riesce sempre a scappare. E di notte torna per pugnalare Homer.
L'episodio è un vero incubo, un po' come quei sogni deliranti in cui l'oggetto delle nostre ansie torna a tormentarci ancora e ancora e ancora.
Alla fine, Marge risolve il problema chiamando l'assistenza e l'epilogo della storia è brillante nella sua assoluta semplicità: qualcuno aveva impostato la bambola sulla modalità "Evil", ma basta farla tornare su "Good" per evitare problemi.