Nella precedente novella di How To Get Away With Decameron:
Orsù, amici cari,
stiam per inoltrare nostre membra e nostri futili corpi in ultraterreno viaggio.
Ho deciso di abbracciare la contemporaneità e cominciare a discorrere di romanzi animati a puntate.
"Laurel, non vorrei essere maleducata o cose del genere, ma cerca di farmi capire: stiamo andando a cercare Frank e hai avuto la brillante idea di invitare anche Wes?"
"Ragazze, ci sarebbero cose più importanti di cui parlare. È cominciato tutto da me, dalle mie azioni, niente è stato fatto, niente è accaduto, niente che non presupponesse la mia presenza. Sono sempre stato io il centro di tutto…"
"Si, Wes, ma il tuo discorso forse è leggermente egoista, non credi?"
"Cosa? Non sono affatto egoista, sono realista!"
"Si, e io sono Janis Joplin…"
-Ah belli! Ho notato che stavate ascoltando una delle mie canzoni, mi sono sentita presa in causa.
-Janis? Janis Joplin??
-Ahahahah, si, mi hanno trasferito quest'anno, credo sia merito della conquista del trono di Dante. Sono qui proprio in compagnia del Sommo Dante.
Te posso solo dì che qui c'è tanta nebbia, mi vien quasi voglia di fare un concerto. A buon intenditore…
"Non mi dire che siamo senza benzina!
Laurel, Wes, ma quello lì non è …"
…
"Oh cielo, n..n-no..n ce l…la facc…ci-o più! Dov-ve cav…ol-o è Fr…Fran…k?? Laurel? Laurel, dove cacchio sei? Wes, dov'è Laurel?"
"H…ha smes-so di cor…correr-e da un po'."
"Cos..?!
Fermati. WEEEEEES! Fermati!"
"Cosa c'è?"
"Wes, torniamo indietro. Dobbiamo recuperare Laurel."
"Come vuoi, tanto quello lì non era neanche Frank."
"E quando volevi condividerlo con il resto della classe?"
"Voi dite che sono egoista!"
"Oh, santo cielo!"
"Laurel, ma che cavolo, non potevi avvisare?"
"Scusate, non mi si addice il sudore."
"Ok ragazze, non abbiamo un'auto, non sappiamo dove andare, e come siete messe in quanto a finanze?"
"Io sono sempre stata al verde. Laurel?"
"Ho 4 dollari."
"Fantastico, cominciamo a camminare."
–Sommo Maestro, lei ha qualche idea?
-Figliuola, perché non chiede al giullare di corte?
-Oh, andiamo Maestro, è ancora arrabbiato per la storia di Dante?
-Ancora?
Figliuola, l'gentil messere ha strappato il trono da mie umili mani, come potrei non esser adirato?
-Sommo Maestro, ignoravo questa cosa. Cosa è accaduto tra voi due?
-Un giorno ti narrerò de' queste vicende, ora rifletti su come andare ad intervistare il prossimo personaggio.
"Si, sempre molto d'aiuto."
"Cosa?"
"Niente ragazzi, niente."
"Senti ancora quelle voci? Dovresti farti controllare, da uno bravo."
"Ah ah ah ah, pagheremmo di meno con una seduta di gruppo, sapete?!"
"Touchè!"
"Andiamo forza, ho bisogno di trovare il prossimo personaggio."
"Per fare cosa? Ti ricordo che noi dovremmo trovare Frank!
Wes, WEEEEES, dì qualcosa!"
"Si, torniamo a casa …"
"Wes, ma cos'hai?"
"Niente, niente."
"Ah, ok."
"No, in realtà qualcosa ho!"
"Oh, cielo, ecco che ricomincia."
"Io… ma davvero? Davvero stiamo cercando Frank? Io sono qui, Laurel! Sono qui! Lui dov'è? Eh?
Andiamo, lui non ci sarà mai quando tu ne avrai bisogno, cerca di ammetterlo a te stessa. Ma tanto non ti importa, tu vuoi solo trovarlo, giusto?
Ci vediamo a casa."
"Oh, cavolo…
Laurel, non vorrei dire niente, ma direi che ha quasi ragione…"
"Per favore! Non cominciare anche tu!"
-Vogliate scusarmi, sento odore di morte.
-Ehmm salve, posso chiedere chi è lei?
-Come? Non mi riconosce? Son'io… Ugo
-Si, Ugo …?
-Son'io Ugo, Foscolo Ugo, Ugo Foscolo.
-Mio D…, portatemi nel Paradiso dei Poeti, ora!
Anche lei è lì??
-Dove dovre'ì esser se non qui?
-Giusto, giustissimo, mi scusi. Come mai è intervenuto?
-Mah, nulla. Solo, ho sentore di morte ed era mio desiderio esperire mia grande esperienza mettendola a vostro servizio.
-Morte? Ma di cosa parla? Qui non è morto nessuno.
-Sicura?
-Eh?
Ok, forse qualcuno è morto, ma non qui, non in queste novelle.
-Comprendo. Ma non sono qui per questo. Parlavo della vostra attuale situazione. Somiglia un po' alla fine, non crede?
-Ma per favore, siamo al verde e senza auto, non significa che moriremo.
-Oh avanti, guardi in faccia la realtà!
Dai, ho bisogno di continuare mio De Sepolcri, qui su ci son troppi poeti, troppi scrittori, troppi artisti, ho necessità di riprendere mia vanità e mia virtude, e se ci rimane anche un bel trono.
-Ma che cavolo è questa storia del trono?
-Non se ne curi.
Comunque, qui c'è un losco figuro, che mi suggerisce di portare alla sua attenzione un certo quadro: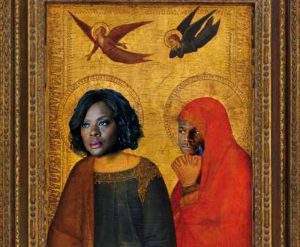 "Mi dispiace interrompere le tue fantasie sui morti, ma credo di aver visto Nate."
"Nate?!
Cavolo, è il personaggio che devo intervistare!"
"Andiamo, è lì."
"Nate? Ehi, Nate?"
"Si?
Oh, ciao Laurel, e chi è la tua amica?"
"Ciao Nate, lei è …
aspetta, come hai detto che ti chiami?"
"In realtà ho provato a dirtelo, ma non mi hai dato tempo."
"Ah, scusami."
"Comunque non importa.
Ciao Nate, siamo rimasti senza auto e senza soldi, potresti per favore, aiutarci?"
"Certo, stavo giusto andando da Annalise, possiamo andare insieme."
"Va bene, nessun problema. E magari dopo aver trovato Annalise andiamo a cercare anche Frank e Wes. Che ne dite?"
"Perché, sono scomparsi?"
"No Nate, Laurel deve solo risolvere i suoi problemi di cuore, e magari nella prossima edizione al posto del Decameron rivisito Beautiful."
"Ahahah divertente come sempre. Non ho problemi di cuore, e tu pensa ai tuoi di problemi, dovresti smetterla di parlare con i morti, ti fa sembrare pazza."
"Come se incontrarvi e parlare con voi non lo avesse già confermato. Passiamo alle cose serie. Nate, andiamo con la tua auto. Magari con quella della polizia, ho sempre sognato di salirci."
"Sarebbe fantastico ragazze, ma sono a piedi."
"Ah!
Insomma, bene ma non benissimo."
"Che ne dite di una storia mente camminiamo verso casa di Annalise?"
"Si, ottima idea Nate! Tanto avrei dovuto comunque farti parlare."
"Allora, la storia del Decameron che voglio raccontarvi ha come protagonista un giovane uomo di colore…"
"Che praticamente saresti tu…"
"Cos? No, non sono io, è un mio amico."
"Si, certo."
"Insomma questo mio amico, si era innamorato di una donna, una donna piena di problemi, capite, una un po' …, fuori di testa. Eh, niente, lei è splendida, meravigliosa, insomma, una per cui perdere la testa. Solo che questa donna è, come ho già detto, una piena di problemi e ha incastrato per omicidio questo mio amico, un uomo raffinato e gentile, nonché bellissimo, pieno di muscol…"
"Si, Nate, abbiamo capito, vai avanti."
"E quindi, quest'uomo adesso ha quasi dimenticato la donna in questione, solo che non ci riesco del tutto."
"Nate, hai appena detto che non RIESCI a dimenticarla."
"Eh? Cos?
Nono, sei tu che non sai scrivere e riporti coniugazioni sbagliate, ho detto riesce, RIESCE!"
-Concordo, non sai scrivere!
-Maestro, ma lei interviene sempre quando non dovrebbe?!
-E tu conversi con Dante quando non dovresti! Oh!
"Nate, continua per favore…"
Anticipazioni prossima puntata de' How to Get Away with Decameron:
Nate continua a parlare in terza persona, Laurel è sempre più ansiosa e preoccupata per i suoi due amici ed io avrò a che fare lo scontro del secolo Dante vs Boccaccio e finalmente forse capirò qualcosa in più su questa storia del trono.
Ma non finisce qui, perché il protagonista della prossima novella del nostro Decameron sarà …
-Vedi di non svelare troppo, figliuola, tempo al tempo. Io intanto indosso i guantoni ed il paradentiera.
-Paradenti, Sommo Maestro.
-Figliuola, li porto bene, ma ho comunque settecento anni.
Leggi anche – How To Get Away With Decameron: capitolo 1
Leggi anche – How To Get Away With Decameron: capitolo 2