Nella puntata precedente di How to Get Away with Decameron:
Orsù, amici cari,
stiam per inoltrare nostre membra e nostri futili corpi in ultraterreno viaggio, in compagnia de' comparse de' seriale avventura de' Au tu ghet eweij uith mu…
-Ehmm, Maestro, mi scusi…
-Si, mi dica figliuola.
-Maestro, non vorrei essere sgarbata, ma in realtà si direbbe, e si scriverebbe, How to Get Away with Murder…
…
PRONTI PER LO SCONTRO DEL SECOLOOOOO?
SIIIII
-Ah, anche lo speaker? La cosa si fa molto più interessante!
-Figliuola, guardi bene, non è uno speaker qualunque.
-Ha ragione Maestro! Ma, ma lo speaker è Giottooooo!
ALLORA COMINCIAMO! NELL'ANGOLO DI SINISTRA, CON I SUOI VERSI HA INCANTATO FIRENZE E LA TOSCANA TUTTA, E PURE QUALCHE ALTRA PARTE DEL MONDO CHE ADESSO NON STO QUI A DIRE, COMBATTE PER DIFENDERE IL TRONO E LA SUA CASAAAATAAA… ECCO A VOI, IL GRANDE, SOMMO, POETA DEI POETI,
DANTE ALIGHIERI!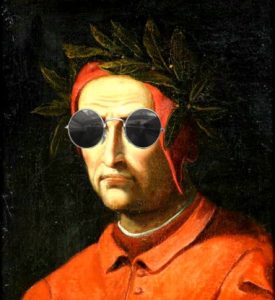 NELL'ANGOLO OPPOSTO! NELLA SUA CARRIERA E' STATO UNO DEI PIU' GRANDI, SE NON FOSSE PER LA NOVELLA DI ANDREUCCIO DA PERUGIA CHE PROPRIO NON MI E' PIACIUTA, PER IL RESTO UN GRANDE SCRITTOOOORE, COMBATTE PER AVERE IL TRONO, LA FAMA, E PER FARE BELLA FIGURA CON LA SUA AMICA A, CIAO A!
-Ciao Giotto, gran begli affreschi, ti ringrazio per la tua partecipazione in questa impresa, sei un grande!
TI RINGRAZIO GIOVANE AMICA, E' STATO UN PIACERE! MA TORNIAMO AL MAESTRO! NELL'ANGOLO OPPOSTO, ABBIAMO IL GRANDE, MAESTOSO, IMMAGINIFICOOOOOOOO
GIOVANNI, PER GLI AMICI GIOVA, BOCCACCIO!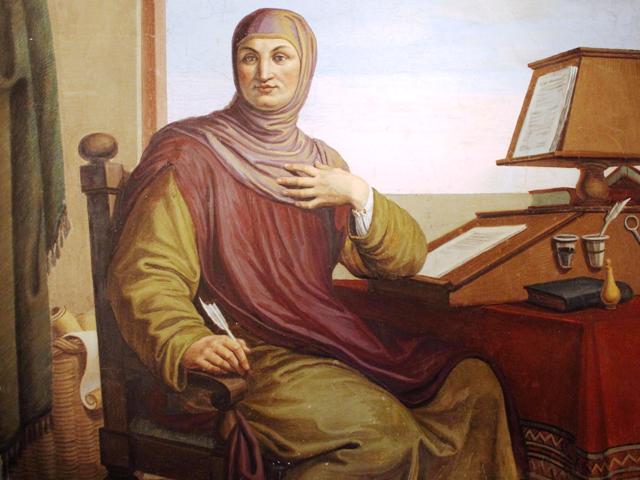 -Vada Maestro, mi raccomando, dia tutto se stesso, io sarò qui a fare il tifo!
-Dobbiamo salutarci qui figliuola.
-Ma Maestro, non è neanche cominciato lo scontro!
-Lo so figliuola, ma non riusciremo a vederci dopo lo scontro. Quindi ciao figliuola, è stato un onore poter parlare con te, spero di rivederla presto, mi mancherà.
-Maestro ha appena detto che le mancherò?
-Non lo ripeterò figliuola, come dite voi? Prendi e porta a casa!
-Capisco Maestro. È stato un onore anche per me, non credevo che potessimo raggiungere questo tipo di amicizia, è stato bello sapere che alla fi…
Maestroo? Ma dove va? Non ho finitooo!
-Cara ti saluto anche io,mi raccomando, non dimenticarci.
-Mai Sommo Poeta, non potrei mai dimenticarvi! Buona fortuna.
ED ECCOCI QUI, PRONTI PER LO SCONTRO DEL SECOLO, MA COSA DICO, DEL MILLENNIO, MA COSA DICO, DI TUTTI I TEMPI! A STROFE ALTERNATE, UNA IN PROSA A CURA DEL MESSERE BOCCACCIO, UNA IN VERSI A CURA DI ALIGHIERO. LA CORSA AL TRONO COMINCIA ORA! E CHE VINCA JOHN SNOW…
A, venuta in Paradiso a conoscer poeti e figuranti, in dieci novelle raccontati, da tutti sorpresa con caute storie, si torna a casa sua.
O buon Frank, fu l'primo decantato,
sì fatto grande per Annalisae voluntade.
Nel medesimo tempo, Laurel entra nel petto nostro
a portar letizia e rancore tra vivi e morti.
Gli affreschi da Giotto dipinti, hanno alla memoria tornati i personaggi de' How to Get Away with Murder. Fu in Paradiso vista, anche artista da mondiale e terrestre fama, il cui nome è Janis, menestrella di immaginifiche canzoni.
O divina Annalise, per triunfare e vincere,
colpa e vergogna gettata fu su Wes e Nate.
O divina Annalise, tempesta e raggio
suggella l'umana specie, sì come Bonnie.
Avendo esso la sua storia mostrata, Foscolo Ugo ricerca morte e sepolcri. Accontentato fu dalla prematura morte di messere Enrico VIII…
"A, devi andare ora."
"Frank? Cosa ci fai qui?"
"Non ci sono solo io, ci siamo tutti."
"Ciao ragazzi, credevo che voi non poteste vedere né sentire nulla di tutto questo."
"E' una lunga storia, ma adesso devi andare via. Devi tornare dove tutto è cominciato. E sei già in ritardo, la terza stagione è già ricominciata! Ci sono delle grandi novità."
"Avete ragione, devo proprio andare ora, considerando che devo recuperare anche una marea di altre serie tv, per non parlare degli esami che devo dare questo mese… cavolo, sono veramente in ritardissimo!
Ma come faccio a tornare indietro?"
"C'è solo un modo."
"Noo, non ditemi che devo…"
"Esatto! Devi morire, crepare, devi dare forfait, devi…"
"Si, ho capito Asher!"
"Ok, chi mi uccide?
Annalise, vuoi avere tu l'onore?"
"Lo faremo insieme A, come deve essere fatto."
"Va bene, ma dopo averlo fatto crematemi per favore e spargete le mie cen…"
"Si si, sappiamo già tutto tranquilla, adesso bando alle ciance e via con l'omicidio."
"Va bene Michaela. Insomma, vi mancherò…"
"Ci rivedremo vedrai."
"Come mi ucciderete?"
"Ah! Con il premio della dea della giustizia, sembra quasi poetico.
Ciao ragazzi, fatemi sapere come finirà la sfida."
"Ciao A."
…
"Ale! Aleeeee! Sveglia! Siamo in ritardo, oggi abbiamo l'esame e stai ancora dormendo! Svegliaaaa!"
"Ma cos… dove sono?"
"Non ci credo!
Hai presente l'anno 2017, quello in cui siamo adesso? Hai presente l'esame che prepariamo da una vita e che ti ha quasi fatto avere un crollo nervoso, o forse l'hai avuto stanotte a quanto vedo. Ecco, OGGI! Abbiamo quell'esame OGGI! Quindi alzati, mettiti du' cose e andiamo, che siamo già in ritardo."
"Oh cavolo. Questa giungla mi uccide!"
"MUOVITI ALESSIAAA!"
…