Nella puntata precedente di How to Get Away with Decameron:
-Figliuola.
-Si Maestro?
-Ho scoperto chi ti ha costretta ad uccidere quella povera anima.
-Davvero? Chi?
-Et voilà! Enrico VIII è qua.
-Enrico VIII? Ma, anche lei nel Paradiso dei Poeti?
Non credevo lei fosse uno scrittore.
-Mah si, ho scritto du' righe, gli saranno piaciute.
-Ma a chi?
-Al tronista!
-Intende il detentore del trono, il Sommo Poeta Dante Alighieri?
-Yaaaas, proprio lui.
-Scusami, ma devo chiedertelo. Quante mogli hai avuto, seriamente?
-Eccoooo, vorrei davvero rispondere a questa domanda, ma non so se mi convenga.
-Per quale cavolo di motivo mi hai ordinato di uccidere Ophelia?
-Chi?
Ahh la madre dell'assassina.
-In realtà Annalise è l'unica a non aver ucciso nessuno.
-Comunque sia, io ho dato solo l'input, sei stata tu a fare il resto.
-Mi sei già antipatico.
…
-Quindi… fatemi capire. Dante e Boccaccio stanno per intraprendere una battaglia all'ultimo verso, Enrico VIII si diverte a farmi uccidere le persone ed in tutto ciò Giotto continua ad affrescare ritratti 'a gratis'.
-Non ti lamentare, alcune persone pagherebbero oro per parlare con me.
-Scusami tanto Enrico se non riesco proprio a fidarmi di uno che si diverte a farmi uccidere le persone e che ha alle spalle innumerevoli matrimoni e infinite amanti.
-Che posso dire, mi è sempre piaciuto vivere.
-Spero che le tue mogli e le tue amanti si trovino nel Paradiso dei Poeti e abbiano sete di vendetta!
"Eccoli Asher, stanno tornando."
"Ragazzi, mi sto quasi preoccupando. Cosa avete fatto?"
"Asher, noi proprio nulla."
"Bonnie, non osare guardarmi così. Se ho fatto quello che ho fatto è anche grazie a quello a cui mi avete abituato in tre stagioni di How to Get Away with Murder!"
"Mmmm touchè!"
"Io comunque ancora non ho capito cosa avete fatto di così grave."
"Nulla Asher. Non sei obbligato a sapere altro."
"Altro?! Ma se non mi avete detto proprio niente…"
"Asher, il tuo telefono sta squillando."
"Oh, dev'essere Michaela, abbiamo un appuntamento tra… venti minuti fa.
La faccio venire qui?"
"NO!"
"Ma Annalise, è Michaela! La mia fidanzata!"
"Torniamo a casa. Tutti. Ognuno a casa propria. Facciamoci una dormita e domattina tutti a lezione. Chiaro?"
"Si Annalise!"
"A. Cosa rispondi 'si' che tu non hai neanche una casa in cui andare!"
"Ah già.
Chi mi ospita?"
"Vieni da me, abbiamo alcune cose di cui parlare."
"Ricevuto Capo!"
"NON chiamarmi capo!"
"Ok, Annalise."
"Molto meglio."
-Maestro come va la preparazione per la grande sfida?
-… caro mi fu quest'ermo colle, e questa…
-Maestro!
-Oh, salve figliuola. Come va lì fuori?
-Beh, considerando che ho ucciso una persona e che ho obbligato Annalise a seppellirne il corpo, devo dire…
-… caro mi fu quest'ermo colle, e questa…
-Va beh, ho capito, sta ripassando Leopardi. A dopo Maestro.
"Annalise, stanno bussando alla porta."
"Chi mai potrà essere a quest'ora?
CHIIIII E'?"
"Annalise, sono Michaela."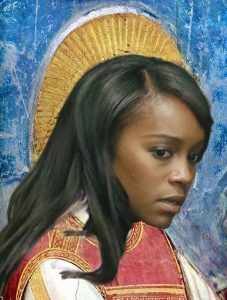 "Michaela?! Cosa ci fai qui?"
"Devo parlarti!"
"Vieni, entra."
"Cosa ci facevate nel bosco stasera?"
"Asher! Te l'ha detto?"
"Si! E dovreste smetterla di tenerci all'oscuro di quello che fate!"
"Non c'è alcun bisogno che voi sappiate ogni cosa."
"Annalise, voglio la verità!
E tu devi essere A."
"Ciao Michaela, è un piacere conoscerti."
"Piacere mio, vorrei parlare anche con te, ma fammi risolvere prima questa cosa con Annalise."
"A dire la verità Annalise non c'entra, sta cercando di coprire me."
"Ma che fai?"
"Scusa Annalise, credo che debba sapere a questo punto."
"Cosa vuol dire che sta cercando di coprire te?"
"Significa che ho commesso un crimine orrendo."
"Oh signore! Chi hai fatto fuori?"
"Questo forse è meglio che non…"
"Voglio la verità!"
"Ophelia."
"La mamma di Annalise? Quella Ophelia?"
"Esatto."
"Ma cosa ti è saltato in testa? Perché?"
"Va bene, adesso basta. È tardi e abbiamo tutti bisogno di dormire, Michaela vai a casa, A, tu smettila di spifferare tutto e vai di sopra."
"No Annalise, fammi parlare con lei, due minuti."
"Ok, ma due minuti, ti aspetto di sopra."
"E quindi hai ucciso una persona."
"Direi di si, ma non voglio parlarne."
"Hai ragione, scusami. Volevo parlarti di me, ho saputo che stai intervistando ognuno di noi per una sorta di Divina Commedia."
"In realtà è una sorta di Decamerone."
-Ahahahah son sempre più famoso del buon Giovanni. Ahahaha
-Fa silenzio Alighieri.
-Chiedo venia, Giova!
"Non so cosa sia, ma comunque per me è uguale, voglio che i miei posteri sappiano chi sono"
"Non vengo dal futuro, ma va bene."
"Non ti pare che io sia sempre l'ultima persona a sapere le cose in questa casa?
Sempre l'ultima. A volte mi chiedo cosa ci faccio qui. Io sono una persona raffinata, elegante. Prima era molto più evidente, vero?
Adesso sono una dei K5…"
"K6! Lunga storia."
"Oh ok, adesso sono una dei K6, sto con Asher. L'avresti mai detto? Io e Asher, due mondi completamente opposti, eppure lui è così… perfetto per me. Vorrei non essere mai entrata in questa sorta di famiglia, ma ormai ci sono dentro, e devo dirti la verità, mi piace, mi sento a casa e arrivati a questo punto mi sono spinta dove non avrei mai pensato di potermi spingere. Ormai sono qui, ed è il posto a cui sento di appartenere. Ma i problemi sono iniziati e non finiranno mai, sono pronta a lottare, non so per quanto riuscirò a resistere, ma adesso ci sono dentro!"
"A, i due minuti sono scaduti, torna in casa!"
"Arrivo subito Annalise!
Questa è la vita che abbiamo scelto di vivere, ogni giorno scegliamo di viverla, niente ti tiene incollata qui, ma so cosa vuol dire, so cosa vuoi dire. Qualunque cosa accada oggi, domani potrai scegliere di non vivere più questa vita e sceglierne un'altra. È la tua vita, la tua scelta, sempre.
Adesso devo proprio andare, a domani."
"Certo, a domani. Buonanotte."
-Figliuola, siamo quasi pronti.
-Che bella arena che avete scelto, piena di alberi e così poco illuminata.
Ma comunque, vada Maestro, combatta per il trono!
Ma ci sono anche degli striscioni. Quello cosa dice?
'Daje de tacco, daje de punta, il fiorentino non la spunta!'
Ahahahah molto arguto.
Uh! Un altro: 'Con te Petrarca et anche Pipino,
togli er trono al fiorentino!'
Ma non c'è neanche un fan di Dante?
-Figliuola, certo che ci sono. Basta seguire la scia di fumo in curva nord…
-Ah, eccoli!
'Nel mezzo del cammin di nostra vita
mi ritrovai per una selva oscura,
che la fama di Boccaccio era smarrita.'
Ahahahah simpaticissimo!!
Noooo, ma quest'altro invece è meravigiosoo: 'Ma Giova', almeno in Paradiso, Fiammetta te se fila?'
Ahahahah, sto morendo, ahahahah
-Figliuola, ma da che parte stà?
-Scusi Maestro, mi perdoni. Non sono riuscita a trattenermi.
-Piuttosto torni a guardare gli striscioni de' miei sostenitori.
-Ha ragione, hanno aggiunto un altro striscione.
'Ma perché Dantuccio, Beatrice ti ha più richiamato da quella sera di 700 anni fa?'
Ahahahah, questa cosa è fantastica!
Ma a proposito, Fiammetta e Beatrice, che fine hanno fatto?
– Questa è un'altra storia, figliuola. Una storia così lunga che servirebbero secoli per raccontarla. Prima della fine de' tua avventura racconterò anche de' mia amata Fiammetta…
Anticipazioni prossima puntata de' How to Get Away with Decameron:
Chi ne uscirà vincitore, Dante? Boccaccio? Chi sarà incoronato detentore del trono?
Intanto il cerchio intorno ai personaggi di How to Get Away with Decameron sta per chiudersi ed il prossimo ad essere intervistato sarà…
-Figliuola, la smetta di dire tutto nelle anticipazioni!
-Mi scusi Maestro, ma devo pur dire qualcosa…
-Così toglie tutta la suspence! Non dica altro e chiuda!
Va beh, alla prossima puntata, la penultima de 'How to Get Away with Decameron!'
Leggi anche – How To Get Away With Murder: Indovina chi?!