Da che mondo è mondo l'uomo ha cercato figure di riferimento a cui ispirarsi. Per alcuni c'è stato Nelson Mandela, per altri Neil Armstrong, per altri ancora Bob Kelso.
Lo spettatore di una serie tv non sempre si schiera con chi gli assomiglia di più, bensì con chi ambisce a diventare. Per alcuni imparare ad avere la risposta pronta, pochi peli sulla lingua, ma una forte vena comica è la perfetta soluzione. E così, da Barney Stinson di How I Met Your Mother a Sheldon Cooper di The Big Bang Theory, ognuno trova la sua via.
Se non sapete da dove partire per sviluppare un carattere da simpaticissimo infame, abbiamo radunato 9 citazioni di personaggi nelle serie tv che potrete usare a vostro piacere col prossimo.
Il consiglio non è un presidio medico-chirurgico. Può provocare reazioni nella controparte che variano da grasse risate a profondo odio nei vostri confronti. Ma se siete pronti a sfidare le controindicazioni, non saremo di certo noi a fermarvi.
Ecco quindi 9 citazioni di serie tv utili se volete sembrare un simpaticissimo infame.
1) "Ti piace fare la spesa nel carrello degli altri" (Melissa, Pretty Little Liars)
Una frase inaspettata, forse neanche voluta come ironica, ma estremamente divertente per come è uscita.
Un provocazione a tutti gli effetti di Melissa nei confronti di Spencer. La frase della ragazza punta ad essere acida per criticare il fatto che Spencer avesse fatto innamorare due fidanzati della sorella, ma gli spettatori non hanno potuto far altro che amare quel momento.
Una frase talmente trash e sopra le righe che non poteva che diventare un modo di dire perfetto per rappresentare la vicenda. E chi non conosce almeno una persona che "ruba la spesa dai carrelli altrui"? Beh, dalla prossima volta saprete come dirglielo.
2) "Fai silenzio Anderson, abbassi il quoziente intellettivo dell'intera strada" (Sherlock Holmes, Sherlock)
Il complesso di superiorità di Sherlock è qualcosa di cui siamo tutti a conoscenza, è anche motivato, ed il detective non perde occasione per ricordarlo a noi ed a chi gli sta intorno.
Siamo soltanto al pilot di Sherlock, e le dinamiche ci vengono presentate in modo perfetto: l'uomo ha bisogno di estremo silenzio per trarre conclusioni, e quando ciò avviene, inizia a spiegare ciò che ha compreso, per essere interrotto da un commento di Anderson.
La risposta è talmente veloce, stizzita, distaccata ed inaspettata che fa scoppiare una risata, e cambiando il nome è una di quelle frasi che può veramente demoralizzare la persona a cui la potreste dire. Sherlock per il sociale, ma solo quello dello spettatore.
3) "Dopo aver visto il film ha suggerito che camminassimo, il che sarebbe stato eccitante se fossi stato un bambino o una sirena. Ma non sono nessuna dei due" (Titus Andromedon, Unbreakable Kimmy Schmidt)
L'essere una diva è parte del carattere di Titus. E ci vuole un carattere adatto per far rendere la battuta al meglio: non è qualcosa per tutti, ma sappiamo che alcuni di voi sapranno gestirla.
Se siete eccentrici, cinici, ma allo stesso tempo adorabili. Se provenite da New York, aspirate a Broadway, e avete un forte egocentrismo, il vostro profilo è perfetto.
Ma a parte gli scherzi Titus è riuscito a dimostrare come dietro il carattere ci sia di più, e l'amicizia con Kimmy, sviluppata negli anni, rende la battuta semplicemente migliore.
4) "Le feste sono il periodo in cui la gente si sente sola e disperata, perciò è il momento dell'anno che preferisco" (Barney Stinson, How I Met Your Mother)
Un'esistenza passata a deridere il prossimo, un vestito cucito su misura negli anni per proteggere un'anima fragile e ferita. La profondità di Barney Stinson in How I Met Your Mother va ben oltre la sua ironia e la sua capacità di far ridere col suo cinismo, ma quando lo fa è incredibilmente bravo.
Lo abbiamo visto più volte prendere in giro gli amici della compagnia, Ted su tutti, ma se sei Barney il cinismo deve aprirsi al mondo e tu devi essere in grado di cogliere l'attimo.
Un doppio fondo della citazione, che potrebbe significare che Barney si sente a suo agio quando chiunque prova la tristezza che vive giornalmente. O forse è solo felice perché si porta le ragazze sole a letto. Probabilmente la seconda. Sicuramente la seconda.
5) "Menti! Non stavi chattando su FaceTime con qualcuno. Nessuno vuole vedere la tua faccia" (Chanel Oberlin, Scream Queens)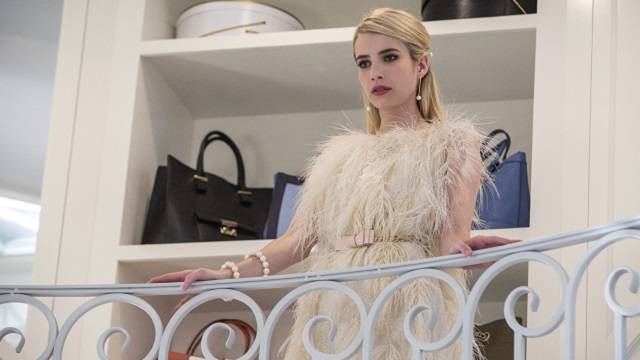 Citazione molto infame e pungente da utilizzare con qualcuno, ma non ci si poteva aspettare altro dal personaggio di Chanel. Una stilettata sull'aspetto fisico adatta ai giorni nostri direttamente da Scream Queens
Chanel Oberlin, è un personaggio estremamente arrogante e viziato. Una vera e propria fashion victim, venerata dai follower e dai fan. Passatempo preferito? Sminuire coloro che non fanno parte delle sue amicizie, eppure questa citazione è riadattabile in modo perfetto se volete usarla.
Dice quello che pensa senza curarsi del prossimo, e lo fa con estrema schiettezza e fermezza sulle proprie opinioni. Una donna sicura di sé ed una citazione adatta a chi le assomiglia.
6) "Perché piangi? Non ce n'è alcuna ragione. Si piange quando si è tristi, io per esempio piango sempre perché gli altri sono stupidi e ciò mi rende triste" (Sheldon Cooper, The Big Bang Theory)
L'incapacità di Sheldon di capire quando è divertente è ciò che rafforza i suoi punti più alti di comicità. Una persona completamente distaccata da tutto, che col tempo arriva ad aprirsi ma lo fa sempre a suo modo.
Indimenticabile la scena in cui Penny scoppia in lacrime perché non capisce un concetto di una lezione e Sheldon non la consola come farebbe chiunque. Se ne esce dicendo che dovrebbe essere lui a piangere perché la gente è stupida.
Probabilmente una frase detta anche in buone intenzioni, ma è impossibile sentirla senza scoppiare a ridere in questo mix non voluto di bastardaggine e comicità. Semplicemente unica e indimenticabile.
7) "Ti farò quello che la primavera fa ai ciliegi, ma alla maniera del carcere" (Piper, Orange Is The New Black)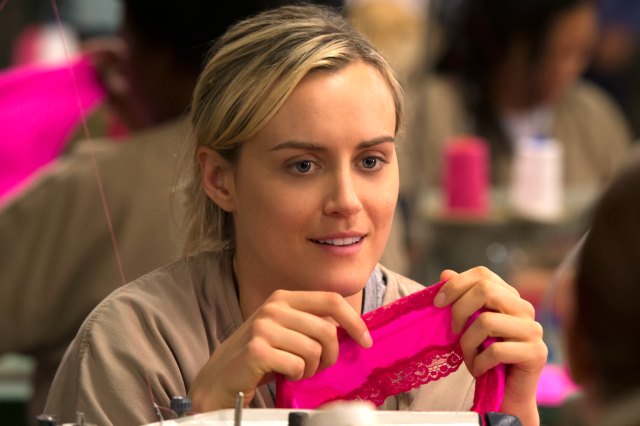 Una bellissima semicitazione di Neruda, per un personaggio fantastico come Piper. La donna, rivolgendosi ad un gruppo di ragazze finite in riformatorio, cerca di intimidirle per far capire loro di non proseguire per quella strada.
Le vuole allontanare dalle sbarre, ma con una poetica e un modo di agire tutto suo: una promessa cruda, fredda, quasi grottesca, che se userete in un vicolo buio con qualcuno gli farete accapponare la pelle.
Una scena che ha strappato più di una risata ai fan della serie, per il momento e per la mezza citazione a Neruda. Un qualcosa che non poteva mancare in questa lista.
8) "Solo perché sei libero di dire qualunque cosa, questo non vuol dire che devi" (Sue Sylvester, Glee)
Crudele. Furba. Vendicativa. Un carattere che già di per sé si prepara ad essere badass, unito a una comicità tagliente che trapela più volte.
L'intento di spazzare via il Glee Club non le ha impedito a Sue Silvester di entrare nei cuori dei fan, e una frase del genere non invecchia mai. La libertà di pensiero e di parola non deve diventare obbligo.
Viviamo in un periodo in cui troppa gente pensa che sia giusto dire tutto, nonostante le conseguenze, solo perché può farlo. E se Sue non ha insegnato loro nulla, avete tutto il diritto di citarla quando serve.
9) "Hey campione, chi ha due pollici e non ti ascolta neanche? Bob Kelso, come va?" (Bob Kelso, Scrubs)
E ultima ma non per importanza, non poteva che esserci una delle citazioni più famose, diffuse, e conosciute nel mondo delle serie tv. Siamo in Scrubs (ma forse anche prima?) e già solo questo dovrebbe bastare per la miriade di citazioni possibili da usare giornalmente.
Volete uscire da una conversazione noiosa? Volete ignorare l'opinione altrui? Non avete minimamente ascoltato cosa vi stavano dicendo e non sapete cosa dire? La risposta è sempre una sola: chiudere i pugni, alzate i pollici, e lasciate andare questa citazione.
Unica, semplice, perfino personalizzabile col nome, e adatta ad ogni più svariata citazione. E poi, lo sanno tutti: non esiste un simpatico più infame di Kelso, e non esiste un infame più simpatico di Kelso. E se non basta potete aggiungerci la voce buffa.