4) Sex and the City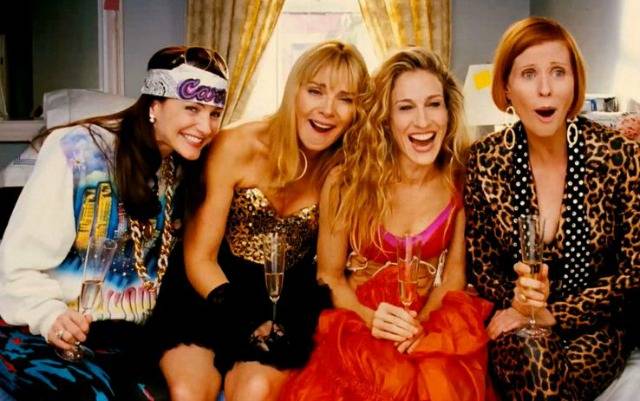 Magari non riuscite a comprendere come una Serie Tv come Sex and the City abbia potuto influenzare How I met your mother. Le uniche due analogie tra queste sit-com sono la tematica dell'amicizia e l'ambientazione nella Grande Mela. Però c'è molto di più! Cosa sarebbe stato il mondo delle Serie Tv senza Sex and The City? Sicuramente un mondo in cui si parlava con minor libertà del sesso! 
Con un colpo di genio gli autori di questa Serie hanno indagato con franchezza e realismo l'universo femminile: i desideri delle donne, le loro vanità, i difetti, i pregi, i punti di forza e le debolezze. Senza Carrie e le sue amiche, le Serie Tv successive non avrebbero avuto personaggi femminili tanto interessanti.
Ed How I met your mother in particolare non avrebbe avuto Lily e Robin, due ragazze molto diverse, ma entrambe forti,  indipendenti e molto sensuali. Non avremmo ascoltato Robin vantarsi delle sue conquiste e Lily inventare parole in codice per far capire a suo marito quel che desiderava. E ci saremmo perse l'episodio dell'addio al nubilato di Lily…inaccettabile! Grazie Sex and the city per averlo evitato!
5) Will and Grace
E' una delle sit-com più famose degli anni 90, che ha collezionato premi a non finire. Il successo di Will & Grace naturalmente ha influenzato tutte le sit-com che sono state create successivamente. Insieme a Friends e Sex and The City, Will & Grace ha messo al centro dello show un gruppo di amici così unito da costituire una piccola famiglia. Inoltre ci ha fatto divertire come matti tra situazioni assurde, avventure fantastiche nei bar ed appuntamenti disastrosi!
Questo non vi ricorda molto How I met your mother? Come la nostra sitc-om preferita, anche Will and Grace è ambientato a New York e racconta la storia di quattro adulti: abbiamo Will, un avvocato di successo che cerca l'uomo perfetto per lui e che vive con la sua migliore amica Grace, una ragazza egocentrica, insicura e logorroica che vive continuamente storie disastrose. Nell'appartamento accanto vive lo spumeggiante e superficiale Jack, gay dichiarato sempre in cerca di avventure. E poi c'è Karen, l'adorabile collega di Grace, egoista e cinica . Il personaggio di Barney, amatissimo co-protagonista di How I met your mother ha ereditato molto da Karen: entrambi indossano solo abiti firmati ed eleganti, sono molto vanitosi, non lavorano mai e conquistano continuamente diversi partner ed entrambi amano l'alcool!!
LEGGI ANCHE
Come è nato How I Met Your Mother
15 modi per provarci in stile How I Met Your Mother
25 cose che hai pensato dopo aver visto l'ultima puntata di How I Met Your Mother