Grace and Frankie è una Serie Tv statunitense, targata Netflix, creata da Marta Kauffman e Howard J. Morris, con protagoniste Jane Fonda e Lily Tomlin, insieme a Martin Sheen e Sam Waterston.
Immaginatevi la scena: in un tranquillo ristorante di San Diego, due coppie di amici di mezza età sono a cena per un'occasione speciale, e le mogli sono super emozionate perché si aspettano che i rispettivi mariti rivelino loro il desiderio di andare finalmente in pensione, dopo una vita dedicata allo studio di avvocati che dirigono… E invece boom! Colpo di scena: i due uomini infatti non sono solo partner nel lavoro, ma anche innamorati e amanti da vent'anni, che vogliono il divorzio per potersi sposare tra loro!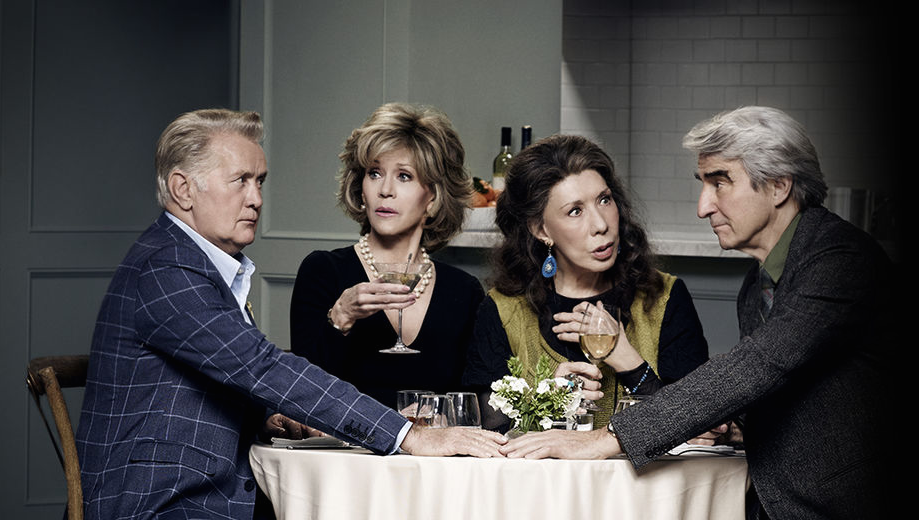 Una comedy per nulla scontata, visto come affronta la questione dal punto di vista più inaspettato: due donne settantenni che si ritrovano a dover ricominciare da zero con le loro vite a causa dell'omosessualità dei rispettivi mariti. D'altro canto l'ha creata Marta Kauffman, quella di Friends, e non c'è quindi da sorprendersi se fin dalle prime battute è palese il fatto che sia un prodotto fatto come si deve.
Già dal pilot di Grace and Frankie si capisce che è roba forte, scritto benissimo: per tutta la prima metà non si ha nemmeno la sensazione di essere di fronte a una comedy e il momento della rivelazione non è presentato con meccanismi comici, ma con un racconto neutro, senza insistere sui su toni drammatici.
Gli attori riescono a immedesimarsi bene nelle loro parti, senza essere troppo stereotipati. La vicenda ruota attorno alle due protagoniste: Grace Hanson (Jane Fonda, devo aggiunger altro?) è un ex donna in carriera, fondatrice di un'azienda di cosmetici di successo, sempre perfetta nei suoi tailleur di classe, la pettinatura impeccabile, la borsa firmata in una mano e il Martini nell'altra; Frankie Bergstein (una Lily Tomlin formidabile, candidata agli Emmy per la parte) è una professoressa di arte, hippie convinta, che non disdegna le droghe leggere, e si ostina a praticare yoga e bere magiche pozioni di peyote: praticamente la nemesi di Grace.
Le due donne si conoscono da sempre ma non sono mai andate molto d'accordo, e l'incredibile confessione dei loro rispettivi mariti le costringe a condividere la loro nuova vita nella villa al mare della famiglia Hanson, dove le due si rifugiano.
Anche i mariti sono due ottimi personaggi: entrambi avvocati divorzisti, Robert Hanson (Martin Sheen) è il burbero marito di Grace, sempre spaventato dal gelo emotivo della moglie; e Sol Bergstein (Sam Waterston) è l'amorevole marito di Frankie, con la quale ha anche un profondo rapporto di intesa e amicizia da praticamente una vita. Quasi agli antipodi anche loro, come le ex mogli.
A fare da contorno alle strambe vicende delle due nonnine i figli delle donne, due donne e due uomini che si ritrovano a diventare ufficialmente fratellastri. Brianna Hanson, che gestisce l'azienda lasciatale dalla madre Grace, è la classica donna in carriera sfigata in amore e la sorella Malloy è invece la sposa perfetta, con due bambini e il marito figo Mitch, ma che è ancora tormentata dalla precedente storia d'amore con Coyote Bergstein, il primo figlio adottivo di Frankie e Sol, un ragazzone che sta cercando di disintossicarsi da alcool e droga; e poi l'unico membro sano della famiglia, l'altro figlio adottato dai Bergstein, Nwabudike detto Bud, avvocato come il padre e uomo giudizioso che si prende cura del fratello.
Un altro elemento forte su cui si appoggia Grace and Frankie è il cast. Grace è Jane Fonda, Frankie è Lily Tomlin e i rispettivi mariti sono Martin Sheen e Sam Waterston. Attori giganteschi, per giunta già affiatati, visto che Fonda-Waterston hanno lavorato insieme in questi anni in The Newsroom, e lui è stato l'intramontabile volto di Law & Order dove interpretava Jack McCoy; mentre Sheen-Tomlin hanno fatto lo stesso in The West Wing, in cui Martin era il Presidente e Lily la sua segretaria.
Tutto fatto bene, alla ricerca di un tono diverso, senza mai mollare la leggerezza. Serie di classe e di sostanza, con il già trattato (in tutte le salse) tema dell'omosessualità che viene proposto in una nuova luce, con le protagoniste non proprio giovincelle, e i rispettivi ex mariti innamorati sì, ma alle prese con una nuova vita radicalmente opposta, a cui, nonostante l'amore pure, è difficile abituarsi.
La serie riesce a descrivere benissimo i drammi di due donne anziane che si vedono catapultate da sole ad affrontare il mondo, con Frankie che passa le giornate al telefono parlando con l'assistenza tecnica perché non sa nemmeno accendere un computer, e Grace che prova il dating online per la prima volta nella vita, cercando un uomo con cui ri-accasarsi, ma poi mollando tutto perché, in fin dei conti, si trova bene in questa nuova condizione. Nella difficoltà le due diventeranno profondamente amiche senza quasi accorgersene, facendoci ridere ed emozionare.
La freschezza di Grace and Frankie va ritrovata proprio nelle protagoniste camaleontiche che si ritrovano, loro malgrado, in situazioni tragicomiche, mescolando le caratteristiche di un family drama con la spensieratezza delle gag e battute da comedy, illustrando il divertente calvario di due donne sull'orlo della follia e della crisi di nervi!
LEGGI ANCHE
10 Serie Tv comedy perfette per il binge watching
10 serie drama perfette per il binge watching
10 Serie Tv da guardare in una sola notte