# #
#DeliridiSpade è la rubrica del martedì sera di Hall of Series che vi racconta ironicamente l'episodio di Game of Thrones andato in onda il giorno prima. Siamo impazziti, ormai l'avete capito. 
# #
Un paio di considerazioni a caso su Meereen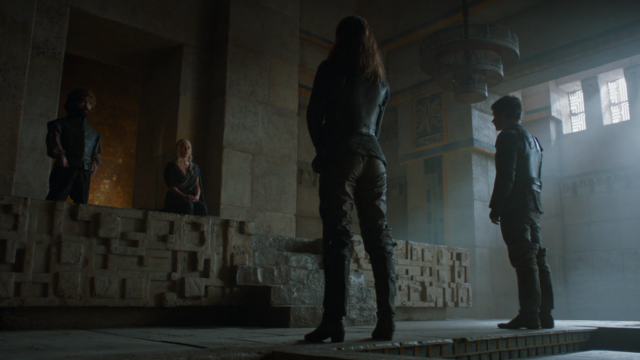 Abbiamo ripreso fiato poco fa. Praticamente siamo rimasti in apnea da domenica notte ad oggi. La Battaglia dei Bastardi ci ha spiazzato e lasciato senza parole. Anzi no, non è vero. Abbiamo un casino di considerazioni da fare, tutte a caso. Di solito ne facciamo solo un paio alla fine, mentre stavolta saranno le protagoniste assolute della nostra rubrica. Siete pronti? Partiamo.
# #
Daenerys si è fatta prendere la mano. Minaccia l'uso dei draghi con la stessa frequenza con la quale una donna chiama in causa lo spettro dell'astinenza sessuale quando c'è un problema col marito.
Hai lasciato una macchia di dentifricio sul lavandino? Occhio a Drogon. Hai fatto un sorriso alla cassiera bionda del supermercato? Drogon non apprezzerà. Vuoi vedere Albania-Romania e monopolizzare la tv per le prossime due ore? Drogon avrà un po' di bruciore intestinale da stabilizzare e su Iris c'è "Il Diavolo veste Prada". Sempre meglio che affrontare un divorzio, tuttavia.
Ramsay, di carne, non se ne intenderà più…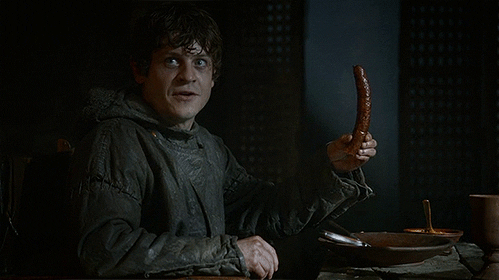 … ma anche a Meereen non scherzano. Varys, Verme Grigio e un esercito di Immortali non bastavano: ora è arrivato anche Theon.
Non capiremo mai i venti minuti dedicati alle barzellette di Tyrion e i tre dedicati alla risoluzione del caso schiavisti.
Gli schiavisti hanno portato avanti la trattativa con la stessa credibilità di un procuratore che cerca di vendere Montolivo al Barcellona.
I sorrisi di Daenerys e Yara sono più ambigui di un dialogo ad inizio film tra Sasha Grey ed un agente immobiliare.
Una friendzone è più accettabile quando il "rivale" in amore è qualcuno dell'altro sesso. Jorah si può consolare.
Tyrion conosce bene sua sorella. Fin troppo bene. Anche se sta dall'altra parte del mondo. Avete presente il Re Folle? Ne riparleremo la settimana prossima.
Ognuno di noi ha sfondato il vetro di una finestra con un pallone. Eravamo piccoli e le nonne non la prendevano molto bene. Per fortuna non avevano a disposizione tre draghi.
Theon prendeva in giro Tyrion per via dell'altezza. Prendeva. Il karma esiste.
Il budget sperperato in CGI per l'intervento dei tre draghi porterà all'ennesimo taglio delle spese: Pippo Franco entrerà nel cast della prossima stagione per aumentare del 30% il minutaggio dedicato alle barzellette.
Un paio di considerazioni a caso sulla Battaglia dei Bastardi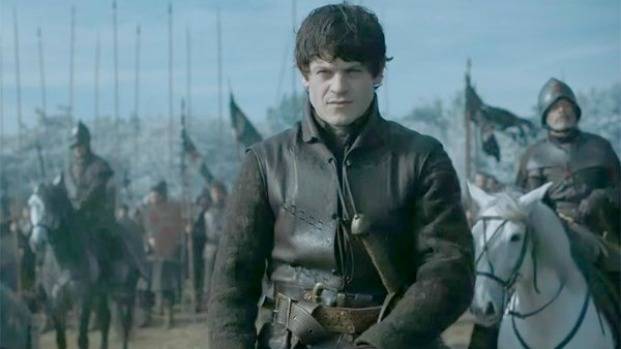 I cani di Ramsay sono rimasti a digiuno per una settimana per concludere la digestione di Walda.
Wun Wun ha esagerato con l'agopuntura. Ha esagerato.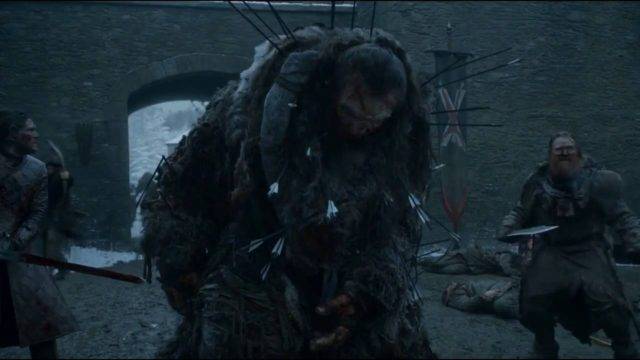 In Brasile hanno preso malissimo la morte di Ramsay.
Manco per Joffrey.
Ditocorto ha cambiato più squadre di Ibrahimovic.
Lyanna Mormont sarà la nuova regina di Winterfell. La Battaglia è stata decisa dai suoi 62 uomini, altro che Arryn.
Ramsay che dà del bastardo a Jon è un po' come Theon che accusa Verme Grigio di non tirar fuori gli attributi.
Ramsay ci insegna che i cani sono i migliori amici dell'uomo. Finché li tratti come meritano.
Jon non sa niente, ma vederlo combattere è sempre un piacere.
L'accademia degli X-Men ha trasformato Sansa. Fin troppo.
Davos sarebbe stato capace di risolvere pacificamente la vicenda offrendo a Ramsay il cavallo di legno della povera Shireen. Non gli hanno dato retta.
L'esercito Stark è una via di mezzo tra un'orda di hipster e un gruppo di reduci da un concerto degli Iron Maiden.
Melisandre ha consigliato a Jon di non perdere. La prossima volta gli dirà di non morire se vorrà continuare a vivere.
Ad ogni gioia degli Stark corrisponde un #mainagioia uguale e contrario. Ciao, Rickon.
Il muro di cadaveri dei caduti in battaglia ci anticipa cosa vedremo fuori dallo studio del nostro professore quando daremo l'esame del 30 luglio.
Art Parkinson, interprete di Rickon, ha capito cosa avrebbe dovuto fare. Troppo tardi.
Had a good run #shouldazigzagged

— Art Parkinson (@art_parkinson) 20 giugno 2016
Ramsay Bolton è un romantico incompreso. Molto incompreso.
La gravidanza di Sansa è quotata a 1.01.
Nell'episodio di ieri Jon sarebbe sopravvissuto persino alle pugnalate di Olly.
Ditocorto è un uomo di poche pretese: in cambio dell'intervento militare ha chiesto solo l'organizzazione delle prossime Olimpiadi invernali di Grande Inverno, la mano di Sansa, tre resurrezioni omaggio, il #Molise e i 62 uomini di Lyanna Mormont. Sopratutto gli ultimi.
Un saluto da quello spoileratore di Theon!
Antonio Casu