Ognuno di noi vive le Serie Tv che guarda in maniera diversa. Tutti noi abbiamo un "background culturale" differente l'uno dall'altro, cosa che conseguentemente fa reagire qualcuno in un modo che può essere l'esatto contrario per qualcun altro. Game of Thrones è una di quelle Serie Tv che lasciano qualcosa dentro coloro che la seguono: personaggi scritti con intensità, scenografie e fotografia mozzafiato, intrighi di trama senza precedenti. Tutto ciò può cambiare la percezione di molte cose per un soggetto che consapevolmente (o no) inizia questa avventura lunga, finora, 60 puntate. Anche se è "solo" una serie fantasy, ha un impatto e tocca dei temi tangibili nella nostra vita, soprattutto in relazione ai tabù e ad alcuni valori a cui siamo ancorati.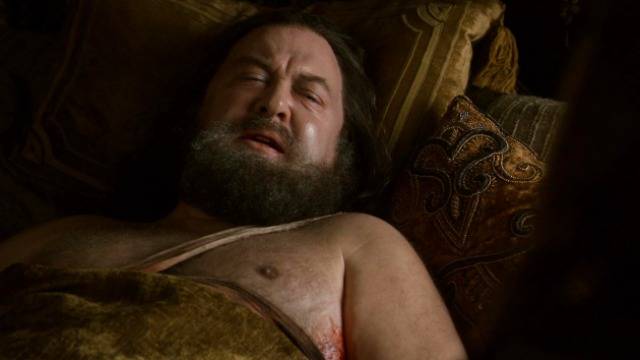 Uno dei primi aspetti a cui si pensa in riferimento a Game of Thrones è: ma quanto è violenta? Immagino che, come me, siano molte le persone che non amino la visione di scene troppo crude, a volte considerate anche gratuite. Ebbene, la serie mette subito in chiaro le cose nella prima puntata, mostrando decapitazioni e corpi dilaniati dagli Estranei, lasciando lo spettatore nella confusione e nel disgusto più totale. Ma sono numerosi e anche più traumatici i momenti crudi e violenti della serie; ma in cosa dunque Game of Thrones porta un cambiamento? Di certo non sono diventato un amante della violenza, ma ho imparato a sopportarla per un motivo: vale la pena ingoiare una pillola amara rispetto a tutto ciò che la serie propone. E questo ovviamente ha avuto influenze anche sulla visione di altre Serie Tv.
La violenza però, non è solo visiva, ma è spesso anche psicologica: questa è probabilmente quella più sconvolgente e disturbante. Di solito si rimane turbati o semplicemente infastiditi da situazioni che nella nostra società sono considerate, oltre che illegali, soprattutto immorali. Il Trono di Spade è pieno di situazioni simili, eventi che non smettono mai di metterti a disagio e che, per lo stesso ragionamento usato per la violenza visiva, si decide di accettare per la grande qualità di tutto il resto e perchè, in fondo, pensiamo che siano necessari allo sviluppo della storia. Una bambina bruciata viva, torture nei confronti dei prigionieri, stupri, incesti: sono queste le cose che bisogna affrontare, anche se ognuna di esse va presa con diversa cognizione. Infatti, se si ammette che l'universo di Game of Thrones si collochi in un periodo che, a livello di sviluppo e mitologia, corrisponde al nostro Basso MedioEvo, capiremo bene che molti aspetti (come l'incesto o, in alcuni casi, le condanne al rogo) sono esistiti anche nel nostro mondo storico, giungendo dunque ad una più consapevole contestualizzazione.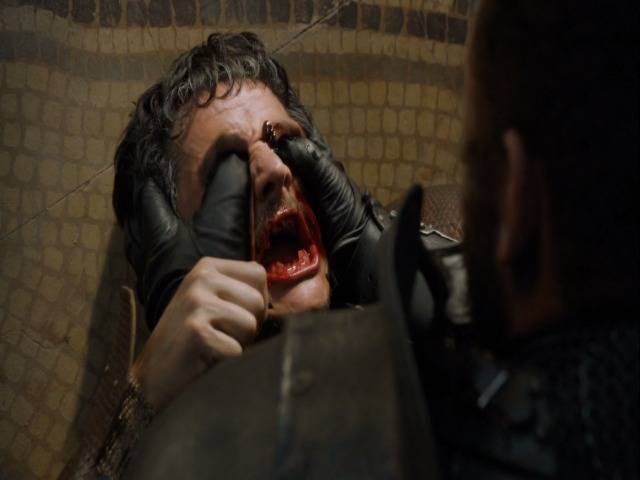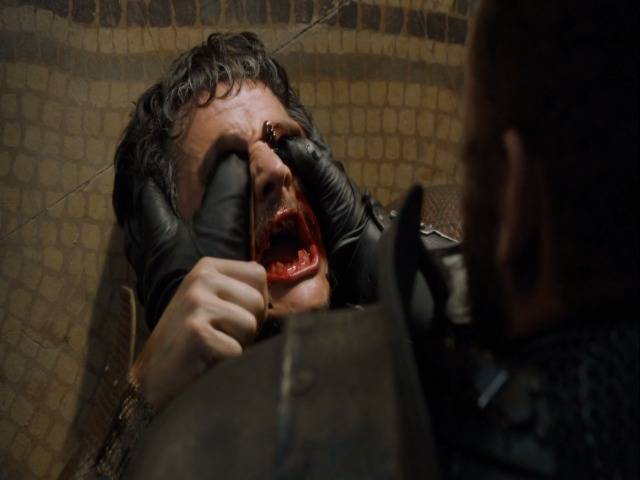 Leggermente diversa è invece la questione relativa alla concezione dei valori e a come essi vengono trattati dalla storia, elemento che, purtroppo, è parecchio vicino alla nostra realtà. Cerco di spiegarmi: nella maggior parte dei casi le persone portatrici di valori quali l'onore e la lealtà non hanno vita lunga. Infatti è facile, rispetto alle serpi da cui sono circondate, etichettarle come "ingenue" e poco avvezze alla sopravvivenza in un mondo come quello creato da Martin. Si pensi ad esempio a come Ned Stark viene a dir poco annichilito dalla furbizia e cattiveria di Cersei e Ditocorto, oppure Robb Stark ingannato e tradito rispettivamente da Tywin Lannister, Walder Frey e Roose Bolton. Non è forse frequente nella nostra realtà la prevaricazione del furbo sull'onesto? Non è spesso il 'male' a trionfare?
A questo proposito, Game of Thrones sembra godere nel mostrare il trionfo di personaggi che esprimono negatività e la morte di coloro che hanno almeno un bagliore di positività al loro interno. Ma, per fortuna, non è sempre così: la serie ci insegna e trasmette un elemento fondamentale per la sopravvivenza dell'uomo, la speranza.
Tutti abbiamo la speranza che coloro che si sono macchiati delle violenze, fisiche o psicologiche sopra descritte, abbiano la giusta ricompensa dagli sviluppi della storia; in parte si è già stati accontentati. Non è così anche nella nostra vita? Non è la speranza a dominare molte situazioni? La serie ci dà una lezione a questo proposito, attraverso i personaggi e attraverso le vicende: farne tesoro non è così scontato.