# #
Villain is the new Hero. Non ho mai particolarmente amato i buoni, nei film, nei libri e nelle Serie Tv. Adesso che è di moda stare dalla parte del lato oscuro, posso ostentare con più orgoglio la mia fede pagana nel Darth Vader de "L'Impero colpisce ancora" (quello che ti strozzava col pensiero se sbagliavi a mettergli lo zucchero nel caffè, per intenderci) o le mie turbe amorose da liceale verso il Joker di Nolan/Ledger (allego faccina con lacrima). Quindi, è abbastanza intuitivo immaginare come Ned Stark mi sia sempre stato vagamente sulle balle. Opinione del tutto personale, ovvio, ma nella stagione di Game of Thrones appena terminata ha anche trovato delle basi solide. Non a caso, all'interno dell'ultima pagella della settima gli ho anche assegnato un premio speciale per la sia ingenuità (idiozia?).
# #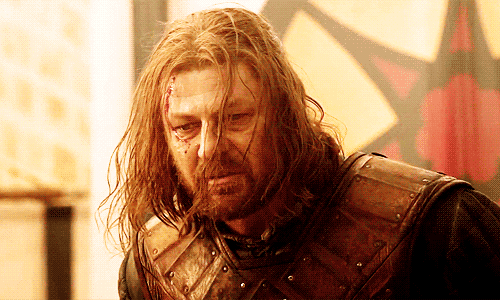 Lo hanno fatto passare per l'integerrimo, il retto, l'irriducibilmente onesto della situazione. Ecco, se c'è una cosa che odio più dei buoni sono quelli santificati senza motivo. E che rigonfiamenti pubici ci han fatto con il suo onore, il suo esempio, le sue massime!
# #
Bene, adesso basta. È ora di dire le cose come stanno.
Gran parte dei momenti che mi hanno fatto odiare Ned Stark, per forza di cose, affondano le proprie radici nella prima stagione del Trono di Spade, e quindi per ripercorrerle dobbiamo tornare a quando Arya Stark era una monella indomabile, sul trono c'era una spugna e nei sette regni fioccavano incesti come polline in primavera. Già, non è che sia poi cambiato moltissimo.
6 cose che mi hanno fatto odiare Ned Stark
Ho odiato Ned Stark perché si è fidato di Petyr Baelish
Ma puoi? No, dico, ma puoi?! Sanno tutti che è un doppiogiochista, e vabbeh.
Fa parte del concilio ristretto  del Re della Regina da un sacco di anni e ha ancora tutti gli organi funzionanti, e già questo dovrebbe far capire da che parte stia.
Era (è) innamorato di tua moglie e tu lo sai benissimo.
Mi spieghi COME PUOI PENSARE CHE POSSA AIUTARTI UNO COSÌ?
E in fase di montaggio hanno tagliato la scena dove Ditocorto gli vende un mattone all'Autogrill spacciandolo per un lettore DVD.