Quando parla una regina, di norma, si sta zitti ad ascoltare. Se la regina è Cersei Lannister (interpretata da Lena Headey), poi, lo si fa con una doverosa punta di timore, anche se spesso sono i suoi silenzi a dover spaventare.
Del resto, si sa, leonessa che ruggisce non morde.
La leonessa in questione, appena salita sul Trono di Spade, seggiola dalla quale più di uno vorrebbe vederla cadere – possibilmente senza testa – è interpretata da un altrettanto regale signora: Lena Headey.
Quest'ultima, nel corso degli ultimi mesi ha contribuito notevolmente a ingigantire il flusso di congetture, teorie e previsioni intorno all'esito della battaglia per i Sette Regni che farà la parte del leone (o del drago, o del lupo, o dell'Angela) nella settima stagione di Game of Thrones.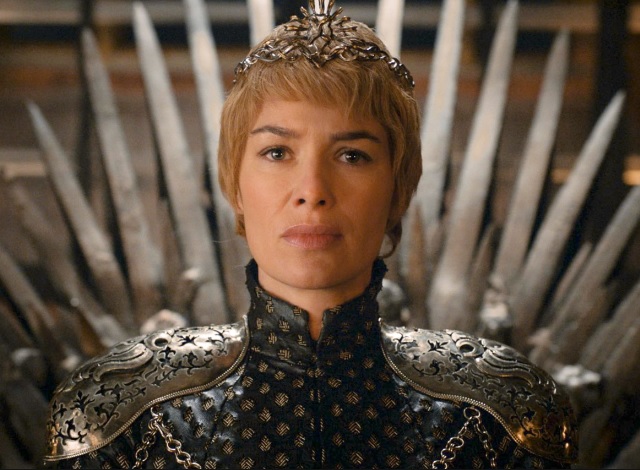 Nemmeno ai protagonisti viene detto proprio tutto tutto prima di girare le scene più importanti, però è sempre interessante sapere cosa pensa chi, nei panni di un personaggio di GoT, ci sta da una sessantina di episodi.
Che poi, se sei arrivata ancora in vita dopo 60 episodi, un applauso lo meriti a prescindere.
11 DICHIARAZIONI DI LENA HEADEY SU CERSEI LANNISTER
Prima di tutto qualche ipotesi su quello che più o meno tutti si chiedono: ma quanto durerà?!? Lena Headey è molto fiduciosa sul futuro. Degli altri.
Cersei resterà sul Trono di Spade a lungo? No. Sicuramente no! Per niente. È un segno di interpunzione nella follia generale.
Non mi preoccupa la morte del mio personaggio. Ho sempre detto che quando succederà, l'importante è che sia abbastanza gloriosa e violenta e venga dalla persona giusta, tipo Arya o Tyrion, nessuno godrebbe della sua morte quanto lui.
Se voglio che Cersei si redima? No, rovinerebbe il personaggio.
Sono stata fortunata a poter crescere insieme a Cersei, il fatto che non mi abbiano ucciso è stato un miracolo. Credo che, quando morirò, i giornalisti non mi vorranno più parlare
Ok, le prospettive di carriera sono quelle che sono. In famiglia, tutto a posto?
Sono elettrizzata come tutti all'idea di rivedere Cersei e Tyrion insieme. Questi due personaggi sono così interessanti perché c'è tanto odio, eppure anche un certo rispetto. Si ucciderebbero l'un l'altro se ne avessero l'occasione.
Non che il rapporto con suo padre fosse all'insegna dell'amore, ma almeno aveva la sua guida, e purtroppo non conosce realmente molto delle finanze e delle alleanze politiche. Pensa di aver trovato un gruppo di potere influente a cui unirsi e da manipolare, ma investe nelle persone sbagliate. Ha semplicemente troppo odio per alcune persone, e questo non aiuta la sua causa.
Quando suo fratello Jamie torna da lei, dopo esser stato con la guerriera Brienne, riesce a vedere Cersei per quella che davvero è, ed è un momento decisivo per loro. Non sono sicuri di potersi fidare l'uno dell'altra, ed è una dinamica interessante, molto attuale direi.
Sì ma, quando si toglie la parrucca bionda, Lena Headey cosa pensa di Cersei Lannister?
Qualcuno la considera una pazza e censura ogni sua mossa o intenzione. Peggio di Lady Macbeth! Ma Cersei è una creatura del suo mondo, voglio dire non è una donna fuori di testa e non chiede scusa a nessuno per essere in una posizione di potere. Agisce in quel modo per garantirsi sicurezza e per non perdere la sua posizione, come farebbe chiunque nelle alte gerarchie di qualsiasi regime. Ne ha passate tante nelle ultime due stagioni, ne ha viste di tutti i colori. 
Interpreto solo una donna che è una sopravvissuta. e che farà esattamente quello che farebbe un uomo in guerra, come uccidere qualcuno. Forse non direttamente.
Poi ci sarebbe quella cosuccia della Walk of Shame (Shame! Shame! Shame! Shame! Shame!).
Non è difficile capire cosa si prova, quando la gente veramente ti urla contro, e tu hai un aspetto di merda e vieni fottutamente umiliata. C'è una parte di te che ha una paura fottuta. Non riesco nemmeno ad immaginare le persone che ti vorrebbero morto. Cersei ha sbagliato, ma non si merita questo.
È stata picchiata, affamata e umiliata. Pensa che quando uscirà allo scoperto e confesserà, finirà lì. Anche quando è in ginocchio, in parte sta mentendo. Pensa di potersene andare senza problemi. Non ha idea di quello che succederà quando uscirà sui gradini o quando le raseranno i capelli come Aslan.
Umiliata, accerchiata, odiata, distrutta. Beh, allora Cersei Lannister è bella che pronta per uscire di scena…
Penso che abbia alcune persone da uccidere prima aver finito.
Ah, forse no.