Attenzione: evitate la lettura se non volete imbattervi in spoiler sulla 6×05 di Game of Thrones. 
Hold the door, Hodor. Hold the door. Non si può non iniziare da qui, dalla scena più straziante di Game of Thrones dai tempi delle Nozze Rosse. La costruzione della sequenza che ha portato alla morte di Hodor è il trionfo di D&D, slegatisi definitivamente da Martin e capaci di mettere in scena un capolavoro di scrittura, ritmo, pathos e colpi di scena.
Con l'avvento della sesta stagione, Game of Thrones non è più una serie tv sui generis, lenta e dalle dinamiche romanziere tipiche del genio statunitense, ma un prodotto seriale più classico, veloce ed ugualmente sconvolgente. D&D hanno superato la prova di maturità, e "The Door", quinto episodio della sesta stagione, è il mid season perfetto che ci proietta verso una seconda parte totalmente imprevedibile.
Il passato, il presente e il futuro di Bran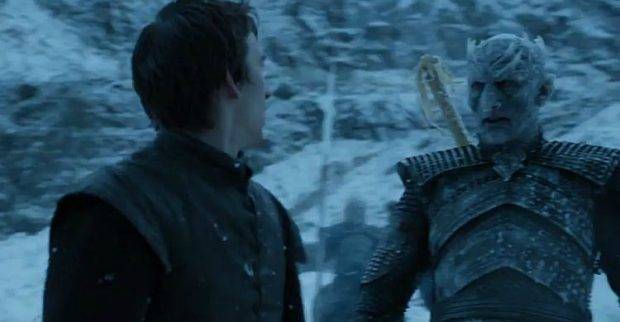 Ammettiamolo: quando avevamo scoperto il titolo di questo episodio, i nostri pensieri erano ricaduti immediatamente sulla porta della Torre della Gioia, portatrice del grande segreto di Lyanna Stark. L'attesa è rimandata di una settimana (probabilmente solo una), e Game of Thrones ci ha spiazzato con un'altra porta, ugualmente pesante e a sua volta chiave di volta di un segreto (l'origine degli Estranei) che ne porta con sé molti altri (l'inizio e la fine di Hodor).
Le vicende che legano Bran al Corvo dai Tre Occhi sono protagoniste assolute dell'episodio e fanno del giovane Stark uno dei personaggi chiave dell'intera stagione (al pari solo di Jon Snow). Abbiamo passato quattro stagioni a domandarci che ruolo potesse avere, e ora l'abbiamo finalmente capito: è e sarà un raccordo. Un raccordo tra passato e presente con interazioni attive che condizioneranno in modo decisivo il futuro. Chi l'atteso a lungo tra uno sbadiglio ed un altro è stato finalmente ripagato: la nuova era della serie passerà anche attraverso le sue visioni.
In pochi minuti è successo di tutto (forse troppo). Lo Stark scopre l'origine degli Estranei (creati dai mitologici Children of The Forest che poi li combatteranno in difesa del Corvo e dello stesso Bran), entra a contatto con loro, è costretto a fuggire ed è investito di un nuovo incarico: un vecchio Corvo è morto e lui, uscito dalla porta maledetta, è il nuovo che dovrà tenere le redini della Storia. L'addestramento si è concluso frettolosamente e ci domandiamo ora se sarà all'altezza dell'arduo ruolo.
La mitologia è la narrazione del nuovo e del vecchio Inverno che raccontano un'unica storia. Le interazioni tra passato e presente sono incalzanti e vorticose. In senso metaforico (Meera salva Bran come il padre Howland salvò il giovane Ned) e, sopratutto, concretamente. Non si possono non menzionare in questo senso il primo contatto tra Bran e gli Estranei ed il sacrificio di Hodor, andato incontro eroicamente ad una morte vista con i propri occhi fin da giovane. La sequenza della sua morte rimarrà a lungo nelle nostre menti e ci conferma per l'ennesima volta che il mondo di Game of Thrones è ostile sopratutto ai personaggi dall'animo gentile.
Il passo falso di Sansa, le alleanze del Nord e la nuova era dei Greyjoy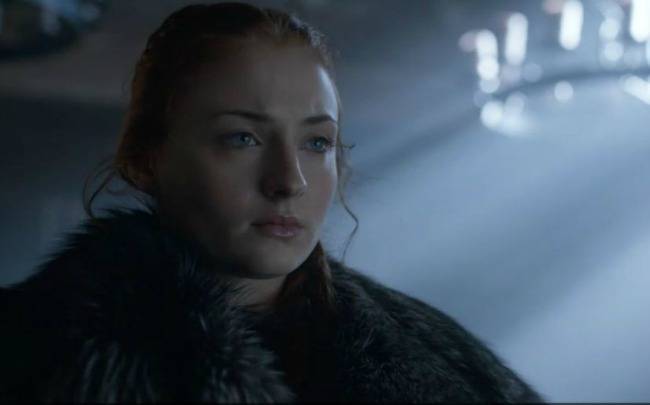 Una che l'ha capito a carissimo prezzo, ma non ha rinnegato fino in fondo la propria natura, è Sansa. Si può interpretare l'idea di vendetta in mille modi, e lei si pone in antitesi alla sorella Arya, capace di mettere da parte (definitivamente? Abbiamo più di un dubbio) le proprie origini in nome di un obiettivo da definire. Lo dimostra l'incontro con l'odiato Ditocorto, reo di averla consegnata allo spietato Ramsay. Sansa è una donna matura, fredda nel respingere l'offerta d'aiuto di Lord Baelish e non abbastanza cinica nel farlo fuori. Uno come Ditocorto non si può mai sottovalutare e siamo sicuri che il suo richiamo a Pesce Nero (zio di Sansa) non sia disinteressato. Tenerlo in vita e mandare Brienne per cercare un'alleanza con lo zio si rivelerà una scelta azzeccata? Difficile capirlo ora, ma l'ombra del manipolatore per eccellenza di Game of Thrones è fin troppo ingombrante per non farci temere il peggio.
Intanto prende forma il nuovo esercito Stark, ora in bilico tra alleanze rischiose (il Nord dimostrerà di avere buona memoria?) ed un nuovo, possibile, scenario: il ritorno di Theon e della sorella Yara. I due Greyjoy, fuggiti dalle Isole di Ferro con navi e uomini dopo l'incoronazione fantozziana di Euron, si ritrovano isolati e senza obiettivi. Il rapporto ritrovato tra Sansa e Theon originerà un'alleanza contro Ramsay? Se l'ipotesi si concretizzerà, verrà confermata una volta ancora la scarsa lungimiranza di lord Bolton, incapace di gestire al meglio i rapporti con i Greyjoy in nome di una vendetta personale.
E le questioni che riguardano i Greyjoy non finiscono qui. Il regno di Euron apre nuovi scenari affascinanti. Lo zio di Theon e Yara è un uomo profondamente diverso dal fratello Balon: è ambizioso, spietato e abile nell'intrecciare rapporti e alleanze. Le Isole di Ferro sono uno spazio troppo ristretto per uno come lui, e le sue mire espansionistiche si spingono fino ad Essos e alla bella Daenerys. L'obiettivo è mettere in piedi una flotta navale senza precedenti, sposare la Targaryen e dar vita ad un esercito invincibile. Riuscirà nell'impresa? Sappiamo troppo poco di Euron (quello della serie tv) per dargli credito, ma l'ipotesi è intrigante.
Un tempo eravamo tutti Varys, ora dobbiamo prendere tutto sul serio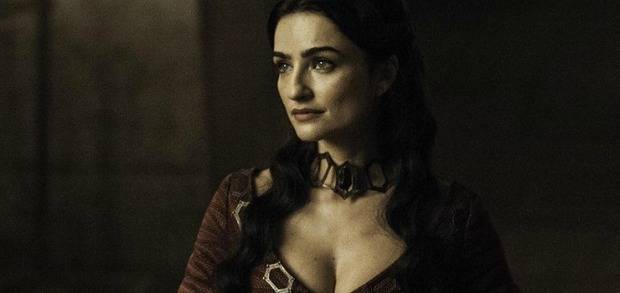 In quel di Essos, la donna più desiderata del mondo saluta il fido Jorah e riprende il cammino verso la conquista dell'ambito trono. Si sta rivelando fondamentale in questo senso l'apporto di Tyrion e Varys. Il secondo è stato protagonista di un episodio a suo modo metaforico nella nostra visione di Game of Thrones.
L'approccio iniziale alla serie si rapportava ad un fantasy sui generis, nel quale il realismo lo faceva da padrone. Spettatori e lettori hanno superato da tempo quest'idea, ma l'atteggiamento di Varys nei confronti di Kinvara, sacerdotessa del culto di R'hllor (come Melisandre) apparsa nell'ultimo episodio, ci conferma un'idea che ci siamo fatti da tempo. La componente fantasy è fondamentale, e non è un elemento marginale o una semplice superstizione legata ad una visione antica del mondo. In fondo siamo stati tutti Varys, ma la realtà dei fatti ci costringe a fare i conti con l'affascinante Kinvara. Oppure con i Children of the Forest. Oppure con gli Estranei. Oppure con un Hodor che nasce e muore nello stesso momento. La porta si è spalancata definitivamente, e non abbiamo più un mezzo gigante eroico ad aiutarci. Si salvi chi può.
Ringraziamo i nostri partner di  Game of Thrones – Italy, Game Of Thrones fans page -ITA- , Game of Thrones ITALIA , L'immane disgusto di Varys nei confronti dell'umanità. Team Sansa