Ci siamo innamorati di Jon Snow e Ygritte fin dalla seconda stagione di Game of Thrones. E poi hanno finito per innamorarsi l'uno dell'altra.
Kit Harington e Rose Leslie stanno insieme da sette anni, e lo scorso settembre è giunta la fatidica proposta. E lei ha detto sì.
Il grande giorno è infine arrivato.
Kit e Rose convoleranno a nozze sabato 23 giugno 2018 in compagnia di 200 invitati, tra amici, parenti e colleghi, in un castello scozzese della famiglia di lei.
In effetti siamo ormai tutti a conoscenza del fatto che entrambi gli attori di Game of Thrones abbiano sangue blu che gli scorre nelle vene, e la famiglia Leslie è proprietaria di un antico maniero scozzese nella località di Lickleyhead, nelle Lowlands, non troppo distante da Abardeen, dove Rose è cresciuta.
Il castello Warhill, risalente al XII secolo, è di proprietà della famiglia Leslie dalla bellezza di 900 anni. Nei giardini del castello è stato eretto un tendone, per la colazione del matrimonio e per la cena, scovato attraverso l'utilizzo di droni, e l'intera tenuta è stata trasformata in un esclusivo rifugio per il fine settimana, e questo non è certo il primo matrimonio che si trova ad ospitare.
Rose e Kit si scambieranno i voti nel salone ornato del castello, che può ospitare 80 persone. Ma dove metteranno le restanti 120?
Nel castello ci sono almeno 8 camere decorate in stile tradizionale scozzese, ed ovviamente la coppia felice trascorrerà la sua prima notte di nozze nella camera del Laird con tanto di letto a baldacchino.
La famiglia di Rose ha un retaggio non solo più antico di quello di Kit Harington ma anche più antico della stessa famiglia Windsor: i Leslie, infatti, discendono da re Carlo II di Scozia e Inghilterra.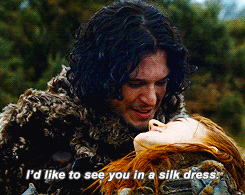 Stando alla stampa britannica, la cerimonia sarà officiata dal padre benedettino Chad Boulton, cappellano dell'abbazia di Ampleforth, nel nord dell'Inghilterra. Aspettate un secondo: Boulton? Oddio, la somiglianza con i Bolton sembra a dir poco inquietante.
In ogni modo i due fidanzati non hanno rilasciato particolari indiscrezioni, tenendosi stretta quella privacy da loro tanto amata e difesa con le unghie e con i denti, per cui non si conoscono ancora con certezza i nomi degli invitati. Dopotutto c'è poco da essere misteriosi: i colleghi dal set di Game of Thrones che hanno visto la coppia conoscersi e innamorarsi nel lontano 2011 non potranno certo mancare.
Molti dei colleghi sono arrivati lo scorso venerdì all'aeroporto di Abardeen, tra cui spiccano sicuramente Emilia Clarke, Peter Dinklage e Sophie Turner. E mentre le celebrity arrivavano, nel castello e per le vie del paese c'era un gran via vai di ristoratori, fioristi, e ovviamente membri della famiglia Leslie intenti negli ultimi preparativi.
Kit e Rose sono sempre stati riservati, reticenti a condividere la loro vita sui social, figli di un'epoca che per fortuna ancora si preoccupa di tenersi stretti quei momenti unici e speciali, che spiattellati sui social rischiano di venire corrotti da fan sfegatati. Però una cosa Kit ce l'ha concessa durante un'intervista al The Jonathan Ross Shaw riguardo alla sua proposta di matrimonio a Rose: «avevo alcune cose in mente su come fare: includevano lucine intorno agli alberi e altre cose romantiche, ma eravamo in campagna, sotto un bellissimo cielo stellato, c'era il fuoco, c'era il vino rosso, così non ho resistito: ho fatto tutto in fretta», e , aggiungerei, con una spontaneità da far tremare le ginocchia a ciascuna di noi.
Adesso non ci resta che aspettare e sperare che qualcosa del fatidico giorno trapeli, augurando alla coppia più bella di Game of Thrones un futuro migliore di quello dei loro personaggi.