George R.R. Martin invece di scrivere l'ultimo romanzo della saga spende il suo tempo dando alcune riflessioni sul prequel di Game of Thrones. Quale dovrebbe essere il titolo e come l'ordine dell'episodio pilota avrà un impatto (o in questo caso non lo avrà) sul The Wind of Winter. Scrivendo sul suo sito web, l'autore di Game of Thrones ha elogiato la showrunner del prequel Jane Goldman (X-Men: First Class).
I fan hanno aspettato sette anni dalla pubblicazione dell'ultimo libro, George allora ha approfittato per rassicurare i fan:
E sì, prima che tu me lo chieda, il lavoro su Winds of Winter continua, e rimane la mia massima priorità. È ridicolo pensare diversamente. Se non fossi impegnato con il libro non credi che scriverei io stesso uno o più di questi pilot? Non è che non abbia mai scritto per la TV.
Martin ha anche rivelato che una delle altre quattro idee di prequel in fase di sviluppo è stata respinta, ma le altre tre rimangono in sviluppo attivo e potrebbero anche ottenere un ordine per un episodio pilota: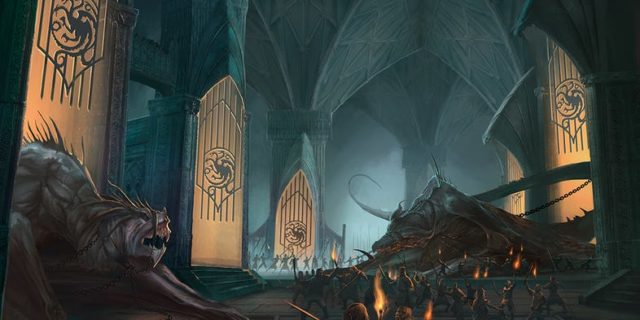 Altri tre prequel di Game of Thrones, ambientati in epoche diverse e con personaggi e storie diverse, rimangono in sviluppo attivo. Tutto quello che mi viene detto indica che potremmo filmare almeno un altro pilot, e forse più di uno, negli anni a venire.
Il progetto Goldman rimane senza titolo. Si sta ipotizzando per Game of Thrones: Age of Heroes, ma zio George non è della stessa opinione:
Il mio voto sarebbe per The Long Night, che dice tutto. Ma sarei sorpreso se fosse realmente così. E' più probabile che la HBO giocherà con il titolo originale.
Ma su una cosa ha ragione  Georgione nazionale, The Long Night è decisamente migliore come titolo!