Passano le ore, i giorni e i mesi. Inarrestabili, come un fiume che scorre verso una meta lontana. Game of Thrones è proprio questo: un fiume che scorre nei canali della nostra fantasia. La sua struttura è sempre la stessa, eppure in superficie cambia, si evolve, emoziona, in un crescendo di intensità. Sono passati ormai sette anni dal preludio di un'avventura che ancora oggi ci prende per mano e ci accompagna per un viaggio incredibile.
In una terra lontana, rievoca in noi un passato che possiamo solo immaginare. Seduti sul nostro divano, magari con una bella pizza e la giusta compagnia. Tutto è perfetto, mancano solo le indimenticabili note di una colonna sonora ormai familiare sulla quale vediamo Westeros ed Essos cambiare, in pochi minuti di introduzione, ma anno dopo anno. Noi cresciamo con loro, cambiamo punti di vista, e siamo esigenti, forse troppo. Eppure se si parla di fantasia, non si è mai in difetto, mai troppo poveri, mai troppo ricchi. Siamo quel che vogliamo, nel giusto equilibrio che noi decidiamo di imporci.
In Game of Thrones per la prima volta si è tentato di regalare quel tipo di equilibrio allo spettatore.
Una carica esplosiva in grado di far provare empatia e rendere il pubblico stesso parte integrante dello show. Trovare questo tipo di equilibrio in un prodotto fantasy, genere poco sperimentato in campo seriale, è stata un'abile mossa, seppur rischiosa.
Si è investito fin da subito in due aspetti separati ma al contempo paralleli e ugualmente importanti: il budget e l'epicità. L'epicità è un ingrediente fondamentale per un viaggio che possa far evadere dalla vita di tutti i giorni. Il quotidiano non è epico: è doveri, responsabilità, stress. Game of Thrones nasce con una forte carica di epicità fin dalla stesura della sua controparte letteraria. Tuttavia per renderlo possibile serve un budget elevato, in grado di rendere su piccolo schermo la stessa profondità narrativa presente nei libri e creare ambientazioni da mozzare il fiato.
Cosa sarebbe Game of Thrones senza le sue meravigliose ambientazioni?
Non parliamo solo del riadattamento in chiave fantasy di Dubrovnik (Approdo del Re) o dei meravigliosi paesaggi dell'Irlanda del Nord. Parliamo della cura mnemonica di ogni dettaglio: la sella di un cavallo, la corazza del primo cavaliere, la lucentezza di una lama. I monti innevati nel Nord ci ricordano, proprio come nella realtà, di un nemico più grande di noi che oltrepassa ogni confine e incombe minaccioso su ogni lite terrena.
Liti che di fronte agli Estranei perdono significato e diventano aride macchie in una tela ben più grande. Una tela ricamata da Ananke, la Dea del destino la quale governa le leggi della natura. Per i greci antichi, Ananke era espressione di forza, di una perenne necessità di combattere, contro la morte e il fato. Il nostro destino è appunto la morte, rappresentata dagli Estranei e dal loro esercito di non morti. Pronti a ghermire, sempre in attesa. Essi si stagliano all'orizzonte come un'ombra minacciosa, qualcosa di sconosciuto a cui cerchiamo di non pensare, giorno dopo giorno.
Ogni dettaglio è saturo di epicità ma allo stesso tempo di cultura.
Per esempio: un ingresso a Bravoos per un prestito alla banca del ferro ricorda il colosso di Rodi, una delle sette meraviglie del mondo antico, ormai andata perduta. Per non parlare dei 10.000 immacolati, riferimento agli Athanatoi (immortali) la guardia del corpo del re di Persia, famosa in tutto il mediterraneo. La barriera, per confessione di Martin stesso, è uno spunto del vallo di Adriano, famosa muraglia in Britannia che per secoli divise la civiltà romana dai barbari. I riferimenti però sono tantissimi e non solo visivi, anche e soprattutto nei personaggi che riprendono figure storiche realmente esistite.
La fantasia in Game of Thrones si sposa, anche se passivamente, con la realtà e la cultura, in un meraviglioso gioco di fotografie e storie che si intrecciano tra loro. Tanti personaggi e nessun reale protagonista: così come nella vita di tutti i giorni, ognuno di loro influenza le storie degli altri. Il gioco perfetto consiste nel non uscire troppo dalla realtà, creare un fantasy che si regga su solide basi. Il giusto compromesso in grado di legare lo spettatore fino al suo epilogo.
Ogni racconto epico che si rispetti ha un suo antefatto.
Senza di esso non sarebbe nulla, solo un corpo sterile, vuoto, senza radici. Le radici donano anima e cuore, sono linfa vitale per l'inanimato. Trasformano il bianco e nero in colori. Game of Thrones non fa eccezione.
In questo caso l'antefatto è la storia dei sette regni e dei suoi regnanti, non approfondita in maniera diretta, tuttavia onnipresente. Arriva ai nostri occhi e alle nostre orecchie da una semplice conversazione, un piccolo estratto di una pergamena letta in una biblioteca, o una vecchia che racconta la storia della buonanotte a un piccolo principe.
Noi possiamo essere chi vogliamo, e fare quel che vogliamo, non per ultimo cavalcare un drago. Perché tutto è possibile in Game of Thrones e questo è il suo grande merito. Sfiorare con fermezza le corde delle nostre emozioni, in un perfetto equilibrio tra mondo infantile e adulto, le nostre due anime in perenne collisione.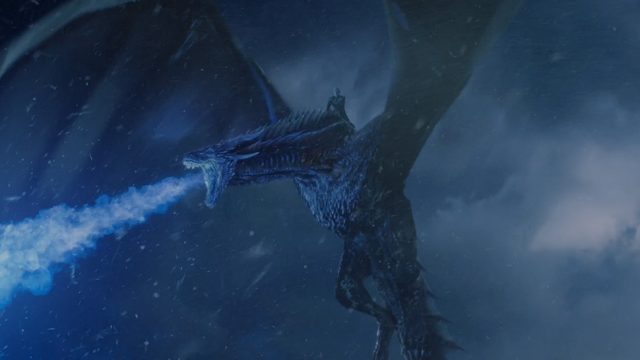 Ed è proprio con i draghi (viverne per i più accurati), che possiamo volare alto, senza paracadute, nei cieli di un mondo pronto ad accoglierci e farci sognare. Possiamo visitare le antiche rovine di Valyria e perderci tra i palazzi in stile orientale nella Baia degli schiavisti. Approdare nelle isole di ferro e berci una birra tra brutali navigatori. Tentare di attraversare incolumi la forca verde per reclamare il nostro diritto al trono di spade.
Per questi e mille altri motivi Game of Thrones è la serie tv più vista degli ultimi anni. Non per ultimo la straordinaria produzione, che anno dopo anno regala, al suo pubblico, un lavoro tecnico magistrale. In attesa della sua ultima stagione, continuiamo a sognare e a volare in alto, sempre più in alto, senza mai guardare in basso. L'ora di sfidare Ananke è giunta e il nostro destino può cambiare così come quello dei sette regni.