ATTENZIONE: questo articolo contiene spoiler sulla settima stagione di Game of Thrones!
Ogni fan della Serie ne è a conoscenza: in Game of Thrones ci sono parecchie scene di sesso. Sul piccolo schermo non viene mostrato solo il tradizionale atto di amore o di desiderio tra due persone. L'amplesso viene anzi presentato in diverse forme: incesto, orge, sesso in groppa a un cavallo, sesso davanti a un cadavere.
Insomma, nel corso delle stagioni di Game of Thrones abbiamo assistito a diversi rapporti carnali. Anche nel corso della settima stagione (l'ultima trasmessa) sono state mostrate delle scene di sesso. Tutti ricorderemo quella tra Jon e Daenerys, ma come dimenticare il rapporto tra Missandei e Verme Grigio? Una coppia dolce e carina, senza dubbio, ma nel vedere quella scena molti fan si sono chiesti: se tutti gli Immacolati vengono castrati in tenera età, come può Verme Grigio avere dei rapporti?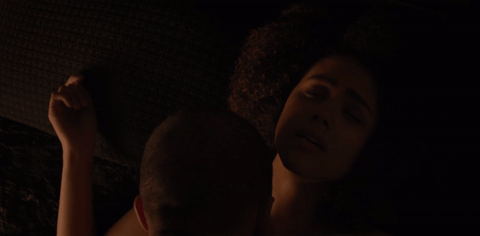 Jacob Anderson, che in Game of Thrones interpreta Verme Grigio, ha commentato i dubbi dei fan sostenendo che il personaggio sia in possesso del membro maschile, e che durante la castrazione gli siano stati rimossi solo i testicoli. Anche l'attrice che veste i panni di Missandei, Nathalie Emmanuel, ha voluto dichiarare le sue opinioni in merito a quella scena. Ecco le sue parole:
C'è qualcosa di unico in quel momento, considerando soprattutto la situazione di Verme Grigio: l'essere stato mutilato in tenera età. C'è un profondo senso di fiducia in quella scena e viene mostrato quando i due intergiscono fisicamente dimostrandosi amore. Per lui è un grosso problema da affrontare, ma Missandei lo sa e non le importa. Lei lo ama e l'intimità che hanno condiviso lo dimostra bene.
Per Missandei e Verme Grigio il segreto della passione si racchiude nell'amore e nell'intimità!