Game of Thrones ha indubbiamento un ruolo importante all'interno del mondo seriale. È innegabile. Anche se nel 2019 la Serie si concluderà con l'ottava stagione, lascerà un segno indelebile nella storia delle Serie Tv. Quanto può essere rilevante Game of Thrones? La sua importanza si estende oltre il panorama televisivo, creando opportunità di marketing eccezionali.
Quest'estate, ad esempio, oltre al boom di ascolti per la settima stagione, la Serie ha causato anche un aumento del turismo in Croazia. A Dubrovnik si sono infatti tenute le riprese e molti fan hanno voluto vedere questi luoghi di persona (ne abbiamo parlato qui!). Un altro esempio a sostegno dell'importanza di Game of Thrones è la recente collezione di francobolli dedicata alla Serie (ne abbiamo parlato in questo articolo!). Ma c'è di più!
Game of Thrones ha ispirato la realizzazione di un hotel di ghiaccio in Finlandia, a Lapland.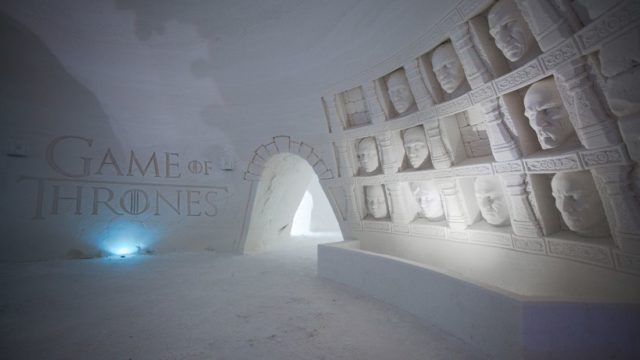 Questo interessante progetto è frutto di una collaborazione tra HBO Nordic e Lapland Hotels SnowVillage. Poprio all'interno di questo SnowVillage è stata creata un'intera sezione dedicata a Game of Thrones, completamente formata da neve e ghiaccio. L'hotel si trova a 90 minuti da Helsinki e ha 24 stanze, 10 delle quali sono adibite alla permanenza notturna.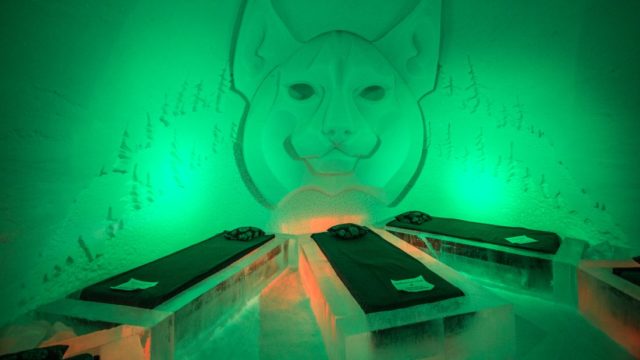 Ogni singola parte dell'hotel è un tributo alla Serie HBO. Molti scultori di ghiaccio professionisti hanno lavorato al progetto, ricreando luoghi di Game of Thrones, come la Sala delle Facce e il trono di spade sorvegliato dalla Montagna. Inoltre sono presenti un Estraneo e una lastra di ghiaccio con la forma di un drago.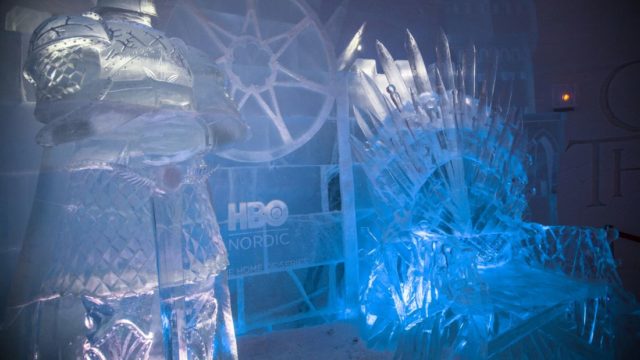 Uno degli obiettivi dell'hotel è quello di avvicinare il più possibile la struttura alla Serie. Per questo motivo l'interno delle stanze è molto freddo, con temperature che raggiungono anche i -5°C. All'interno dello SnowVillage ci sono anche utilities del mondo reale, come delle cabine riscaldate, un cinema, un bar e un ristorante. L'hotel esiste da perecchio tempo, ma l'impronta di Game of Thrones è recente!
Fino ad Aprile 2018 è possibile visitare la struttura. L'entrata costa 18$, mentre la visita guidata per un gruppo di almeno 30 persone coista 78$. È inoltre possibile soggiornare, pagando un minimo di 200$.