Battaglie, vendette sanguinose, morti violente, duelli, eserciti di non-morti e draghi: Game of Thrones è questo e anche di più. Difficile credere che ci possa essere qualcosa di divertente in una serie come questa, incentrata quasi esclusivamente su accese rivalità per ottenere il Trono e il dominio sui Sette Regni. La posta in gioco è altissima, cosa che porta i personaggi a compiere qualunque crimine, a soprassedere sopra ogni crudeltà ed efferatezza per ottenere ciò che desiderano.
Ma proprio per questo una componente "leggera" risulta quasi indispensabile.
Una serie caratterizzata da violenza e morte è basilare che abbia degli elementi dai toni più lievi, in modo da interrompere, almeno momentaneamente, un andamento narrativo che risulterebbe altrimenti troppo pesante e difficile da seguire. Senza contare il fatto che i personaggi sono tutti legati da parentele varie e appartengono a dinastie delle quali ricordare tutto l'albero genealogico risulta veramente difficile. Persino i fan più appassionati talvolta faticano a ricordare tutti i colpi di scena della serie, o l'esatta provenienza di alcuni dei personaggi secondari. Quello che è certo, è che Game of Thrones non è facile da seguire e l'adrenalinico carico di assassinii e violenza costanti in tutte le puntate di certo non aiutano. Per nostra fortuna esistono dei personaggi in grado di aprire dei fantastici siparietti comici e che garantiscono una sorta di "intervallo" fra un'uccisione cruenta e un intrigo a corte.
Come nei teatri di una volta, in cui fra un atto e l'altro si svolgevano intermezzi fatti da gag e giochi divertenti, in Game of Thrones l'attimo di respiro fra un dramma e l'altro è garantito dalla presenza di Tyrion e Bronn. I due personaggi insieme sono un duo comico per eccellenza, innanzitutto da un punto di vista visivo: Bronn, infatti, è alto e prestante, malgrado il viso dai tratti irregolari, mentre Tyrion ha un'altezza decisamente inferiore alla media. I due, quindi, sono una sorta di bizzarri Stanlio e Ollio che puntano non solo sul loro talento comico, ma anche sul fatto di essere fisicamente agli antipodi. I loro dialoghi si caratterizzano per battute sferzanti e per una buona dose di cinismo.
E non è un caso, dunque, che la linea comica della serie scemi progressivamente nel momento in cui le due storyline si dividono.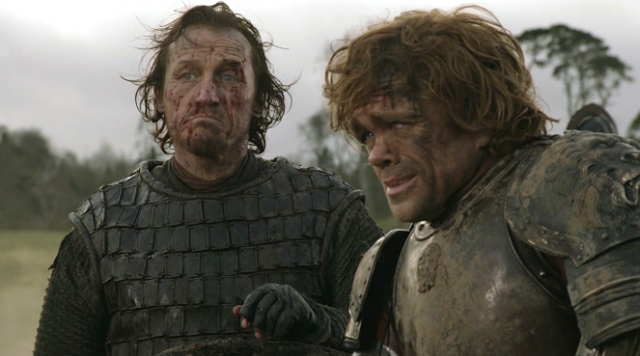 Tuttavia, i due non sono i soli che riescono a strappare una risata: memorabile è la scena in cui Pod, lo scudiero di Tyrion, dopo aver salvato la vita al suo capo, viene mandato in un bordello come segno di gratitudine da parte del Folletto. E qui, contro ogni aspettativa anche del pubblico, rivela delle incredibili doti amatorie che portano le prostitute non solo a contenderselo, ma anche a rifiutare i soldi che Tyrion offre loro come pagamento. La scena, così come è girata e sceneggiata, riesce ad essere insospettabilmente comica, anche grazie all'abilità degli attori.
O ancora, la scena antecedente alla morte di re Joffrey ha un siparietto comico talmente efficace da essere poi diventato un meme. Il giovane re sta umiliando lo zio Tyrion davanti a tutta la corte. Di certo non sembra essere il preludio a qualcosa di comico, no? Eppure, in questo clima di tensione degno di Tarantino la novella sposa Margaery, probabilmente nel tentativo di alleggerire un'atmosfera pesante quanto un macigno, indica con un gesto plateale la torta nuziale in arrivo, esclamando con enfasi: "Arriva la torta!". Da quel momento, la bella regina in espressione estatica e la frase originale inglese "Look, the pie!" sono diventate un must sui social per indicare un goffo tentativo di uscire da una situazione imbarazzante.
E da una serie drammatica come Game of Thrones non ci si aspetterebbe la nascita di un meme tanto divertente, giusto?
Inoltre, quanto può essere comica Cersei che in ogni situazione, che sia una cerimonia, una battaglia imminente o un processo, trangugia vino rosso come se non ci fosse un domani?
Persino un personaggio complesso come il suo, in grado di essere amorevole con chi ama, ma terribilmente crudele e spietato con i suoi rivali, può essere divertente. E questo avviene perché i personaggi della serie sono costruiti in modo eccellente. Sono persone reali che, sebbene esagerate e rese quasi grottesche nella loro sete di potere, hanno pregi e difetti come tutti. E, così come vengono accentuati i loro aspetti più crudeli, cinici e spietati, sono messi in evidenza allo stesso modo anche i loro aspetti più strambi e "simpatici". Come appunto, nel caso di Cersei, la sua passione smodata per l'alcol. O la spiccata propensione a ficcare il naso negli affari altrui di Varys o la passione di Tyron e di Bronn per il caos e i bordelli.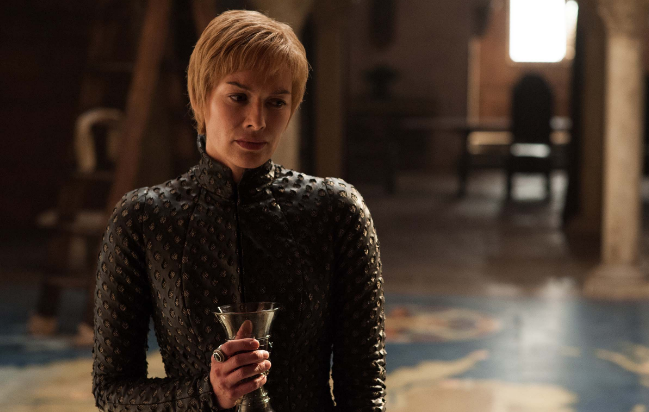 Insomma, nonostante le apparenze, Game of Thrones ha una linea comica e anche molto ben studiata.
Il suo punto di forza è senza dubbio il cinismo: una serie di questo tipo, infatti, non potrebbe mai avvalersi di una comicità basata su semplici gag. Elementi fondamentali della trama sono gli intrighi, le bugie e i tradimenti di personaggi spietati, disposti a tutto pur di arrivare la potere. Quindi, qualunque scena potenzialmente comica non caratterizzata da humor nero e battute al vetriolo risulterebbe a dir poco incongrua rispetto allo spirito generale della narrazione. E così come il pubblico soffre insieme ai suoi personaggi preferiti e arriva addirittura ad esultare se qualche figura particolarmente detestata muore (meglio se fra atroci sofferenze), non ha alcuna remora di ridere sguaiatamente per delle battute particolarmente "spinte" o ciniche. Proprio perché la serie costituisce un'esperienza immersiva, che porta chi la guarda a immedesimarsi totalmente, osservando le vicende con gli stessi occhi e il medesimo modo di pensare dei suoi beniamini.