Nonostante Game of Thrones ci faccia dubitare fino alla fine sulle origini di Jon Snow, l'influenza di Ned Stark si vede da subito. E parecchio.
Noi conosciamo Jon e Ned come uomini d'onore, coraggiosi e con un forte senso della giustizia. In alcune scene di Game of Thrones si somigliano così tanto che stentiamo addirittura a riconoscerli, eppure la loro forza sta propria nella condivisione di idee e valori, assimilati e applicati da entrambi in ogni momento della loro vita. A volte si ha quasi l'idea che Ned non sia mai morto, che Jon ne sia un'estensione e che, con ogni sua azione, lo stia mantenendo in vita. Anche se il loro essere inflessibili non sempre ci aggrada. Dopo aver messo i due personaggi a confronto, vediamo in quali momenti Jon si è dimostrato un degno erede di Ned Stark.
1) La Battaglia dei Bastardi di Game of Thrones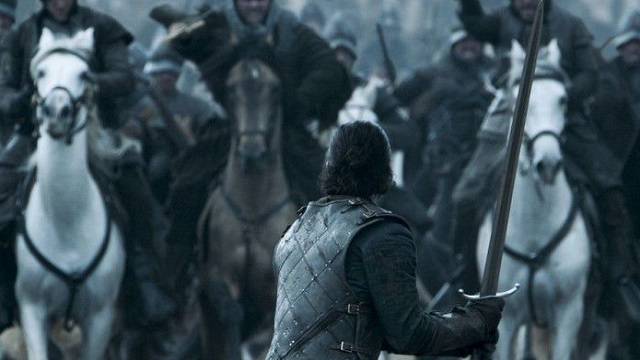 Rickon è appena stato ucciso a tradimento. Jon estrae la spada dal fodero, in prima linea, mentre l'esercito di Ramsay avanza inesorabile. L'inquadratura lo riprende di spalle e, per qualche breve secondo, è quasi impossibile distinguerlo da Ned Stark. L'impressione è data non solo dalla corporatura simile o dal taglio di capelli analogo, ma dal portamento fiero e onorevole, dal desiderio di proteggere il Nord e di fare giustizia con le proprie mani per tutti coloro che sono morti.
Una vittoria stentata, quella della più eclatante battaglia della sesta stagione di Game of Thrones, ottenuta solo grazie all'arrivo inaspettato di Sansa. Ammettiamo pure che Jon Snow si sia comportato da ingenuo, cadendo nella trappola di Ramsay e permettendo che i suoi uomini venissero circondati in pochi istanti. In fin dei conti, il Re del Nord non è mai stato uno stratega, però è un combattente di quelli duri a morire, dotato di un coraggio fuori misura e di una morale ferrea, proprio come l'uomo che lo ha cresciuto.