ATTENZIONE: l'articolo potrebbe contenere SPOILER su Game of Thrones e Sansa Stark.
Tanti ti hanno sottovalutata in passato, molti di loro sono morti
Così come coloro che l'hanno manipolata, molti fan di Game of Thrones hanno sottovalutato a lungo la maggiore delle sorelle Stark. Un errore comprensibile se si considera l'iniziale impressione negativa. Effettivamente, Sansa ci viene presentata come uno stereotipo facile da disprezzare: una ragazzina ingenua e viziata, desiderosa di sposare un bel principe e diventarne la regina. Una giovane remissiva e piena di sogni infantili. Ma anche ignara dell'oscurità che si cela dietro a quel mondo tanto desiderato.
Sansa non affronta un percorso epico come quello di altri personaggi. Non è una combattente implacabile come Arya o una predestinata come Daenerys. Non ha l'eroismo di Jon, né la femminilità risoluta di Catelyn. Ma la mancanza di spettacolarità nel suo arco narrativo non è un male, anzi. L'assenza dell'elemento fantastico viene compensata con una profondità e un realismo spiazzante. La Stark non incontra creature magiche, ma solo uomini orribili che la sottopongono alle peggiori esperienze possibili.
Nonostante i traumi subiti, Sansa dimostra una forza e determinazione strabiliante. Stagione dopo stagione, l'uccellino indifeso alla mercé dei Lannister si trasforma in una leader saggia e temibile. Ed è per questo che, per quanto il personaggio possa piacere o meno, sarebbe sciocco negarne l'incredibile evoluzione. Una delle più interessanti se si ha la pazienza e l'onesta intellettuale di riscoprirla.
Come molte trasformazioni in Game of Thrones, anche quella di Sansa viene messa in moto dalla morte di Ned.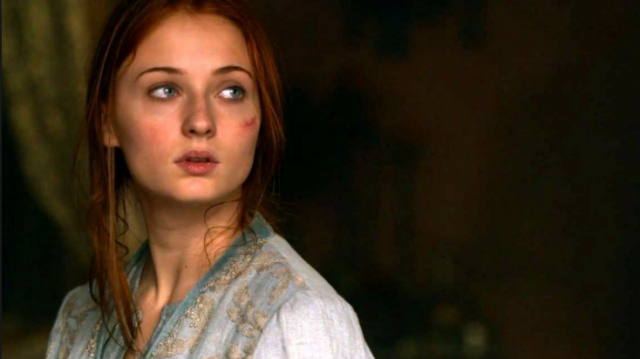 Re Joffrey la priva del padre e del sogno di una vita idilliaca, rivelando la terribile verità: il suo "amato" è un mostro e la vita di corte non è altro che una farsa. Una messinscena alla quale si dovrà adattare per poter sopravvivere. Sansa non si ribella al sistema, ma non ci si conforma nemmeno. Gli abusi e le minacce di morte sono dure, sì, ma non abbastanza da piegarla e impedirle di continuare a recitare la sua parte.
Alla ferrea forza di volontà si aggiunge una graduale saggezza. È proprio ad Approdo del Re che Sansa apprende le prime regole del gioco. Grazie alla subdola Cersei e al machiavellico Lord Baelish, non solo inizia a comprendere la natura delle persone, ma realizza anche quali armi usare a proprio favore. In mancanza di quelle fisiche, capisce che dovrà affinare le abilità mentali. Dunque, nonostante l'odio e la diffidenza nei loro confronti, Sansa fa tesoro delle lezioni dispensate dai propri nemici.
Forte di questa consapevolezza, la ragazza riscopre alcuni momenti di felicità. In un covo di leoni sempre pronti a saltarle alla gola, Margaery e Shae sono le uniche a darle conforto, specialmente l'ultima. L'amante di Tyrion cercherà di proteggerla ma, come ben sappiamo, il mondo di Westeros è duro, spietato e imprevedibile. Ed è così che la povera Sansa si troverà costretta a sposare il nano di casa Lannister. Nonostante il disagio, da questa unione forzata nascerà un rapporto di affetto e rispetto. Una sincera complicità che però verrà meno in seguito agli eventi delle Nozze Rosse.
Il famigerato Red Wedding segna un punto di svolta per Game of Thrones, così come per Sansa.
La strage dei propri cari getta la protagonista nel più totale sconforto. Perde l'appetito, il sonno, la fede. Ma, pur non potendo punire i colpevoli di questo massacro, con la morte di Joffrey ha l'opportunità di vendicare Ned e di fuggire dalla sua prigione dorata.
Eliminata una minaccia, se ne presenta però un'altra: Ditocorto e le sue manipolazioni.
Ogni conversazione con Lord Baelish è un imprevedibile gioco di scacchi. Un match in cui gli interessi personali s'intrecciano con un'attrazione malsana nei confronti della giovane Stark. Ma Sansa non è più così ingenua da non capire le sue intenzioni. Le violenze subite hanno portato alla luce un'astuzia che le sarà utile nella Valle di Arryn: è qui che metterà in atto per la prima volta la contorta arte dell'inganno. Con l'insabbiamento della morte di Lysa, la protagonista dimostrerà a Ditocorto di aver imparato il gioco e, soprattutto, di potergli tenere testa.
Sansa riemerge sotto un nuovo aspetto. Una chioma corvina e abiti scuri. La dolce lady ingenua delle prime stagioni non esiste più. Al suo posto, una donna decisa e scaltra.
Ma la forza acquisita rischia di vacillare di fronte all'ennesimo trauma.
Il capitolo con Ramsay Bolton è forse il più oscuro nella storia della ragazza. Prigioniera nella sua stessa casa, Sansa viene minacciata, picchiata e violentata. Si ritrova nuovamente ad affrontare un inferno di abusi fisici e psicologici, questa volta per mano del sadico e folle marito. Ma nonostante le torture e la disperazione, Sansa non cede, non si piega mai. Dimostra un coraggio incredibile, anche di fronte a morte certa.
Se proprio devo morire, voglio che succeda quando una parte di me sopravvive ancora
Sarà proprio questo suo spirito irremovibile a spingere Theon ad aiutarla a fuggire. Una fuga disperata nella neve e nel gelo. Una corsa contro il tempo e un nemico numericamente superiore. Un tentativo disperato verso una libertà che sembra ormai irraggiungibile. Ma dopo innumerevoli disgrazie, finalmente la fortuna gira dalla parte della stremata Stark.
Fortificata e indurita dalle brutali esperienze, Sansa è finalmente libera.
La strada da prendere è una sola: riconquistare il Nord e la sua casa. Sansa dimostra di aver imparato molto dagli uomini che l'hanno manipolata. Jon non si riunisce con la sorellina egoista dei suoi ricordi, ma con una stratega veramente in gamba. Per quanto il fratellastro abbia più esperienza sul campo, sarà l'intuizione della giovane Stark a determinare la sorte della Battaglia dei Bastardi. Grazie alla sua astuzia e all'intervento dei Cavalieri della Valle, gli Stark riprendono il controllo di Grande Inverno. E, ancora più importante, Sansa ottiene la sua vendetta. Lasciato in balia dei mastini inferociti, Lady Stark ascolta le urla disperate di Ramsay, mentre si allontana con un sorriso sulle labbra.
Le tue parole scompariranno. La tua casata scomparirà. Il tuo nome scomparirà. La memoria di te scomparirà
La Sansa delle ultime stagioni di Game of Thrones è una leader capace e razionale.
Dalla mente attenta e calcolatrice, sarà in grado di occuparsi delle responsabilità giornaliere, di trattare con i signori del Nord e di scovare minacce. Dopo anni di manipolazioni, la Lady di Grande Inverno non può più essere raggirata. Ed è così che, grazie all'aiuto dei propri fratelli, Sansa pronuncia la sentenza di Ditocorto, mentre Arya cala la spada sul miglior maestro che la sorella abbia mai avuto.
Grazie per tutte le tue lezioni, Lord Baelish. Non le dimenticherò mai
Con la morte del suo mentore, Sansa rivendica finalmente il controllo su di sé. Ma il suo percorso non è ancora giunto al termine. Gli eventi delle Battaglie di Grande Inverno e di Approdo del Re la sconvolgono, ma non smuovono le sue convinzioni. La sua lealtà e i suoi interessi risiedono nel Nord, un regno che, dopo tutto ciò che ha passato, non dovrebbe mai più inchinarsi di fronte a nessuno.
La sua fermezza irremovibile ci dimostra quanto questo personaggio sia cambiato nel corso di otto stagioni. Non più una ragazzina viziata e indifesa ma una stratega di guerra, abile e risoluta. Una sopravvissuta che ha continuato a rialzarsi, nonostante il mondo non smettesse mai di crollarle sotto i piedi. Una donna che ha sopportato i peggiori soprusi pur di tornare a casa. Una sovrana degna di un regno che, come lei, ha lottato fino alla fine per la propria libertà. Ed è per questo che la sua incoronazione finale non può che farci esultare.
Viva la Regina del Nord. Che possa regnare a lungo.