# #
Non è stata all'insegna dell'azione, questa quinta puntata di Game of Thrones. Almeno, in confronto all'adrenalinica 7×04, questa puntata, priva di combattimenti, di rivelazioni plateali, di slanci passionali, può sembrare quasi statica, di riempimento.
# #
E invece non è così. Perché in questa puntata la bellezza si nasconde nei dettagli e le emozioni sono accennate, le rivelazioni sussurrate. Perché ora Game of Thrones ci mostra la chiave di volta che potrebbe scardinare l'intera stagione e minare la Serie dalle fondamenta. Ed è passata totalmente in sordina, almeno nel mondo di Westeros, ma le nostre orecchie non se la sono persa. Ma prima di arrivarci percorriamo la puntata, costellata di piccoli segnali, di indizi che una rivoluzione sta avvenendo. E non è quella sognata da Daenerys.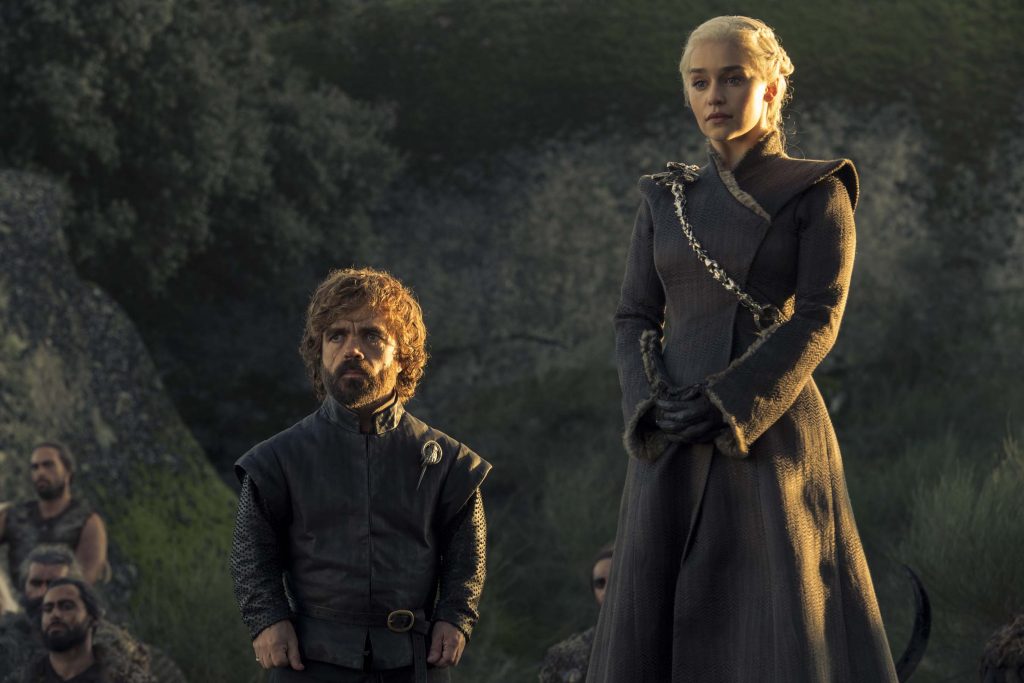 # #
Per cominciare, i rimandi al Re Folle. Li leggiamo quasi in faccia a Tyrion, mentre percorre sconvolto il campo di battaglia, annerito dal passaggio di Drogon. Lo vediamo esplicitare le sue paure in sordina, mentre si rivolge a Daenerys per chiederle di risparmiare i prigionieri ribelli Randyll e Dickon Tarly; e ascoltiamo le sue paure prendere forma prima nel rogo dei due lord, poi durante il colloquio con Varys, che sembra preoccupato quanto lui dalla deriva che sta prendendo la Regina dei Draghi. Se non riusciranno a farsi ascoltare, vedranno nuovamente il mondo bruciare, e sarà il loro mondo, e non ci sarà un altro luogo per loro. Già, i draghi. I draghi che sembrano avere un sesto senso, e pare quasi che riconoscano in Jon Snow la parte Targaryen che in questa puntata pare iniziare timidamente a fare capolino.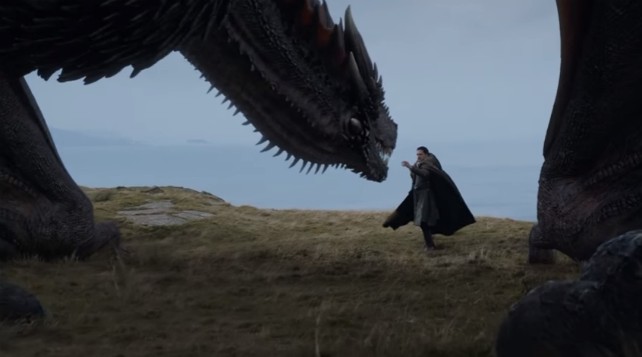 Perché evidentemente essere Targaryen è più una cosa del sangue, che non puoi controllare, che hai anche se sei cresciuto come un bastardo nel posto più freddo della Terra: quando ti trovi davanti al fuoco, l'istinto è di tendere la mano. E in Daenerys spiamo un sincero stupore, mentre osserva Jon avvicinarsi sempre più a Drogon e toccarlo: l'unico altro essere umano ad averlo fatto, oltre a lei, era stato Tyrion. Forse i draghi riconoscono nell'uomo quella parte ferita, rifiutata, quella voglia di rivalsa che brucia e che può trovare sfogo nelle loro fauci infuocate. Quella parte che è la sola che accomuna tutti e tre. Ed è un momento di vera poesia, vedere Jon protendersi inconsapevole verso il suo passato, e forse verso il suo destino. Questa puntata di Game of Thrones è inoltre disseminata di sguardi, di incroci di occhi, che ci fanno capire che qualcosa accadrà inevitabilmente tra Jon e Dany. E il ritorno di Jorah, ormai guarito, non può che complicare le cose.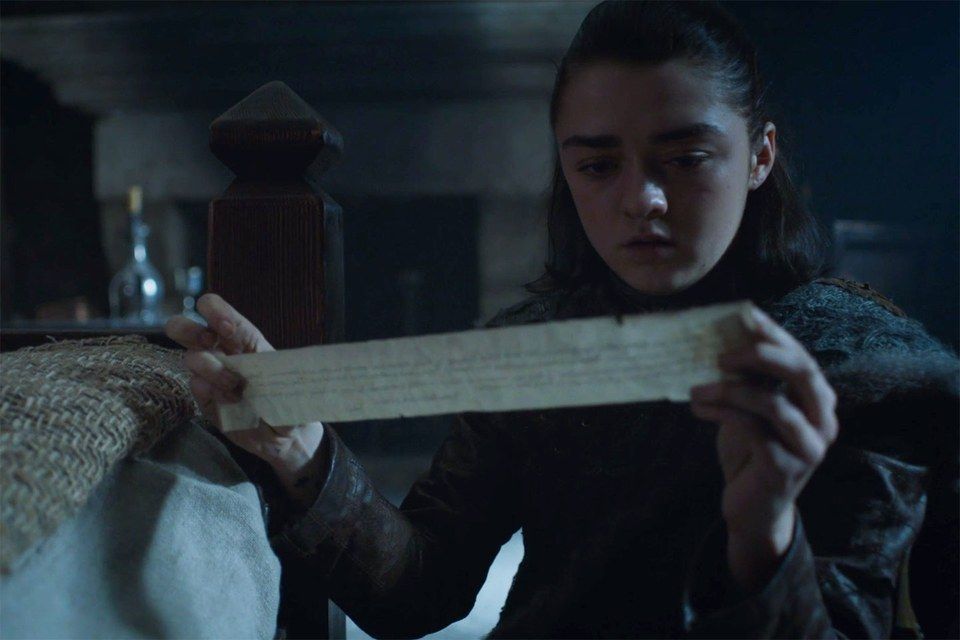 Un dettaglio è anche la chiave per scardinare l'apparente tranquillità ritrovata di Grande Inverno. Sansa e Arya sono in conflitto (ma le loro interpreti sono più affiatate che mai, leggete qui), ed è ormai chiaro a tutti che la favola dei fratelli Stark ritrovati e felici è una pura illusione, a cui non è più possibile credere da quel gelido "Hello, Sansa", che pronuncia Bran, che ghiaccia in noi il sogno di vederli tutti insieme in armonia.
Arya vede, o crede di vedere, l'ambizione mascherata da prudenza in Sansa, Sansa sta sulla difensiva, spaventata da quella sorella con la voce gelida e la capacità di paralizzarti le budella con uno sguardo. Questa situazione è ovviamente una manna per Ditocorto, che sferra quello che potrebbe essere il suo ultimo strale ma anche quello definitivo, utilizzando la vecchia lettera scritta da Sansa al fratello Robb (per convincerlo a giurare fedeltà a Joffrey, dopo l'arresto del padre) per aizzare Arya contro la sorella. Per attaccare la lupa isolata, in difficoltà, la lupa che lui vuole: si ricorderanno, gli ultimi Stark, del lupo solo che perisce mentre il branco sopravvive?
Ad Approdo del Re assistiamo ad una scena familiare, in tutti i sensi: il confronto segreto tra Jaime e Tyrion ci mostra quanto, sebbene militarmente sia Tyrion ad essere in vantaggio, è lui ad aver davvero bisogno di suo fratello, e non il contrario. Jaime, dal canto suo, è ancora legato a doppio filo a Cersei, e lo sarà ancora per molto: se la gravidanza della sorella è vera e non un estremo inganno per soggiogarlo, la sua maturazione e il suo allontanamento da lei saranno estremamente repentini, e molto più distruttivi di quello che ci aspettavamo.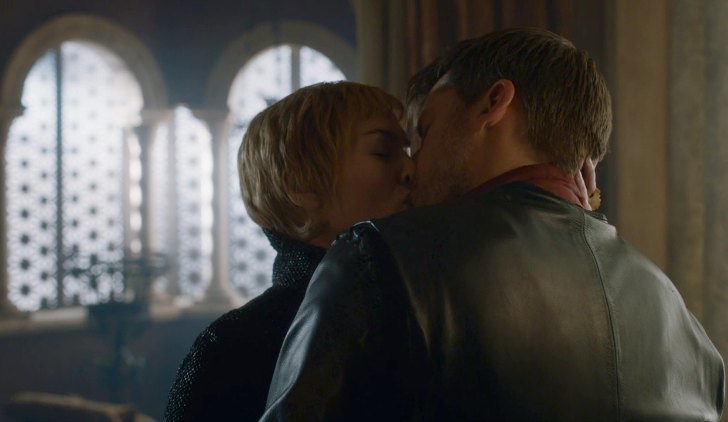 E arriviamo così al dettaglio sovrano di questa puntata di Game of Thrones, che come una pennellata di stile viene messo in bocca al personaggio più improbabile, meno credibile, e che proprio per questo ci appare così inestimabile e prezioso. Gilly è insieme a Sam, arrabbiato e frustrato dal suo ennesimo fallimento nel convincere i Maestri dell'importanza di dare ascolto alla richiesta di aiuto di Grande Inverno. Lei legge un registro pieno di stupidaggini e di dati senza importanza, e con la sua ingenuità e la sua ancora scarsa padronanza delle parole ci rivela, leggendo, che il Maestro che registrava quante volte andava di corpo ha annullato il matrimonio di un certo principe "Raghar" e celebrato in gran segreto un altro matrimonio con una donna sconosciuta.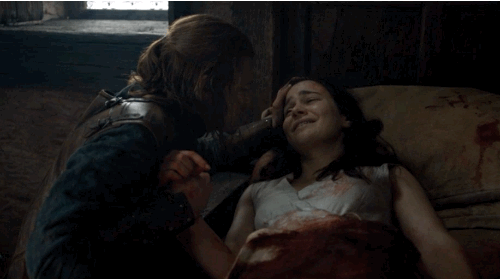 BOOM.
Tutti noi siamo saltati sulla sedia, urlando a Sam di starla a sentire, che quelle poche righe, lette per sbaglio e ascoltate come un fastidioso rumore di fondo alle sue preoccupazioni sono la chiave, il fulcro intorno al quale potrebbero girare le sorti del Trono di Spade. Quelle righe rivelano che nessuno ha più diritti su quel trono di Jon Snow, non più bastardo di Grande Inverno, non più bastardo di Rhaegar e Lyanna, ma frutto di un'unione d'amore legittima, legittimo principe Targaryen e legittimo erede al trono.
Gli indizi si stanno accumulando, e come cristalli di neve potrebbero spegnere per sempre il fuoco dell'ambizione di Daenerys. Se solo Sam avesse ascoltato. Se solo i Maestri avessero ascoltato Bran, lo storpio. Se solo Daenerys ascoltasse le voci della ragione che sussurrano alla sua pazzia celata, ma presente. Se solo Jon ascoltasse il richiamo negli occhi di quel drago. Allora la canzone del ghiaccio e del fuoco avrebbe un unico cantore, e il Trono di Spade, finalmente, un solo e unico Re.