"C'è un solo dio, e il suo nome è Morte".
Questo insegna Game of Thrones. Questo ci trasmette, insieme alle sue mille lezioni sul potere, sulla vendetta, sull'amore, quegli insegnamenti che ci sembravano lontanissimi, perchè ambientati in lande ghiacciate o in palazzi principeschi, ma che invece erano parte di ciò che siamo anche noi. Umani, impotenti davanti agli eventi. Nemmeno Daenerys, quasi una dea agli occhi di chi la vede sfrecciare a dorso di drago sopra la sua testa, ha potuto salvare quello che il destino le ha dato come unica progenie; nemmeno il fuoco più ardente può scacciare la paura per quello che potrebbe essere il destino di tutta l'umanità; nemmeno la vita può sconfiggere la morte che ora cavalca il fuoco fatto carne.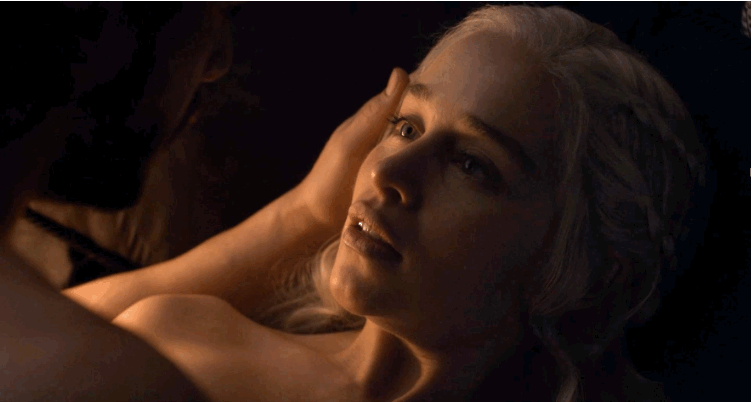 Potrà forse farlo l'amore? È questo che ci vogliono dire gli sceneggiatori, con quella scena di passione tra Jon e Daenerys, che conclude una conoscenza iniziata non sotto i migliori auspici e che apre le porte a chissà quali sviluppi, sottotrame, colpi di scena? O la forza dell'amore è solo un'altra illusione, come gli occhi di Tyrion sembrano suggerire, una tenebra che cala sulla ragione fingendo di portare luce nel cuore?
O sta forse calando la notte anche sulle divinità? Le alleanze non si basano più su onore e convenienza, ma sull'incombenza di rimanere vivi (e persino Brienne dice "Fuck loyalty"), i vecchi maestri di scaltrezza sono ormai abbandonati, e il loro sangue bagna il duro pavimento di Grande Inverno, i legami, anche i più morbosi e profondi, sono spezzati per sempre e al loro posto si fortificano quelli all'apparenza più fragili. Si decompone tutto, ogni cosa va in rovina, e sulle ceneri del passato forse spunterà un fiore nuovo, o forse no. O forse sarà solo un'illusione, e la caduta degli dei di Game of Thrones sarà lunga e inarrestabile e non ci sarà nessuno a osservarli cadere nel vuoto, niente che crescerà sulle loro ossa, solo tenebre e buio.
L'amore tra Jon e Daenerys saprà sconfiggere gli dei della morte meglio di quello dei loro predecessori, Rhaegar e Lyanna, che in un mondo ancora fiorito e ignaro del freddo e della morte si sposano in segreto, e che finisce in un lago di sangue senza fine? L'amore di Jaime per la sorella, che è ormai l'ombra della donna amata, sarà tanto forte da soffocare i singhiozzi di chi, per adempiere al suo destino, deve uccidere colei che è anche una parte di sé?
Lo sfacelo che sembra accompagnare ogni scelta dei protagonisti, passati e presenti, ci fa dubitare di tutti e ci toglie ogni certezza. Perché ogni scelta che fai, che sia abbandonare il grembo di tuo sorella o schierarti apertamente dalla sua parte, ti segna e ti cambia per sempre. Facendoti allontanare da casa, o permettendoti di rientrare una volta per tutte. Sempre, togliendoti qualcosa da dentro. Mai come in questo finale di stagione ci eravamo sentiti spiazzati, abbandonati, orfani delle nostre certezze. Perché quando gli dei precipitano, quando vediamo i nostri eroi perdere ogni certezza, ci sentiamo anche noi più soli. Eppure, ritrovandoci orfani, noi come loro realizziamo di non avere bisogno di divinità, di autorità superiori, che mai come in questa stagione si sono dimostrate attente solo ai loro interessi, piccole e deboli, sballottate dai sentimenti, incapaci di fronteggiare un nemico che non guarda in faccia nessuno.
E quando sei tu a guardarlo negli occhi, quel nemico, in quei pozzi vuoti e senza vita vedi solo sprofondare te stesso e tutto ciò che ami. Forse è questo che fanno veramente gli Estranei, entità quanto mai misteriose ma forse indistricabili proprio per la loro primitività: risucchiare la vita, non porre mai una fine alla sofferenza, ma trascinare il corpo nei secoli dei secoli, spinto solo da un istinto primordiale. Questo è ciò che ha già tolto il figlio a una madre, questo è ciò che una futura madre teme.
Perché un nuovo dio nasca, un altro deve cadere. Così come può esserci un solo Re sul Trono di Spade, così su ogni cosa deve regnare un solo dio. E la caduta sta arrivando per tutti i miscredenti dell'unico vero dio, la Morte, che tramite il suo messaggero, il Re della Notte, sta arrivando ad impossessarsi di tutto ciò che conta. Chi si sente deluso da questo finale di stagione deve ricordarsi che la minaccia è sempre stata la stessa, fin dalla prima scena della primissima puntata: un monito a chi si avventurava nelle rischiose lande di Game of Thrones, un monito da tenere sempre a mente quello che conta davvero, cioè che l'inverno è veramente arrivato.
Le scene con gli Estranei hanno sempre avuto la capacità di incutere un terrore subdolo e cieco, un'inquietudine strisciante, fin dalla loro primissima apparizione. Vederli marciare imperturbabili verso il regno degli uomini, senza emettere un suono se non quello dei loro passi sulla neve, ci ghiaccia il sangue nelle vene, creando quella sensazione di assoluta impotenza e di terrore estatico che solo guardare negli occhi la morte può dare. E la meravigliosa e inquietante scena della breccia nella Barriera, ambiziosa e disperata opera dell'uomo per proteggersi da un nemico di cui aveva dimenticato la pericolosità, ne è la dimostrazione definitiva.
Una scena in cui tutta la magia finora vista in Game of Thrones ci sembra un trucchetto di prestigio, comparata alla potenza mastodontica dell'impresa del Re della Notte, che come un Titano si appresta alla scalata all'Olimpo degli uomini, di cui la Barriera è solo un primo, insignificante, scalino.