Il secondo episodio di Game of Thrones 8 che ci siamo lasciati alle spalle racchiude in sé innumerevoli significati. "A Knight of the Seven Kingdoms" è stata il trampolino di lancio per "Jenny of Oldstone", canzone dei Florence and the Machine. In un primo momento, durante l'episodio, la sentiamo intonare da Podrick Payne (Daniel Portman). Successivamente, la canzone originale verrà ripresa nei titoli di coda.
E, come sappiamo, in Game of Thrones tutto ha un senso. Così "Jenny of Oldstone" potrebbe essere rivelatrice di importanti indizi su chi salirà sul Trono di Spade. Capirete meglio le nostre teorie quando vedrete il video ufficiale della canzone:
Apparsa per la prima volta nel romanzo di Martin del 2000 "A Storm of Swords" con il nome di "Jenny's Song". Jenny of Oldstones era una semplice cittadina che finì per diventare la moglie di Duncan Targaryen, fratello di Aerys. Il matrimonio tra i due non era ben visto soprattutto perché Duncan era promesso alla figlia di Casa Baratheon. Alla fine il giovane drago scelse l'amore. La sua scelta portò a una breve guerra tra Targaryen e Baratheon (sicuramente non l'ultima) e all'ascesa al trono di Aerys Targaryen (il Re Folle).
Il video inizia con una scena del secondo episodio: i nostri protagonisti riuniti intorno a un tavolo per mettere a punto gli ultimi accorgimenti sulla battaglia. Così inizia la triste canzone:
"High in the halls of the kings who are gone / Jenny would dance with her ghosts. / The ones she had lost and the ones she had found, / and the ones who had loved her the most". Jon e Daenerys si trovano nelle cripte, sappiamo di cosa parleranno. Scene delle vecchie stagioni si accavallano con le nuove puntate: Arya che danza con "Ago" e Bran e Jaime che si incontrano dopo otto stagioni; passando per la decapitazione di Ned Stark e la morte di Ygritte.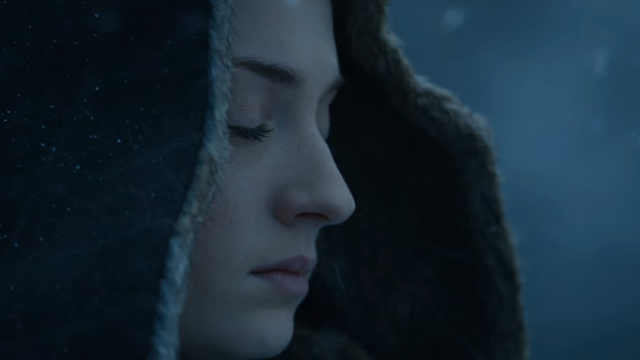 "The ones who'd been gone for so very long, / She couldn't remember their names. / They spun her around on the damp old stones, / Spun away all her sorrow and pain. / And she never wanted to leave". Il primo piano su Sansa sulla frase che potremmo tradurre con: "Ha scacciato tutto il suo dolore e le sue pene" non è casuale. In questo inizio di stagione, la Lady di Grande Inverno ci appare sempre più simile alla madre. Ma non solo: il dolore e le pene causate in questi anni lontana da casa l'hanno resa la donna che è oggi. Possiamo notare come in Sansa troviamo delle sfaccettature di Ditocorto che sicuramente la Stark saprà usare per fini migliori.
"They danced through the day and into the night, / the snow that swept through the hall. / From winter to summer then winter again, / 'Til the walls did crumble and fall". Un piccolo passaggio per una parte fondamentale nella storia di Game of Thrones: gli Estranei. Non esiste stagione che i morti temano e ora che l'Inverno è arrivato di nuovo, la Barriera, ciò che teneva separati i vivi dai morti, è caduta. E potrebbe non esistere più un Trono di Spade dopo questa battaglia: "Hanno ballato durante il giorno e nella notte, con la neve che ha inondato la sala".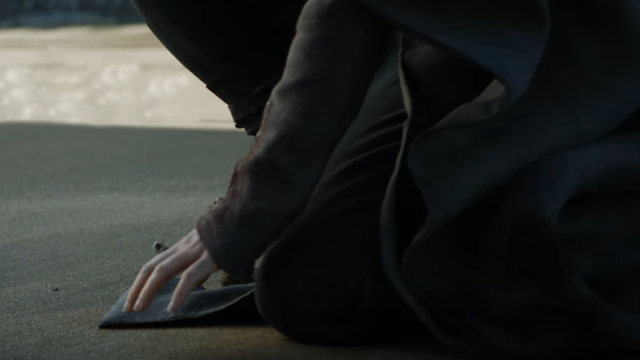 Non dobbiamo dimenticarci della visione che ebbe Daenerys quando vide la grande sala di Approdo del Re distrutta e innevata: visione o premonizione? La canzone chiude il cerchio, così come è iniziata: Jon e Daenerys nella cripta davanti alle ossa di Lyanna Stark. Quando Jon, in quella scena della 8×02, decide di raccontare la verità a Daenerys, storia e canzone si intrecciano.
Se "Jenny of Oldstones" racconta la storia di un Targaryen che ha scelto l'amore piuttosto che il Trono, dobbiamo aspettarci una scelta simile anche tra Jon e Daenerys? Per tutte le stagioni precedenti, abbiamo conosciuto bene Jon e Dany e sappiamo che, tra i due, chi brama il Trono di Spade è sicuramente la figlia di Aerys, il che la renderebbe la protagonista della nostra canzone.