# #
La nostra sete di comparazione è forte. Sentiamo il profumo di somiglianza nell'aria ad ogni nuova uscita, e questa settimana non è stata da meno. Anzi.
Questa settimana l'olezzo era particolarmente invitante, ed abbiamo deciso di salutarvi con una guerra alle porte, ed un'altra appena conclusasi.
# #
Ripartiamo con questi presupposti con l'ultimo appuntamento con

"Game of Gomorra"

.
Noi che troviamo tante associazioni e somiglianze in 40 minuti, quanto il numero di bugie improvvisate al secondo sarebbe in grado di sfornare Walter White ad un interrogatorio di Call Lightman.
C'è ancora qualcuno che dubita del fatto che Sollima abbia stipulato un bilaterale patto di tacito plagio a scopo promozionale con Martin? Che i due litighino sul se incontrarsi in una caffetteria od in una bakery per scrivere le rispettive sceneggiature insieme?
Se fosse casualità, le analogie avrebbero un tasso di fortuita coincidenza su cui si potrebbe scrivere una nuova stagione di Touch.
Game of Wars.
Ci sono due fazioni e lo scontro tra queste per la supremazia su un territorio che entrambe rivendicano.
I Savastano, da primi padroni del territorio, si aggiudicano lo stendardo degli Stark e si avviano in marcia verso Secondigliano per spodestare l'Alleanza di Di Marzio, che da secondi arrivati dovranno arrangiarsi con la minimale "X" (Che sta per Xenofobia e terrore degli invasori, che li fa per definizione già perdenti) dello stendardo dei promiscui Bolton.

# #
La guerra è già iniziata da un pò, ma Don Pietro decide che i dati di Istat e Censis sono preoccupanti ed il rapporto "sovrappopolazione-ignoranza" è paurosamente bilanciato.
Così, in piena settimana di mestruazioni, comincia a commissionare omicidi a piacimento. Inizia con l'eliminarne uno e sfruttarne un altro, prima di rendersi conto dell'inutilità di quest'ultimo e continuare la sua missione da esattore del censimento.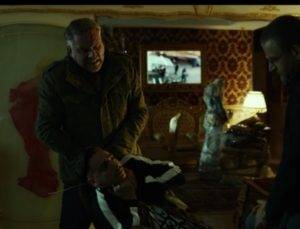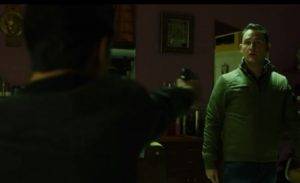 Fuori due, prima che arrivi l'assassinio più sensato ma terribilmente crudele: quello della piccola Maria Rita Di Marzio.
Don Pietro è un rullo compressore, e nel compulsivo modo di commissionare uccisioni richiama inevitabilmente alla memoria il personaggio di Game of Thrones più amato dai cultori del sadismo gratuito: Joffrey Baratheon.
Voto basso e scelta del contro-ruolo non apprezzata, per Don Pietro.
DON PIETRO = JOFFREY BARATHEON
La rivalsa dei Rom.
L'abbiamo accennato parlando delle vittime di Don Pietro: Zingariello.
Il "complimentoni" più sarcastico della storia del cinepanettone quest'oggi va proprio a lui.
Zingariello cerca di valicare nuovamente la linea di trapasso per tornare dalla parte di Don Pietro. Ormai tutti a Secondigliano sanno che per "settimana rossa" si intende la scia di sangue che solo le mestruazioni di Don Pietro possono provocare.
Così il nostro Zingariello, con la strategia di chi vuol vendere una moneta da un euro a 5€, si ripresenta a Don Pietro.
Ovviamente va male. Esattamente come, con gli stessi presupposti strategici, va male all'esercito di Walder Frey nella conquista del Castello Nero.
10+ per le capacità di apprendimento e doti acquisite in Risiko.
ZINGARIELLO = WALDER FREY
Amore 14.
Patrizia ormai è il jolly. Il camaleonte. Motivo per cui si prospetta essere la meno candidata al "Premio coerenza Game of Gomorra". In queste ultime due uscite, Patrizia si trasforma da Lord Varys con tutti gli uccellini a Daario.
E' esattamente quando sta per prendere il vibratore dalla toletta, in una sequenza quasi analoga a quella di Scianel nella puntata precedente, che parte "Amore 14" con Don Pietro. Anno più, anno meno.
Insomma, l'età non conta. Non esistono più le mezze stagioni. Sean Connery è più bello ora che da giovane. Ha vinto lo sport.
Sì, ci siamo capiti.
Da lustrascarpe ad amante; dal retrobottega alla camera da letto.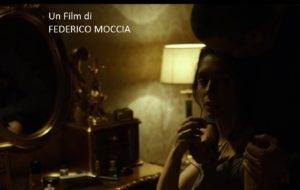 Eppure ora sì che servirebbe un Varys con tutti gli uccellini; ora che la piazza di spaccio di Secondigliano s'è trasformata in un call-center inbound.


PATRIZIA = DAARIO NAHARIS
Karma.
C'è poco da dire su di lui, che è stato un personaggio chiave ma che di identitario ha dato poco: Don Giuseppe.
Ebbene, lui è esattamente la controfigura di Dito Corto con i suoi piani infidi per la salita al potere e la smania di mettere a posto sua figlia che è tipica di chi non vede l'ora arrivi il Venerdì per buttare l'umido a causa della puzza che provoca.
"Oggi è come se mi dovessero mettere una corona in testa." esclama nel giorno del matrimonio di sua figlia, rivolgendosi proprio a quest'ultima.
Festeggia troppo presto, non fa i conti con le leggi vigenti e l'Alto Septon arriva anche per lui.
DON GIUSEPPE = DITO CORTO
POLIZIA DI STATO = ALTO SEPTon
Verso la conquista del Trono.
Genny è l'orgoglio di Game of Gomorra.
La sua coerenza lo porta a perpetuare il ruolo di Tyrion Lannister. Col suo esercito di aziende che Don Giuseppe stesso definirà "immacolate" (Altro orgoglioso riferimento alla ormai nota posizione di Genny nel ruolo di Tyrion) non aspetta altro che il momento giusto per colpire.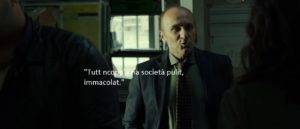 Quel momento, per un attimo, sembra non poter mai più arrivare. La scena del suo matrimonio, a tratti, causa qualche sussulto.
Attimi di panico ci slittano in un "flash-sideway" in cui siamo pronti ad esclamare: "Genny, hai perso questa guerra il giorno in cui ti sei innamorato di quella donna". Pronti all'analogia con Robert Stark e le Nozze Rosse.
Ma questo non accade. Anzi, dalle proprie nozze Genny evade ed incastra il suocero con l'avara ferocia di chi non è stato accontentato con la decisione delle portate nel menù al momento dei preparativi.
10+ per la volontà di dimagrire.
(Genny ha vinto il premio "Game of Gomorra", se questo non fosse ancora palese)
GENNY SAVASTANO = TYRION LANNISTER
"Ho lottato ed ho perso."
Ormai Ciro ha sottoscritto un abbonamento settimanale al cimitero. Paga la morte di un caro a settimana a patto che "i fantasmi di chi ha ucciso in passato" non lo perseguitino di notte.
Continua a perdere persone care della cui morte è colpevole, è incapace di reagire e perde nettamente la guerra. Per tale motivo, la lancetta oscilla su Stannis Baratheon.
Ma poi accade qualcosa: quando non sembrava poter perdere altra quota, Ciro si aggiudica la controfigura forse più ambita, quella del bello e dannato.
La figura del tenebroso che con gran tempismo ha smesso di aver voglia di vivere nell'esatto momento in cui ha capito che era destinato a farlo (forse) per sempre: Jon Snow.
Ciro crolla. Ammette la sua sconfitta e si rassegna definitivamente. Al che, si rivolge ai suoi uomini con l'intento di sciogliere l'Alleanza. La sua resistenza è effettivamente conclusa. Esclama tra le righe "My watch has ended" e si adagia in uno dei ruoli più nobili.
In più, proprio come fa Jon, prenderà la sua vendetta contro chi l'ha definitivamente debellato, grazie a Genny.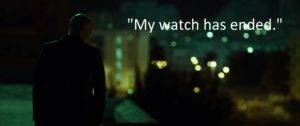 CIRO DI MARZIO = JON SNOW
Ma a prescindere da alcuni colpi di scena degni di rispetto di cui siamo stati spettatori, chi segue la nostra rubrica non può non convenire col fatto che la seconda stagione di Gomorra segna un passo epocale.
Sì, perché Sollima ha battuto Martin 2-1 (Due ad uno) sulla presenza di "scene di sesso" nelle due ultime stagioni delle loro rispettive serie tv, dove l'uno a favore di Game of Thrones corrisponde a Yara Greyjoy e le sue 120 giornate di Sodoma con Theon, suo fratello, spettatore sofferente. Poca roba, insomma.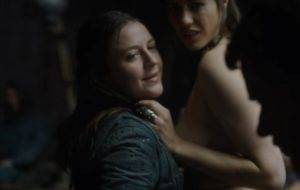 E sulla cima di un cumulo fatto di odio e disprezzo, la crudeltà che più ci inorridisce è quella di Ciro che si rifiuta di fare i suoi auguri a Genny per il suo matrimonio, dopo che questi glielo chiede espressamente.
Da quì, i due sondaggi coi quali vi lasciamo.
Da chi avrà preso lezioni di sgarbatezza e non-galanteria Ciro, a Westeros?
A. Bronn
B. Il Mastino
C. Ygritte
Da chi avrà preso lezioni di sordocecità Genny per ignorare tutto ciò che Ciro gli dice fuorché "Auguri", a Westeros?
A. Arya
B. Arya
C. Arya
D. Nessuno (aka Arya)
L'anno prossimo avremo ancora questi interrogativi, così come tutt'ora abbiamo quelli della scorsa settimana.
E questo non cambierà, finché ci saremo noi a crearne laddove non è necessario.