#DeliridiSpade è la nuova rubrica del martedì sera di Hall of Series che vi racconterà ironicamente l'episodio di Game of Thrones andato in onda il giorno prima. Siamo impazziti, e lo capirete presto. 
Questa è roba veramente buona 
Stanno esagerando. Questa roba prima o poi vi andrà di traverso. Ormai è chiaro che il mondo di Westeros è duro e in mancanza contemporanea di sesso, sangue e alcool bisogna trovare un diversivo, ma stanno esagerando. La 6×06 di Game of Thrones ha rivelato un grande mistero della saga di Martin: chi vende i funghetti allucinogeni a Bran. Qualcuno pensava fosse il Corvo dai Tre Occhi, ma Max Von Sydow è un uomo serio e incriminarlo era stato un passo piuttosto avventato. Il colpevole è solo uno, e non è il maggiordomo: lo zio. Lo zio Benjen.
L'intervento del fratello di Ned Stark ha salvato la vita del nipote e messo a repentaglio la sua salute mentale. I viaggi nel tempo, gli incontri con gli Estranei e i trip nella Torre della Gioia (se si chiama così, un motivo ci sarà) non bastavano più: si doveva andare oltre. E siamo andati oltre.
"Sono morto, ma non sono morto. Cioè, amico: non respiro, il mio cuore non batte, ma sono vivo. Però sono morto. Cioè, non ci capisco niente: sono vivo. Sono morto. Sono Benjen. Dov'è il mio amico Olly? Cioè, volevamo sfondare e campioni diventare per poter cosi' giocare nella squadra nazionale. Cioè, zio. Cioè, nipote: io in porta, Olly in attacco e il Giappone campione del mondo! Cioè, non ci capisco più nulla. Ma dov'è finito Olly? È in Brasile con Roberto?". 
"Ah, ok. Come sta Julian?".
Cioè ragazzi, non esagerate.
Dieci cose più simpatiche di Walder Frey 
Una cosa è chiara: "Blood of my Blood" è stato l'episodio dei grandi ritorni. Uno su tutti ha rovinato le nostre nottate. Il suo è uno sgraditissimo ritorno, a meno che non muoia male da qui a due episodi (probabile). Walder Frey is back, ed è il solito simpaticone. Una comicità irresistibile. L'amico della porta accanto. Il vicino di casa che ognuno di noi vorrebbe avere. Il padrone di casa che sa cosa sia l'ospitalità e ci farà sentire dei re. Dei re morti.
Inspiegabilmente, non tutti apprezzano la sua compagnia e non lo trovano simpatico. E forse hanno ragione. Ci sono almeno dieci cose più simpatiche di Walder Frey.
Tipo:
I cani abbandonati in autostrada
La batteria dello smartphone che si scarica nell'unico momento della giornata in cui ci serve davvero
La malaria
L'amico che si presenta alla partita di calcetto con una banconota da 200 euro pur di non pagare la quota
Tutta la vita di Sansa Stark fino all'inizio della sesta stagione
Gli Erasmus spagnoli che si divertono solo con altri Erasmus spagnoli
Joffrey Baratheon. Almeno lui aveva la giustificazione della giovane età
Il tradimento di Olly
Rispondere dopo dieci ore e negare l'evidenza di fronte alla spunta blu
La Salerno-Reggio Calabria.
E comunque Edmure Tully è sempre più uguale a Marco Cesaroni.
Mi presenti i tuoi? 
Intanto in casa Tarly abbiamo trovato il vincitore del premio annuale "Papà dell'anno", vinto per quattro anni di fila da Tywin Lannister.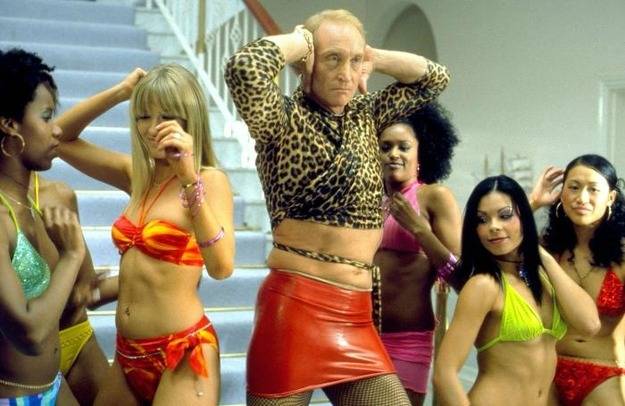 Sì, lui.
Sam è tornato a casa dopo tanti anni e ha ricevuto un'accoglienza principesca. Finché non è tornato il padre. La famiglia Tarly è il classico esempio che dimostra la necessità di presentare la famiglia alla propria fidanzata il più tardi possibile, onde evitare fastidiose crisi di coppia. Ma Gilly ci teneva. E dire che per una volta il problema non è la suocera. Il grande problema è il padre di Sam. Un uomo tutto d'un pezzo, autoritario e fastidioso al punto da trasformare un'allegra rimpatriata di famiglia in una cena col morto sfiorata. Ad un certo punto il povero Sam ha chiesto del pane (richiesta legittima, in una cena) e quello stronzo di Randyll ha risposto: "Non sei già abbastanza grasso?". La prossima volta Sam e Gilly andranno in giro per Old Town e opteranno per una pizza. Ed eviteranno la carne, viso che anche questo è stato un ottimo argomento per denigrare il figlio. C'è chi, come lui e Dickon, caccia i cervi e chi, come Sam, si accontenta dei conigli. La prossima volta Sam e Gilly andranno in giro per Old Town e opteranno per un kebab.
Randyll, di carne, se ne intende…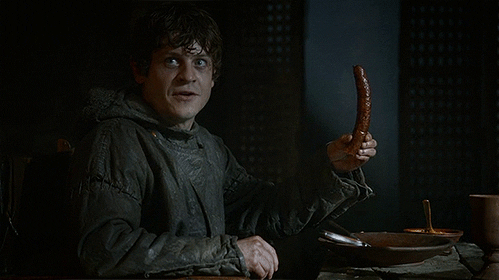 … e questo era l'unico spazio possibile per inserire l'evergreen di Ramsay.
Comunque la situazione si poteva gestire meglio. Se quel leghista di Randyll non avesse scoperto che Gilly è una bruta, tutto sarebbe andato per il meglio. Più o meno. Però la bella fidanzata di Sam è una che parla un po' troppo, si è fatta prendere la mano e non sa mentire. "Ma no, Sam è uno coraggioso! Ha persino ucciso un Estraneo!". "Dove?", chiede Randyll. "Ehm… ovunque non ci siano bruti. L'ha ucciso in… Molise", risponde Gilly. "Ma il Molise non esiste", afferma con sicurezza Randyll. "A Pordenone, lord. Oppure a Busto Arsizio. Ha persino incontrato Tyrion Lannister". "No, non ci credo", incalza il papà dell'anno. "In Sardegna, lord. Lì è pieno di Estranei del continente. A Sasso Marconi. L'ha investito in autostrada. In un motel di Frosinone". "Ok, ci credo", chiosa un incredulo Randyll, conscio del problema Estranei nel Lazio. "Quel motel è bellissimo", esagera Gilly. "Dopo aver ucciso l'Estraneo, siamo andati a letto e l'abbiamo fatto come dei brut…". "Quindi sei una bruta?", risponde inferocito Randyll. Fregati.
La f*** può rovesciare un impero
Dopo aver rivalutato la posizione delle suocere, non possiamo mettere in discussione anche quello delle donne nel mondo. Non possiamo. Le donne sono il motore che trascina l'universo, e la rovina di molti uomini. Pensiamo a quel pupo di Tommen. È un re, può avere quello che gli pare eppure cede il passo al richiamo irresistibile della f***. Pensate a Margaery: ha rovesciato un impero spostando l'inerzia dalla propria parte con la forza di un sorriso dei suoi. L'astinenza fa male e Tommen, pur di riaverla al suo fianco, si è fatto fottere dalla bella moglie e dalle frasi incisive del Passero Mascetti. Perché l'Alto Septon ha parlato con lui, l'ha convinto a mollare le paranoie della mamma e passare dalla sua parte.
Questo è un estratto del discorso, tratto dall'ultima lezione di catechismo:
"Caro Tommen, gli Dei hanno bisogno di te. Se farai come dico, Margaery non farà il cammino della vergogna e tarapia tapioco come se fosse antani con la supercazzola prematurata, con lo scappellamento a destra. E poi tuo padre ha il braccino corto e non è il caso di fargli guidare un esercito. Chiaro?".
Basta poco. E i risultati si sono visti.
Un paio di considerazioni a caso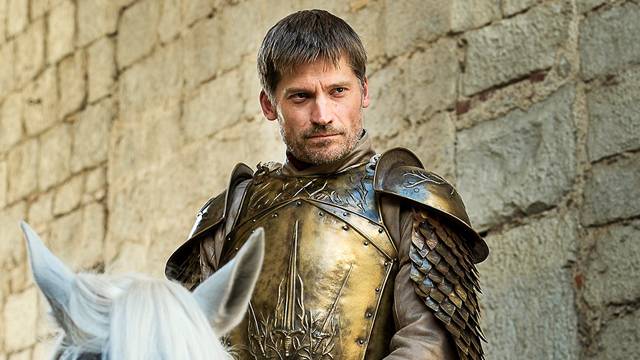 Se una puntata senza tette può essere una puntata di Game of Thrones, una puntata senza tette, sangue, morti, Tyrion, Varys e Ditocorto è un episodio di Don Matteo.
Arya si è stufata di prendere mazzate a caso. Dopo quasi due stagioni.
Il discorso di Daenerys ai Dothraki gli varrà la poltrona da sindaco a Roma. Il Movimento 5 Stelle si opporrà all'elezione dei tre draghi come assessori.
Jaime si è ricordato di Bronn. Finalmente.
Nel prossimo episodio tornerà Euron. Preparate le risate registrate.
Antonio Casu