# #
"Let me tell you a story to chill the bones
About a thing that I saw" *                                                     
In Game of Thrones la morte di un personaggio non è un evento particolare, da aspettarsi solo in momenti speciali della trama; al contrario è una possibilità sempre presente, un ospite che sembra essere nascosto nella penombra di quasi ogni scena, seduto a tavola durante un banchetto di nozze, vorticante in tutti i calici di vino che passano di mano in mano.
# #
Peggio ancora, quando appare all'improvviso non viene salutata da grandi cerimonie: colpisce, lascia dietro di sé uno o più cadaveri e se ne va, mentre attorno le vite frenetiche degli altri proseguono soltanto un po' più immerse nel buio.
# #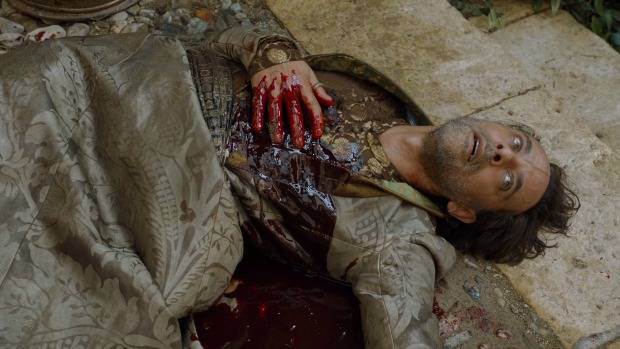 E' forse proprio questa la caratteristica di Game of Thrones che ci fa gelare il sangue nelle vene: non la violenza senza limiti, non la scoperta di dove può arrivare la brama di potere, ma la modalità in cui la morte miete le sue vittime.
Perché che essa possa attendere chiunque è purtroppo una verità che conosciamo, è il destino degli uomini. Però ci hanno anche insegnato a commemorare la scomparsa di qualcuno con riti speciali, o almeno a considerare tale circostanza un'aberrazione, uno scandalo: una persona un attimo prima c'è, e un attimo dopo di lei non resta nulla. Funerali e veglie in lacrime non servono al defunto, servono a noi; sono utili per esorcizzare in qualche modo lo shock della morte, l'idea che prima o poi ciò capiterà anche a noi (idea che tentiamo di tenere lontana, ma che ritorna ogni volta che vediamo un essere vivente morire): trattare il lutto con solennità ce lo fa apparire più umano e accessibile.
Invece nella serie i personaggi cadono come pedine di una gigantesca partita a scacchi; sostituibili, non indispensabili purché la partita venga comunque vinta.
La morte che stupisce
"I was rambling, enjoying the bright moonlight
Gazing up at the stars
Not aware of a presence so near to me
Watching my every move" *
I protagonisti della storia sono nello stesso tempo consci e inconsapevoli del fatto che la morte li attende in qualsiasi momento: da una parte sanno che basta la determinazione di un uomo potente per ucciderne un altro, e dato che nessuna delle importanti famiglie del gioco dei troni si fa scrupoli a scendere in battaglia o a tramare intrighi segreti, è ovvio che le notizie di stragi e guerre raramente stupiscano Cersei, Dito Corto, Tyrion e gli altri. Finchè la morte non li riguarda in prima persona, è sempre un'opzione probabile.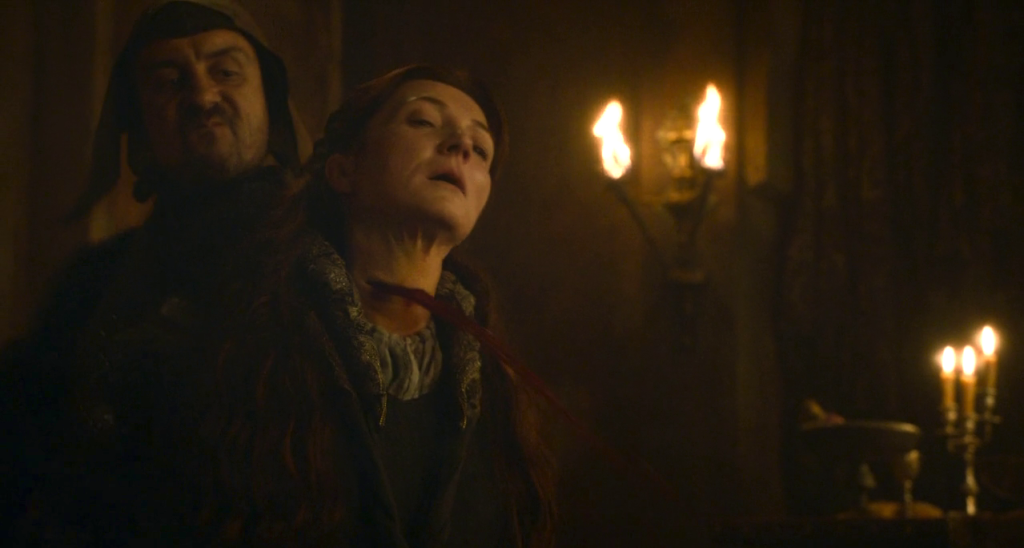 Eppure, ogni volta che un personaggio viene ucciso, sul suo volto compare un'espressione di sorpresa, anzi di costernazione: in fondo i protagonisti vogliono vivere e desiderano resistere più di quanto anelino a governare o vendicarsi.
Uccidere è un obbligo
"Feeling scared and I fell to my knees
As something rushed me from the trees
Took me to an unholy place
And that is where I fell from grace" *
Per salvarsi dall'eventualità di una fine inaspettata alcuni dei personaggi vengono colti dalla frenesia di sterminare gli altri, come se eliminare ogni possibile nemico potesse garantire la sicurezza assoluta.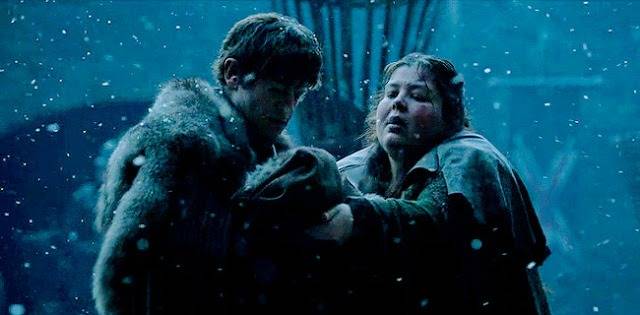 E' la paura a muovere molte delle azioni dei nostri eroi: è per timore che Ramsay Bolton uccide un neonato innocente e sua madre, i quali non potrebbero nuocergli se non cercando di strappargli il titolo nobiliare che si è conquistato con tanta fatica. È il terrore di essere cacciata dalla propria fortezza inespugnabile a spingere Cersei a organizzare l'assassinio di tre quarti dei personaggi. Perché altrimenti la spaventerebbe tanto Margaery? Perché avrebbe deciso di lasciarla bruciare insieme all'Alto Passero, quando era palese che la giovane regina avesse un piano nascosto e che il suo apparente accostamento alla Fede fosse una menzogna?
La paura, la vendetta, il desiderio di conquista. Questi sentimenti indirizzano la volontà delle persone in Game of Thrones.
Giocare o morire
"Then they summoned me over to join in with them
To the dance of the dead
Into the circle of fire I followed them
Into the middle I was led" *
Tuttavia, anche coloro che non vorrebbero unirsi a tale gioco di sangue prima o poi ne vengono trascinati all'interno: persino i bambini finiscono risucchiati nella spirale dei morti. Pensiamo ad Arya, portata a diventare un'assassina dalle sventure che hanno sconvolto la sua famiglia; a Sansa, che voleva solo sposarsi ed essere la Lady di un bel castello e invece si è ritrovata a osservare il fratellastro (in realtà cugino) e suo marito darsi battaglia nelle nevi. Allo stesso Jon Snow, le cui ambizioni più alte arrivavano forse a guadagnare un posto di spicco tra i Guardiani della Notte e che al contrario è rimasto invischiato in un destino più grande di lui.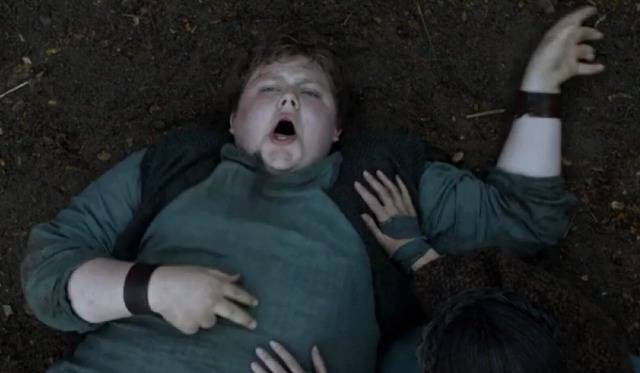 Per non parlare del buon Hodor, il quale da ragazzo si è visto sottrarre persino l'opportunità di scegliere; e questo per il bene di uno sconosciuto lontano, che ancora non era nato e che non significava niente per lui: se la sua mente quel giorno non fosse stata soggiogata, probabilmente non sarebbe mai diventato amico di Bran e di certo non avrebbe accettato di morire per salvarlo. Al giovane Hodor non interessava il fato dell'umanità, eppure gli è stato caricato sulle spalle il fardello del futuro Corvo con Tre Occhi…
Non importa se desideri il potere, se vuoi la vendetta o cerchi solo la quiete: in Game of Thrones gli eventi ti cattureranno e tu non potrai niente per impedirlo.
Un mondo di morti
"And I danced and I pranced
and I sang with them
All had death in their eyes
Lifeless figures
they were undead all of them
They had ascended from hell" *
Tutti vogliono sopravvivere, ma chi riesce a farlo a lungo è condannato a vedere i suoi cari e le persone che conosceva scomparire: il ricordo dei morti aleggia attorno ai vivi sussurrando richieste di vendetta e rimpianti, dai quali nessuno dei superstiti può sfuggire.
Per i quattro Stark rimasti non esiste pace, in quanto gli spettri dei componenti della famiglia uccisi continuano a tormentarli; il nuovo regno di Cersei è destinato a mio parere a durare poco e a essere assai doloroso, poiché i tre principi defunti non cesseranno mai di stringersi attorno al trono e finiranno forse per soffocare la regina (dato che la morte dei due figli minori è stata causata almeno indirettamente proprio da lei: Myrcella è stata falciata via come un fiore in un campo per colpa di quanto accaduto a Oberyn durante il fantomatico processo di Tyrion, che Cersei volle ardentemente. E Tommen si è gettato giù dalla Fortezza Rossa perché incapace di sopportare gli intrighi messi in atto dalla madre e culminati con la fine di Margaery).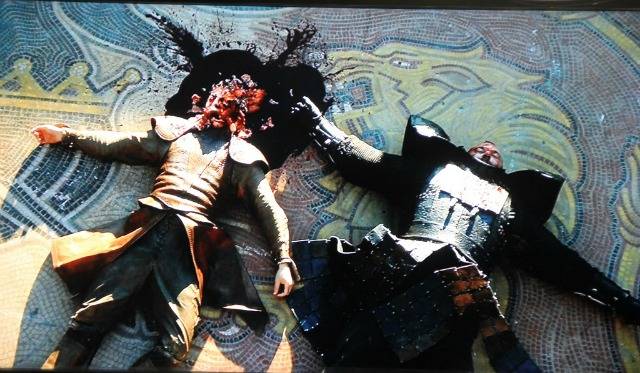 Nemmeno agli anziani è concesso trascorrere serenamente gli ultimi anni: anzi, la consapevolezza di essere in vita laddove coloro che ne avevano più diritto, i giovani Tyrell, sono morti, deve provocare a Lady Olenna una pena indicibile, che soltanto il suo intelletto brillante può sopportare senza perdere la ragione.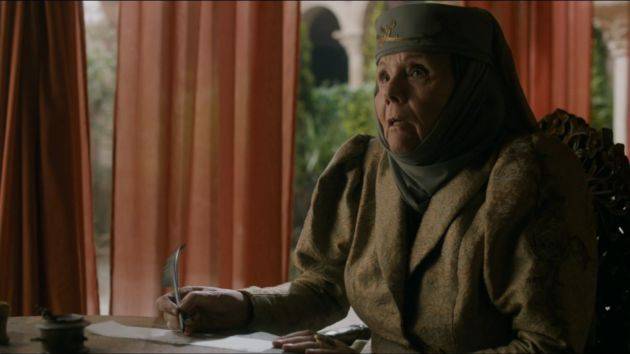 In Game of Thrones chi sopravvive è costretto a lottare contro gli altri vivi, ma anche se trionferà non potrà smettere di sentirsi oppresso dalle voci dei suoi morti.
Valar Morghulis
"To this day I guess I'll never know
Just why they let me go
But I'll never go dancing no more
'Til I dance with the dead" *
Chi o cosa determina la sopravvivenza e la morte dei personaggi della serie? L'astuzia, la bontà d'animo, le alleanze? No, nessuna di queste cose.
Il fato magari, quel fato divino di cui Melisandre tanto chiacchiera; oppure, in una prospettiva agghiacciante, il caso: è un caso che Daenerys sia sopravvissuta ai genitori e a Viserys? Che Jon non sia finito congelato in fondo a un burrone nelle Terre Libere oltre la Barriera? Che Bran sia il Mutaforma che tutti devono proteggere, mentre nessuno ha scelto di sacrificarsi al posto del fratello Rickon?
Non sappiamo come mai la morte decida a volte di lasciare andare questa oppure quella persona e di portarne con sé delle altre. Ma sappiamo che si tratta solo di un incontro rimandato, perché prima o poi tutti loro danzeranno con lei. Valar Morghulis.
* "Dance of the Death", Iron Maiden, 2003