Finalmente ci siamo. Finalmente la guerra vagheggiata da innumerevoli episodi è cominciata, e ha già iniziato a far sanguinare il mondo di Game of Thrones. E le piogge di Castamere piangono fuoco e sangue. Non è più il tempo delle strategie, dei consigli di guerra; ogni consiglio è stato abbandonato, messo da parte, scartato, in favore dell'unico veramente saggio, dell'unico che conta davvero:
Sii un drago.
Le parole della defunta Olenna Tyrell riecheggiano per tutto l'episodio, portando gli eventi a precipitare in rapidissima sequenza. La gioia per il ricongiungimento delle sorelle Stark (seppur con la presenza sempre più creepy di Bran), l'emozione per la scoperta delle incisioni che testimoniano la guerra millenaria con gli Estranei e il sollievo per la concessione di Daenerys a Jon di estrarre l'ossidiana dalle radici di Roccia del Drago, tutte queste emozioni vengono annichilite dall'ultima, grande, sublime scena. Game of Thrones fa piazza pulita di ogni pensiero, lasciandoci attoniti ad ascoltare i battiti del nostro cuore, che accelerano togliendoci il respiro. Questo è l'effetto che fa vedere l'armata Lannister spazzata via come fossero fuscelli, arsi vivi come sterpaglie (e tra loro, forse, anche Ed Sheeran e i suoi compagni), sterminati dalla brama di conquista della Regina dei Draghi. Daenerys viene a reclamare il suo tributo di sangue e cenere.
E il tributo, il debito con il destino, lo paga l'orgogliosa casata Lannister. In una storia come quella di Game of Thrones, che ci ha abituato ad assistere alla morte dei buoni e al trionfo dei cattivi, non ci possiamo aspettare di certo gli eroi. Ma un eroe in questa puntata c'è. È Jaime Lannister, che con una sola mano fronteggia un drago grande come un palazzo, cavalcando contro di lui attraverso i cadaveri carbonizzati dei suoi soldati, per finire quello che aveva iniziato anni prima, quando aveva pugnalato il Re Folle, ma non aveva estirpato la sua progenie. Jaime, l'uomo tormentato da tutta una vita dalle conseguenze del suo slancio d'onore, punta alla redenzione dai suoi crimini e fa di una lancia trovata per caso lo strumento per la salvezza. Del suo esercito, di sua sorella, di se stesso, della sua integrità.
Perché uccidendo la Regina dei Draghi, nel momento in cui è vulnerabile, troppo dedita al suo drago ferito per guardarsi le spalle, forse non lo chiamerebbero più Sterminatore di Re, ma Salvatore del Reame. E quando si trova per un solo, terribile istante, faccia a faccia con la morte, con il fuoco fattosi carne, spine e ali, tutti noi abbiamo urlato. Perché per quanto nel profondo abbiamo goduto al vedere Daenerys, in groppa a quel drago, fare quello che sa fare meglio, a un livello più inconscio parteggiamo tutti per i perdenti.
Per i soldati che battono i denti dal terrore al vedere la carica Dothraki, sapendo che saranno tutti fatti a pezzi. Per gli eroi che salvano un'intera città dalla distruzione per mano di un pazzo e ottengono in cambio un soprannome infamante e il disprezzo di tutti. Per chi, con una sola mano e un cuore appannato da un amore sbagliato, cavalca senza speranza contro un drago.
E mentre questa battaglia quantomai impari infuria, Tyrion assiste alla distruzione dell'orgoglio della sua casata e del suo nome, dall'alto di una collina, per una volta più in alto di tutti. E quello che vede deve toccargli qualche luogo remoto dell'anima, perché lo sguardo nei suoi occhi è ben diverso da quello determinato, cinico, compiaciuto di Daenerys.
È lo sguardo di chi sente riecheggiare come un lamento funebre le note de Le Piogge di Castamere.
Le sentiamo anche noi, suonare con un'intonazione macabra e disperata, mentre i mantelli color vermiglio dei soldati bruciano nel fuoco, che fa brillare per un istante i ricami dorati che disegnano la sagoma di un leone rampante. Un leone che non sembra più ruggire, ma rivolge un'implorazione al cielo, o lo maledice, questo cielo che porta una morte alata che sputa fiamme.
Non sarà in questa puntata di Game of Thrones che assisteremo alla morte del drago prediletto di Daenerys, e nemmeno alla scomparsa del personaggio che ha contribuito a svecchiare l'immagine del cavaliere senza macchia e senza paura, tingendolo di sprezzante ironia e indicibili complessi, Jaime.
Lo vediamo sprofondare in acqua, nell'ultima scena, sfuggendo per un pelo al fuoco, trascinato via da Dickon Tarly o da Bronn, ma comunque circondato dai nemici e privo di sensi. Una facile preda, per la vendicativa regina. E probabilmente nella prossima puntata potrebbe confrontarsi direttamente con lei, l'Usurpatrice, e forse anche con Tyrion, al quale una possibile prigionia del fratello causerebbe un notevole dilemma morale: continuare a seguire l'impresa della sua Regina, rinnegando definitivamente il suo nome con l'esecuzione del fratello, o seguire il suo cuore ancora nel profondo legato a Jaime e ripagare il suo debito con lui facendolo scappare?
Per il momento possiamo solo fare congetture; ma sarebbe indubbiamente un bellissimo momento, un ultimo confronto tra fratelli, in circostanze opposte a quelle che li avevano visti per l'ultima volta insieme.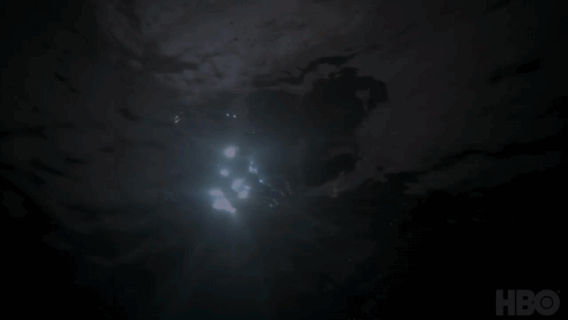 Un ennesimo tributo di Game of Thrones a se stesso, regalarci una scena speculare a una già avvenuta in precedenza in questa Serie: pensiamo al ritorno di Arya a Grande Inverno, e al battibecco con le guardie che rispecchia quello della prima stagione, in cui la piccola Stark cerca di rientrare ad Approdo del Re suscitando l'ilarità dei soldati di guardia. O alla scena della discesa di Jon in una grotta con quella che ormai i rumors danno già assodato essere la sua futura moglie. Questo momento tra fratelli segnerebbe un confine indelebile, un barlume di auto-affermazione, una catarsi per entrambi i personaggi coinvolti: e noi siamo sicuri che almeno uno dei due leoni, alla fine, si rivolterà contro la sua domatrice. Mentre le piogge di Castamere continuano a scorrere