Attenzione: evitate la lettura se non volete imbattervi in spoiler sulla 6×04 di Game of Thrones. 
Ad Approdo del Re c'è qualcosa che non va. Dopo la morte di Tywin Lannister, non si è capito più nulla. Il quadro è sempre più confuso e rende impossibile comprendere chi comandi e chi no, lasciando spazio ad un'anarchia sostanziale nella quale ognuno gioca le proprie carte e nessuno riesce a prevalere sull'altro.
Giusto per fare qualche esempio: il re è un inetto incapace di governare. È un Baratheon, ma in realtà è un Lannister. È sposato con una Tyrell, famiglia alleata con i Lannister, ma le due casate non si sopportano e convivono faticosamente. Il Concilio Ristretto è composto da un'unica mente pensante (Olenna) e da una serie di personaggi inadeguati a livello politico. Cersei, ex regina reggente, vorrebbe prendere parte al Concilio, ma non ha più i titoli per farlo. Pycelle sì, e questo la dice lunga sul caos che sta caratterizzando la capitale dei Sette Regni. Il re non prende una posizione ed è stretto in una morsa asfissiante. La regina e suo fratello sono prigionieri dell'Alto Septon, una via di mezzo tra un Savonarola e un Papa sui generis che ha approfittato della situazione e ha acquisito sempre più potere.
Stop, rettifichiamo: non c'è qualcosa che non va. Non c'è niente che sia al proprio posto. Perché il potere religioso è più forte del potere politico? Perché la reginaè imprigionata nello stesso luogo nel quale dovrebbe regnare? Perché gli unici che utilizzano la forza sono i personaggi apparentemente più innocui? È il caso di fare un po' di chiarezza.
I passeri sono più forti dei leoni. La religione è più forte della politica
Il quadro è talmente confuso da far pensare che avere uno come Tommen sul trono sia l'aspetto meno sorprendente. Il delirio, quello vero, è tutto il resto.
Come si diceva in precedenza, tutto ha origine nel momento in cui Tyrion ha fatto fuori Tywin. Tywin era un abile stratega ed un politico intelligente, mentre Cersei, la figlia che di fatto ne ha preso il posto, è la donna meno lungimirante dei Sette Regni. È lei ad aver legittimato l'ascesa dell'Alto Passero e della sua setta. È lei ad aver pensato erroneamente di poterne fare uno strumento per far fuori Margaery, arrivando addirittura ad armarli. È lei la prima ad averne pagato le conseguenze, subendo l'onta della prigionia e del cammino della vergogna. In sostanza, ha preso dal padre solo un cognome altisonante. Il potere è potere, ma si deve essere abili nel coltivarlo.
L'Alto Passero, l'uomo più disinteressato al potere della storia di Game of Thrones, l'ha capito meglio di chiunque altro. Se c'è qualcuno che in questo momento regna incontrastato ad Approdo del Re, non è Tommen, ma lui. Ed eliminarlo sarà più complesso di quanto possa sembrare all'apparenza. Si potrebbe usare la forza, ma si rivelerebbe una pericolosissima arma a doppio taglio.
Nell'ultimo episodio andato in onda, Cersei e Olenna hanno trovato un accordo che si attendeva da tempo: Lannister e Tyrell sotterreranno l'ascia di guerra, interverranno militarmente per liberare Margaery e Loras, far fuori l'Alto Passero e ripristinare l'ordine in città. Tutto semplice, no? La forza propulsiva dei Tyrell ha rimbalzato l'attacco di Stannis Baratheon, quindi eliminare un drappello di fanatici religiosi (seppure in crescita) non sarebbe un problema. No, la questione è molto più complessa, e l'unico ad averlo intuito è Kevan, fratello di Tywin, un altro che dal parente illustre ha preso ben poco.
Il problema, quello vero, è l'atteggiamento del popolo di Approdo del Re, fortemente osteggiante nei confronti dei Lannister, ambiguo verso i Tyrell e schierato in questo momento dalla parte dei Passeri, portatori di un messaggio di speranza ed uguaglianza ortodossamente fondato sul Culto dei Sette Dei. Una dinamica comune nella storia dell'uomo è l'abbraccio della religione nei momenti di crisi. Il mondo di Game of Thrones non fa eccezione. Westeros è reduce dalla guerra dei Cinque Re, il popolo di Approdo del Re ha subito l'attacco di Stannis ed è stufo della tirannia dei Lannister.
Cosa succederebbe se ci fosse un intervento militare contro l'Alto Passero? Probabilmente esploderebbe una guerra civile dalle conseguenze imprevedibili. Un rischio che i Lannister non possono permettersi di correre, e i Tyrell ancora meno (Olenna non metterà a repentaglio la vita di Margaery e Loras).
Paradossalmente, il personaggio che sta gestendo meglio la crisi di Approdo del Re è Margaery.
Perché?
Perché mediare è fondamentale per governare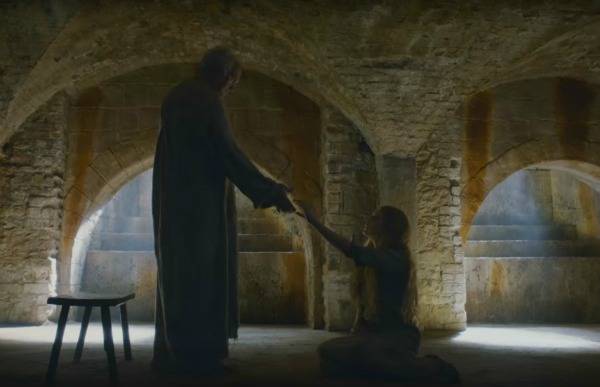 Margaery si è dimostrata particolarmente abile in tre circostanze. La prima riguarda il suo primo impatto con Approdo del Re, dirompente ed esplosivo come la sua bellezza. Ha oscurato l'odiato Joffrey dinanzi agli occhi del popolo, ponendosi con grazia, eleganza e buon cuore. Una regnante sorridente, a differenza dell'allora re, tirannico e incapace di stabilire un legame con gli abitanti della città.
La seconda riguarda il suo approccio con Tommen, circuito e plasmato a seconda delle proprie esigenze. Ha vinto da subito il dualismo con Cersei, portando il re dalla propria parte con tenerezza e sensualità.
La terza riguarda invece il rapporto complesso con l'Alto Passero. A differenza della Regina Madre, non ha posto un muro, ma ha cercato un dialogo ed un confronto, assecondando i dettami della guida spirituale. Gli scambi di battute con l'Alto Septon si pongono a metà strada tra una lezione di catechismo, un confronto politico e una trattativa per la libertà. Difficile capire al momento come si svilupperà la vicenda, ma un dato è certo: se l'Alto Passero gli ha permesso di parlare con Loras c'è un'evoluzione, e da qui in poi le prospettive di Margaery potrebbero essere più rosee.
La guida politico-militare, quella religiosa e il popolo potrebbero avere lei come unico trait d'union possibile. Se non si potranno cacciare i Passeri, bisognerà imparare a convincerci, e Margaery l'ha capito meglio di chiunque altro. Sarà lei la chiave di volta dello stallo di potere ad Approdo del Re? Oppure esploderà una guerra civile dalle conseguenze imprevedibili? E se l'Alto Passero avesse un appoggio esterno e stessimo andando incontro ad una guerra militare senza esclusione di colpi? Oppure (e qui si sta andando in là con la fantasia), l'Alto Passero è realmente l'Howland Reed citato a più riprese in diverse teorie. A quel punto, solo Jon Snow potrebbe riportare l'equilibrio nella capitale dei Sette Regni. I quesiti non mancano, i dubbi neppure e le certezze sono pochissime, però una cosa è sicura: ad Approdo del Re c'è qualcosa che non va, ma la soluzione agli enigmi è sempre più vicina.
Antonio Casu