Far away
The ship is taking me far away
Far away from the memories
Of the people who care if I live or die

The starlight
I will be chasing a starlight
Until the end of my life
I don't know if it's worth it anymore
Solo le prime due parole del
famosissimo brano dei Muse
racchiudono l'essenza di
Final Space
, in particolare del protagonista
Gary.
Così lontano, intrappolato in quella nave che lo sta portando lontano,
lontano dai ricordi e dalle persone a lui care.
 Ma
qualcuno davvero sta pensando a lui? 
A caccia di una polvere stellata, della speranza, di una forma di vita, qualcuno a cui voler bene. Gary decide di non demordere e continuare a sperare.
Fino alla fine della propria vita, per le persone che ama. Ma tutto si fa più scuro, qualcuno penserà a lui? Chissà se ne sarà valsa la pena.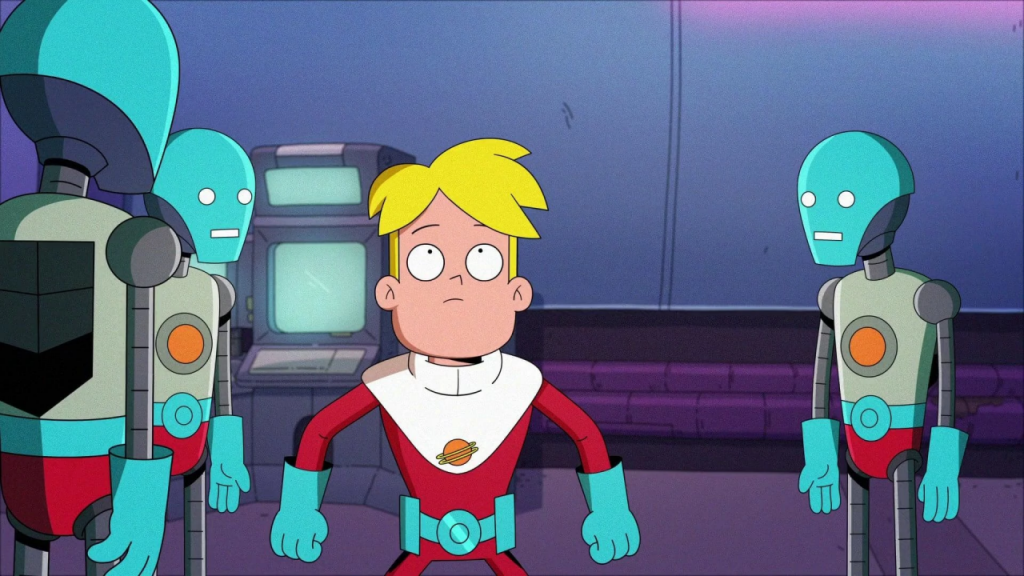 Hold you in my arms
I just wanted to hold
You in my arms
Le note del pianoforte accompagnano la voce di Matthew Bellamy e l'atmosfera si fa improvvisamente carica di emozioni. Un mix di dolcezza e tristezza che ci culla e permette di guardare dentro noi stessi. È Quinn che Gary vuole abbracciare, un solo abbraccio, non chiede altro. Poter stringere fra le sue braccia la donna che tanto ama, ma lei non sa nemmeno che lui esista. Lui è solo, tremendamente solo, l'unica cosa di cui ha bisogno è l'affetto di qualcuno con cui poter condividere gioie e dolori. Soprattutto nelle prime puntate della Serie, le registrazioni di Gary alla telecamera, unico modo che ha per "parlare" con Quinn, hanno un ruolo importante e denotano la sua solitudine. L'unico modo che ha per comunicare con il mondo è una telecamera, proprio come tanti ragazzi del nostro tempo. Nemmeno Mooncake e Avocato sembrano poter alleviare le sue pene.
My life
You electrify my life
Let's conspire to ignite
All the souls that would die just to feel alive

Now I'll never let you go
If you promised not to fade away
Never fade away
La seconda strofa ci porta al momento fatidico in cui Gary riesce a conquistare il cuore di Quinn. È lei la ragione per cui lui ha deciso di essere coraggioso. Lei che è il suo unico appiglio per andare avanti, giorno dopo giorno, contro tutte le avversità. Non importa se una flotta spaziale vuole ucciderlo, non riesce a pensare ad altro. Ora che finalmente è riuscito a strapparle quell'appuntamento, non può lasciarla andare via. Le ultime puntate della stagione sono un crescendo di emozioni tra i due. L'anima di Gary arde di vita, è finalmente riuscito a ricongiungere i ricordi terreni a quelli spaziali. Il Lord comandante è avvertito, ora nessun pericolo è invalicabile perché verranno affrontati assieme alla persona che ama. L'amore, così scontato, rimane sempre l'arma più potente contro ogni sofferenza.
Promettimi di non sparire Quinn, dammi la mano, affrontiamo l'ignoto insieme. Ancora una volta il testo dei Muse ricompone esattamente quello che è il pensiero di Gary. Finalmente non è più solo.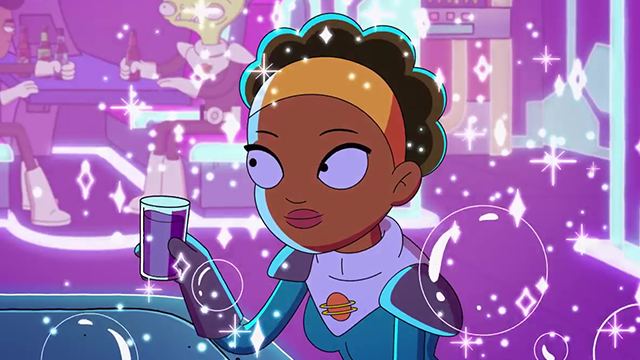 Our hopes and expectations
Black holes and revelations
Our hopes and expectations
Black holes and revelations
Improvvisamente l'atmosfera del brano cambia. Questo ponte ci riporta nella condizione in cui in realtà Gary si trova. Ogni episodio infatti inizia in medias res, mostrandoci gli ultimi istanti della sua vita. Speranze e aspettative, buchi neri nello spazio e rivelazioni. Il protagonista viene a conoscenza del suo destino, del padre astronauta. Ma soprattutto scopre le sorti della Terra. Il pianeta infatti rischia di essere inghiottito da un immenso squarcio nella dimensione spaziale (che richiama appunto un po' i buchi neri) che porterebbe ad un mondo popolato da terribili titani che vogliono la distruzione dell'universo. Per sconfiggere questa tremenda calamità, i due ragazzi dovranno dividersi ancora una volta. La navicella si distrugge e Gary inizia a fluttuare. Ormai attende la fine, con lui non c'è nessuno, solo un grande buco nero nella sua testa. Ci sarà ancora speranza? 
Hold you in my arms
I just wanted to hold
You in my arms

Far away
The ship is taking me far away
Far away from the memories
Of the people who care if I live or die

And I'll never let you go
If you promise not to fade away
Never fade away

Our hopes and expectations
Black holes and revelations
Our hopes and expectations
Black holes and revelations
Il tempo stringe e lui continua a fluttuare nello spazio, lontano da quella navicella ormai distrutta che lo ha portato così lontano da casa, lontano dalla donna che ama e dai suoi amici. Ora vorrebbe solo un biscotto. Immergendoci nelle note della rock band britannica, pensiamo alla conversazione così profonda e sincera con l'unico amico che è rimasto con lui: HUE. Un computer, una voce, forse la sua coscienza. Lui è stato l'unico che c'è sempre stato, anche nei momenti di solitudine più duri. Chi è davvero? È veramente solo un computer? Ora il brano si fa più incalzante, la batteria e soprattutto la chitarra elettrica ci spingono in un crescendo di ricordi ed emozioni. Assieme al nostro amato protagonista ripercorriamo tutto ciò che è stato questo incredibile viaggio attraverso l'universo e attraverso noi stessi. Tutto è così dolce e struggente e subito ci si forma un nodo alla gola.
L'ultima speranza è HUE, Gary lo prega di non sparire, di rimanere con lui, ancora per un'ultima volta uniti. Questa voce è per il protagonista come una voce paterna che lo aiuta a crescere, e anche grazie ad essa Gary riesce a mostrare il suo carattere così semplice e spontaneo allo spettatore.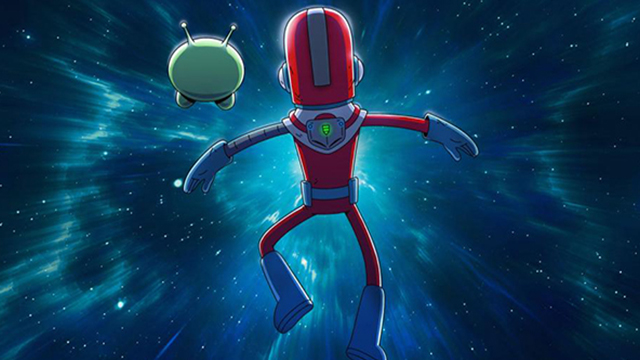 Hold you in my arms
I just wanted to hold
You in my arms
I just wanted to hold
Di nuovo, le delicate note del pianoforte ci fanno scendere una lacrima, mentre la speranza e le aspettative sembrano svanire. Fa freddo e tutto inizia ad assomigliare a un buco nero. Ma l'ultimo pensiero va a lei, alla sua amata Quinn. Gary vorrebbe stringerla forte e dirle che la ama, ma non può, forse è la fine. Eppure lui voleva solo un abbraccio. Forse è la fine. Mancano pochi secondi. Gli strumenti si fermano, rimane solo la voce. Un bagliore bianco illumina l'eroe. Bellamy canta le ultime parole e tutto finisce all'improvviso, così come la Serie. Due finali che sembrano essere stati scritti per essere sovrapposti. La colonna sonora perfetta per un viaggio, così maledettamente semplice e commovente.