Nelle Serie Tv esistono sia trame che sottotrame. E questa è una di quelle certezze che nessuno potrà mai toglierci.
Ogni bravo spettatore è consapevole di questo fatto: le Serie Tv si presentano con una storia di partenza, con personaggi principali e personaggi secondari. Abbiamo quindi da una parte la storia principale e dall'altra tutto ciò che da essa deriva.
Ecco, queste storie minori, generate dalla storia madre o che si auto-generano, nel corso della Serie Tv, sono le cosiddette sottotrame.
A volte capita che lo spettatore si entusiasmi più alle storie minori che non alla storia principale proposta dalla Serie Tv, e il più delle volte questo capita quando la Serie Tv madre comincia a perdere un po' di qualità. Il problema sorge nel momento in cui queste storie, che tanto ci stavano prendendo, vengono abbandonate a loro stesse, senza che venga data loro una vera conclusione.
Quindi, noi sappiamo che ci sono, ma non sappiamo come questa data storia potrebbe finire. Altre volte ci vengono dati degli sprazzi, dei momenti in cui intravediamo che potrebbe esserci qualcosa di più, ma non abbiamo tempo di vederlo. Questo perché la storia madre deve andare avanti, e quindi non ci si può minimamente perdere in chiacchiere su dell'altro.
Però mi sono chiesta: e se da questi momenti nascessero delle nuove Serie Tv? Se ci fossero delle sottotrame abbastanza belle da poter avere una Serie Tv tutta per loro? 
Sarebbe di certo un modo per approfondire una storia che aveva cominciato a piacerci, o per dare nuova vita a storie che potevano essere belle ma sono state interrotte a metà.
Vi avviso già: qui troverete un elenco, e non una classifica, frutto di ricerca e, soprattutto, di mie opinioni personali. Mi rendo conto che ciò che scrivo può non piacere a tutti, perciò se avete altre idee per sottotrame che possono diventare Serie Tv, non esitate a scriverle!
Ora, siamo pronti? COMINCIAMO!
1. Game of Thrones – La ribellione che ha portato all'incoronazione di Robert Baratheon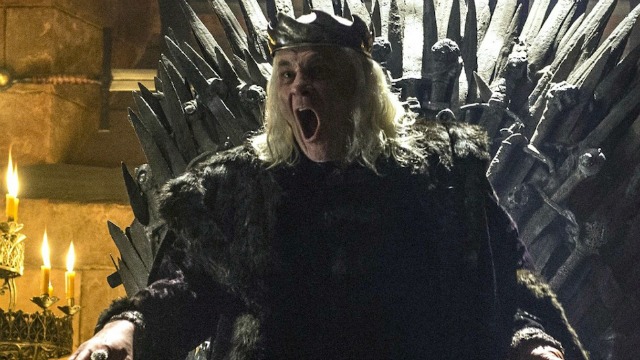 Con il fenomeno mediatico che si è creato dopo l'uscita di Game of Thrones, è inevitabile pensare di cavalcare l'onda. Motivo per cui sono già stati ordinati la bellezza di quattro spin-off collegati alla Serie Tv originale (potete trovare maggiori dettagli qui). Ora quindi tutti noi spettatori ci chiediamo quali possono essere le storie che si andranno ad affrontare in queste nuove Serie Tv, che ci faranno comunque rimanere nel mondo di Westeros ancora per un bel po'.
Una delle ipotesi più quotate è relativa alla narrazione della ribellione contro Aerys II Targaryen, noto come il Re Folle. Abbiamo sentito parlare di lui sin dalla prima stagione, sappiamo che dopo di lui è salito al trono Robert Baratheon e che Aerys aveva usato l'Alto Fuoco per fare fuori i suoi supposti nemici al grido di "Burn them all!". Però non sappiamo come lui stesse governando prima di diventare folle e nemmeno sappiamo nei dettagli come si è svolta la vicenda. Perciò… Perché non farci sopra una Serie Tv?