Noi fan di serie TV abbiamo diversi problemi. Tra questi, c'è anche il fatto che non possiamo guardare un telefilm senza mangiare qualcosa.
Questa cosa per me è ormai diventata automatica: ogni puntata viene accompagnata da una scatola di gelato o altre schifezze… Oppure guardo direttamente le puntate a pranzo, così sono sicura di mangiare qualcosa di sano durante la visione.
Avete mai fatto caso, però, a quando vi trovate a mangiare determinati cibi? Sono quelle situazioni in cui vi ritrovate irrimediabilmente all'interno di una serie TV. Magari non la state guardando in quel momento, ma mangiare quella determinata cosa vi fa sentire esattamente come i personaggi del vostro telefilm preferito.
Insomma, a me succede questo quando mangio pizza o cibo cinese!
Per far fronte a questo nostro ennesimo disagio mentale, ho deciso di raccogliere per voi 15 cose da mangiare che ci rimandano a 15 diverse serie TV. Fatemi sapere se anche voi vi sentite come me ogni volta che vi trovate a mangiare queste cose! Sono certa che mi sentirei molto meno sola!
Ma basta tergiversare, e cominciamo a parlare di cibo!
1. CIBO CINESE: THE BIG BANG THEORY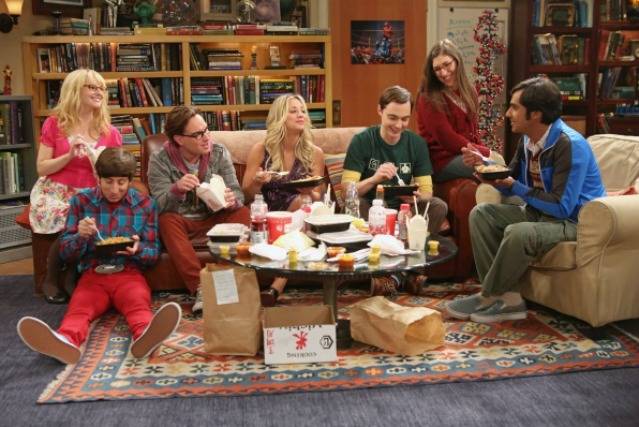 Mi rendo conto che la cucina ormai è diventata estremamente cosmopolita, e che spesso ci troviamo ad avere le stesse cose da mangiare reiterate nel corso delle serie TV americane (forse il fatto che in America mangino schifezze aiuta). Ma alcune cose restano impresse nella nostra memoria, come questa. Quando decido di ordinare cinese, da sola o con amici, la mia prima impressione è quella di trovarmi in una puntata di The Big Bang Theory, dove la settimana ha un menù fisso per ogni sera, e una serata cinese di certo non può mancare. Tra l'altro, non trovate anche voi che cinese e serie TV sia l'accoppiata perfetta?