Così come ci sono scene di sesso estremamente romantiche nelle serie TV, ci sono anche alcune scene che vengono ricordate per il loro essere davvero, davvero divertenti.
Che le queste scene siano, in alcuni casi, un argomento tabù, o almeno per alcune persone, è cosa nota, ma chiunque sia un appassionato di serie TV e storie d'amore sa che scene del genere le troverà comunque, che lo voglia o no. Tranquilli, sappiamo benissimo che aspettate tutti con ansia una scena di sesso, sia essa romantica o divertente.
Quindi, per spezzare la monotonia e per farci quattro risate, abbiamo raccolto per voi 10 scene di sesso che possiamo considerare più divertenti nelle serie TV. Ho tralasciato delle cose apparentemente ovvie, come ad esempio Sex And The City, dal momento che l'intera serie è basata sull'argomento e non sarebbe stato semplice restringere il campo ad una scena specifica, ma spero comunque apprezzerete l'insieme! Quindi, partiamo con il nostro elenco: riuscite a ricordare tutte le scene?
1. LILY & MARSHALL (HOW I MET YOUR MOTHER)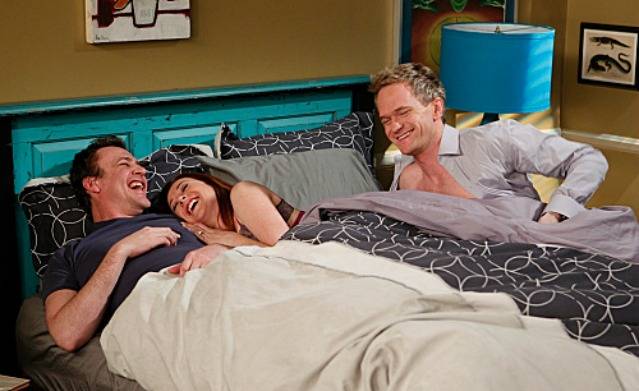 In molte sit-com, amore e sesso sono ingredienti all'ordine di ogni puntata, o almeno di molte puntate insieme. Non è quindi un caso se troviamo delle scene estremamente divertenti in serie come How I Met Your Mother, che è, tra l'altro, una di quelle serie in grado di trattare temi seri dandogli un tocco leggermente scanzonato… Un sistema davvero niente male per appassionare lo spettatore. 
Ad ogni modo, scene di sesso ce ne sono diverse, e le più divertenti coinvolgono appunto Marshall e Lily, ed uno dei loro momenti più memorabili è sicuramente quello in cui, nel loro stare a letto insieme, immaginano di essere costantemente osservati da Barney, che, diciamocelo, ne sa ben più di loro, senza dubbio. Oltre a questo, ad ogni modo, in quanti ricordano i vari rimedi usati da Marshall e Lily per avere un maschio o una femmina usati durante il concepimento?
2. PENNY & RAJ (THE BIG BANG THEORY)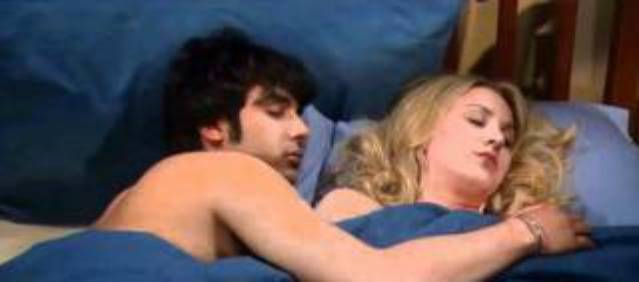 Cosa c'è di meglio di una bella sbronza prima del sesso, in grado di farti dimenticare qualsiasi cosa tu stia facendo? In The Big Bang Theory lo sanno bene, e direi che Penny, forse, lo sa meglio di tutti! In una delle scene del finale della quarta stagione, assistiamo prima ad una Penny che si sfoga con Raj riguardo a Leonard, e poi al risultato della loro serata alcolica. Può esserci qualcosa di più imbarazzante di questo?