Assolutamente niente, ecco quale sarebbe la risposta più sincera a questa riflessione su Emily in Paris. Figlie dello stesso padre, quel Darren Star che con Sex and the City ha contribuito a cambiare irrimediabilmente e in meglio l'universo femminile legato alle serie tv.
Le due non potrebbero però essere più diverse.
Emily in Paris ha ottenuto un vero successo sulla piattaforma Netflix e magari chi non è cresciuto guardando Carrie Bradshaw correre sui tacchi 12 delle sue Manolo Blanhik per Manhattan, può anche farsi sedurre dal mix grande città + look grandiosi + giovane protagonista in cerca di amore. Tra la prima e la seconda però esiste un gap profondo quanto il pianerottolo che la povera Emily Cooper deve scalare per raggiungere ogni giorno la sua splendida vista.
Partiamo dal principio elencando le differenze più evidenti tra Sex and the City ed Emily in Paris.
Le sue protagoniste
Entrambe giovani, belle, single e proiettate verso la loro carriera. Innamorate della città che le vede vivere il loro grande sogno e vestite con outfit di tendenza per cui tante ragazze venderebbero il fidanzato pur di metterci le mani sopra.
E le similitudini finiscono qua. Carrie Bradshaw ha rappresentato per migliaia di donne nel mondo la ricerca dell'amore vero, quello che a volte ci rifiuta e ci mastica vive prima di darci ciò che vogliamo. È un'eroina disillusa e ironica dedita al sesso, che incontra il vero amore nel posto e nel momento sbagliato e lo rincorre per sei anni, senza però perdere se stessa e la sua voglia di divertirsi.
La Emily in Paris di Lily Collins è una ragazza superficiale e stereotipata, totalmente priva dell'irriverenza e della sagacia della sua antenata di New York. Persino quando si arrabbia le proteste che le escono dalla bocca sono al limite dei fotoromanzi che uscivano su Cioè vent'anni fa. Le chiacchiere con l'amica canterina circa le manie dei francesi non si avvicinano minimamente alle conversazioni che Carrie, Samantha, Charlotte e Miranda affrontavano sedute attorno al tavolo da pranzo di posti divenuti celebri (anche grazie a loro) a New York.
Conversazioni che hanno il merito di aver letteralmente sdoganato l'intimità che le donne possono condividere in materia di esperienze sessuali tra di loro, ma soprattutto la cruda verità con cui lo fanno che ha spesso sconcertato molti ragazzi.
Il sesso e le ragazze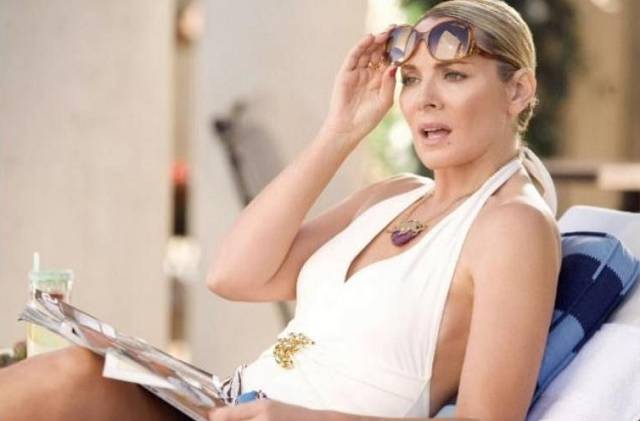 Gli argomenti affrontati in Sex and the City vengono trattati senza filtri e senza indorare la pillola a spettatori che però hanno trovato in quelle verità condite da tanto umorismo e amicizia un rincuorante "non è successo solo a me".
Nello show più celebre di Darren Star di sesso ce n'è tanto e viene mostrato in tutte le sue sfaccettature. In Emily in Paris non se ne avverte neanche la parvenza, è una serie pudica che dai trailer promozionali strizza l'occhio alla sorella maggiore ma senza concedere niente ai suoi spettatori.
Per intenderci Emily è una che fa sesso via Skype con il pallosissimo fidanzato a Chicago, spogliandosi al volo ma tenendo il piumone accollato fin sotto al mento. Credibilissimo. Incontra una varietà vastissima di uomini francesi, belli e sexy e nonostante sia giovane e single è più timorata di Demi Lovato ai tempi di Disney Channel quando mostrava orgogliosa il suo anello della purezza.
Insomma, inutile paragonarla a Sex and The City che sul mostrare il sesso in tv in modo ironico e intelligente, e soprattutto senza censure inutili, ha davvero fatto scuola.
Le ragazze e la città
Parigi e New York, due metropoli di sconcertante bellezza dove arte, moda e cultura ti vengono proposte in ogni angolo e su qualsiasi palazzo. Anche in questo però l'ultima creatura di Darren Star fallisce sonoramente.
La Parigi dove la frizzante Emily Cooper si scatta selfie di una banalità soporifera è stereotipata a livelli imbarazzanti. Persino la capitale francese disegnata in Ratatouille risulta più credibile di quella mostrata nello show di Netflix, tanto piena di cliché da aver fatto infuriare molti francesi che non si sono sentiti rappresentati dalla serie.
Al contrario la New York di Carrie mantiene fede a tutte le aspettative che da europei abbiamo sulla Grande Mela. Scintillante, sfrontata e irraggiungibile.
Insomma, è davvero il caso di dirlo: stavolta HBO batte Netflix a mani basse.