Una tra le cose che ci fanno sentire più appagati quando guardiamo una serie tv è accorgerci di dettagli particolari o errori nella trama o nelle scene. È lo stesso appagamento di quando scoviamo un refuso in un libro, ci sentiamo più furbi. Ecco, qui siamo passati a un livello superiore, quello che ci permette di mostrare a tutti le nostre conoscenze storiche: parliamo infatti di errori di anacronismo. Nelle serie tv ambientate nel passato gli sceneggiatori e gli scenografi devono stare attenti a ogni minimo dettaglio per evitare problemi. Non sorprende affatto che il pubblico, guardando, ad esempio, Downton Abbey tenda a prestare più attenzione a ciò che vede o sente.
Bisogna, infine, dire che molti errori di anacronismo sono più palesi e immediati di altri, ma non per questo sono difendibili. Dopotutto le figuracce possono capitare anche ai migliori.
Ecco la classifica dei 10 più imbarazzanti errori di anacronismo nelle serie tv.
10) Leonardo
È accettabile modificare leggermente la storia per il bene di una serie tv, di certo non smetteremo di guardare le serie citate in questa lista solo per dei piccoli errori. Tuttavia ci sono cose che sono difficilmente perdonabili. Ad esempio in Leonardo, serie che racconta la vita di Leonardo da Vinci, vediamo il protagonista essere migliore amico di Macchiavelli. C'è solo un piccolo intoppo: nel 1467 Niccolò non era ancora nato e i due nella realtà avevano 17 anni di differenza.
9) Outlander
Questo è un tasto molto dolente. Outlander è una delle serie tv storiche più popolari di sempre: la trama vede Claire, un'infermiera durante la seconda guerra mondiale, viaggiare indietro nel tempo nella Scozia del 1743. Lì verrà perseguitata per stregoneria, viste le sue doti da "curatrice". Beh, da una serie che si basa sul viaggio nel tempo non pretendo che ogni minimo dettaglio sia veritiero. Tuttavia nella realtà, con il Witchcraft Act del 1735, il parlamento aveva stabilito che accusare qualcuno di stregoneria fosse addirittura un crimine. Questo particolare della storia di Claire è stato molto interessante, ma se dobbiamo cercare il pelo nell'uovo bisogna sottolinearne l'inesattezza storica.
8) Reign

Si capisce che la situazione è grave quando non si sa nemmeno da che parte cominciare. La storia di Reign parla di Maria Stuart di Scozia e del giovane Francesco II durante il sedicesimo secolo. Chi l'ha vista saprà che l'accuratezza storica non è proprio il pane quotidiano della serie, fin da subito è parso chiaro che questa si sarebbe discostata da fatti realmente accaduti. Tuttavia, già dal primo episodio troviamo un'inesattezza con Mary che gioca a calcio in un convento. Strano, visto che il calcio come sport è stato introdotto nel diciassettesimo secolo. Per non parlare poi dei bellissimi vestiti storicamente inaccurati che vediamo indossati dalle dame di compagnia o anche da Caterina de' Medici. Però la serie si basa più sulla fantasia che sulla storia, quindi non dobbiamo farne un dramma.
7) Better Call Saul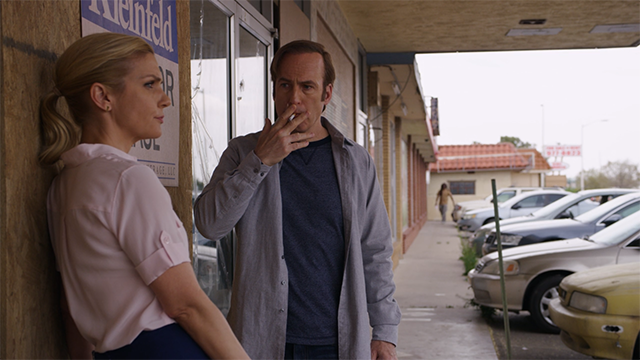 Guardando gli altri punti di questa lista, possiamo notare come siano proprio le serie tv più popolari a incappare in spiacevoli inconvenienti. Il motivo, come anticipato, è il numero degli spettatori che si collegano a guardare ogni singolo episodio: statisticamente aumenta il numero di probabilità di scovare qualche errore. Anche Better Call Saul, in maniera poco evidente, è riuscita nell'intento di risultare anacronistica. La serie comincia nel 2002, ma se si presta molta attenzione, all'inizio di uno degli episodi della seconda stagione, si può notare una Kia Soul transitare sullo sfondo. Peccato che quel modello non esistesse ancora, essendo stato presentato ufficialmente nel 2008.
6) Mad Men
Piccolo errore anche quello di Mad Men, non in molti se ne sono accorti e certamente non in Italia. Si parla di una differenza di pochi anni ma agli appassionati non sfugge nulla, nemmeno i più piccoli dettagli. In una scena si può vedere Don Draper che una sera guarda una partita di football americano. Niente di strano fin qui, se non fosse che la puntata in questione sia ambientata nel 1964. Sapete quando la televisione americana ha cominciato a trasmettere le partite dell'NFL in prima serata? Nel 1970.
5) Boardwalk Empire
Sono sempre i riferimenti che fregano le serie tv ambientate nel passato. Ce ne sono diversi esempi in questa lista e anche Boardwalk Empire non è da meno. L'errore, per la serie ambientata negli anni '20, è stato menzionare Il Padrino. Peccato che all'epoca né il libro, né tantomeno il film erano stati pubblicati! Sarebbe meglio fare un controllo prima di scrivere i copioni degli episodi.
4) The Americans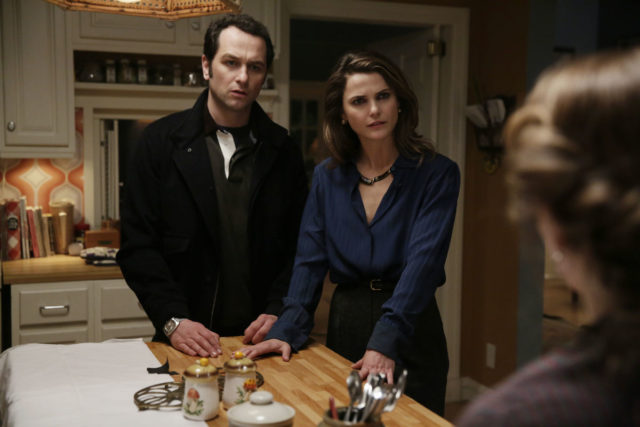 Non diverso dall'errore di Boardwalk Empire è quello di The Americans. La serie è incappata in una gaffe mica da poco, anche in questo caso volendo giocare con le date.
Se una serie è ambientata negli anni '80, non potrà, per nessun motivo, parlare della morte di Kurt Cobain avvenuta nel 1994. Eppure Paige e Matthew lo hanno fatto, andando contro a tutte le logiche spazio-temporali. Brutta caduta, anche perché si tratta di una data che molti ricordano e non è stato molto difficile accorgersene.
3) Downton Abbey
Anche un colosso come Downton Abbey ha commesso un errore banale ma che ha cambiato tutte le dinamiche sul set. Qui si parla di un'antenna televisiva che sicuramente nei primi decenni del 1900 non c'era. Peggiore però è stata la situazione di un bottiglietta d'acqua sullo sfondo di una foto promozionale. La cosa non è stata presa con così tanta leggerezza: dal set sono stati banditi tutti gli oggetti lontani dall'epoca.
2) M*A*S*H
Quando si parla di una serie tv ambientata in un determinato periodo di tempo nel passato, bisogna stare molto attenti non solo a quello che si fa vedere in scena, come nel punto precedente, ma anche a quello che si dice. M*A*S*H è ambientata durante gli anni della guerra di Korea, dal 1950 al 1953. E allora per quale motivo si nomina il film Godzilla, uscito un anno dopo il termine della guerra? Purtroppo questo non è l'unico errore commesso dalla serie tv statunitense, si tratta di dettagli che difficilmente vengono riconosciuti dal pubblico.
Sulle date non si scherza.
1) Game of Thrones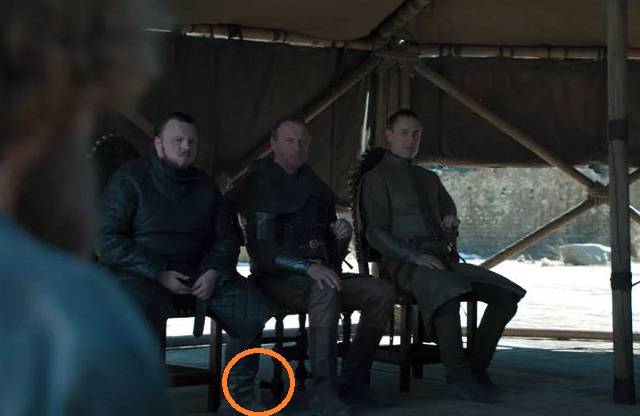 Non potevamo non terminare con il caso più eclatante di tutti, o forse dovrei dire i casi più eclatanti. A dare riprova del fatto che anche i migliori possono sbagliare, Game of Thrones ha deciso di essere solidale alla maggior parte delle serie tv storiche. Che si parli di una bottiglietta di plastica o di un bicchiere da caffè poco importa: è stato tutto imbarazzante, molto di più che per Downton Abbey. Ma pensate alla reazione dei creatori quando se ne sono accorti: purtroppo non c'era molto che potessero fare se non sperare che il pubblico non ci facesse caso. Ovviamente non è andata così.