Il nome Steven Moffat è tragicamente noto a tutti i telefilm addicted. Anche chi non segue direttamente le sue serie (Doctor Who e Sherlock, quest'ultima co-ideata con Mark Gatiss), ha almeno un amico che lo fa e che sente ogni giorno (o quasi) l'imprecazione disperata: MOFFAAAAAAAAAAAT!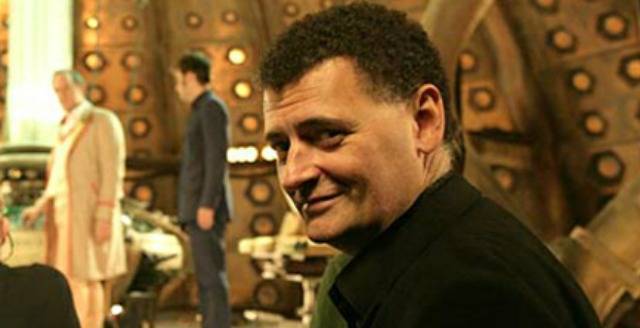 Assassino, troll, sceneggiatore senza cuore, che gode nel farci soffrire. Questi sono solo alcuni tra gli epiteti più gentili che gli rivolgiamo.
Ma in realtà – vi sorprenderà scoprirlo – Moffat non è affatto così, non solo come persona, ma nemmeno come scrittore.
E non sto dicendo che non ci faccia soffrire – perché lo fa eccome – solo che Mark Gatiss ha ragione quando afferma che il suo BFF scrive le più belle storie d'amore che lui abbia visto.
Partiamo dall'inizio. La maggior parte di noi conosce Moffat solo per Sherlock e Doctor Who, che sono sicuramente i suoi cavalli di battaglie, le punte di diamante sue e della BBC, il sogno di un piccolo fanboy che guardava la serie classica e leggeva Conan Doyle e che si è realizzato. Ammettiamolo, lo invidiamo un sacco per questo! Pure noi vorremmo avere il talento e i mezzi per scrivere e realizzare serie tv di quel calibro tratte dai nostri libri preferiti.
Ma Steven Moffat è molto più di questo. Per esempio, quanti di voi sanno che quest'uomo crudele e spietato ha iniziato la sua carriera scrivendo sitcom? No, ve lo giuro, non sto scherzando. Sì, lo so che non ci credete, ma ve lo giuro, è vero! E lo so cosa state pensando perché ci sono passata anch'io. Incredulità, negazione e risate isteriche. Ma non preoccupatevi troppo. Se guarderete le sue sitcom (potete trovare i torrent e Chalk si trova su YouTube), vi renderete conto che è sempre lui. Pungente, sarcastico, divertente, disturbato. Molto, molto, disturbato. Ma disturbato a livelli che non potete neanche immaginare perché – credetemi sulla parola – in Doctor Who sembra quasi sano. E ho detto tutto!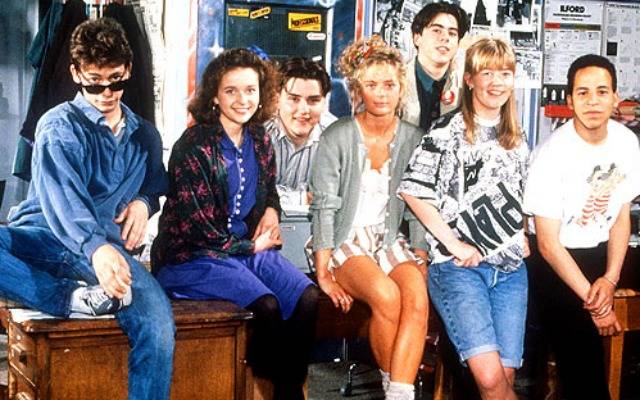 Il suo primo lavoro è stato Press Gang, serie tv per famiglie mandata in onda dall'ITV il pomeriggio dopo il rientro a scuola dei ragazzi. La trama si snoda attorno al Junior Gazzette, un giornale creato da alcuni studenti in orario extra-scolastico. Leggera, ma costruttiva, la serie affronta temi leggeri come l'amore e l'amicizia adolescenziale, ma anche più 'forti', come gli abusi, siano essi su minori, sessuali o di droga. Insomma, è quella che oggi chiameremmo dramedy. La serie ha avuto un ottimo riscontro, tanto da essere stata prodotta per ben cinque stagioni ed è composta in totale da 43 episodi. Tutti gli episodi sono scritti da Moffat, che ha vinto così il suo primo BAFTA.
Curiosità: durante la produzione della seconda stagione, Moffat è stato lasciato dalla prima moglie e proprio da questa vicenda è nato Joking Apart. Questa è la sua prima, vera sitcom. Andata in onda tra il 1993 e il 1995 si compone di due stagioni per un totale di 13 episodi. La prima stagione inizia quando Mark Tylor (sì, il personaggio ispirato a se stesso si chiama davvero Mark!) viene mollato dalla moglie Becky per un altro, un certo Trevor. La trama è molto semplice, ma tutt'altro che lineare. Infatti ci sono diversi flashback, soprattutto nella prima stagione, della sua vita con la moglie, e inoltre noi vediamo la storia mentre lui la racconta a un pubblico. Il budget è basso: fondamentalmente in scena ci sono quattro attori (più le comparse) e anche le location sono molto poche: un bar, casa di Tyler e casa degli amici più che altro.
La prima stagione è piuttosto normale: in certi punti calca la mano (come si fa un po' in tutte le sitcom), ma tutto sommato racconta con grazie e a volte crudo realismo la fine della storia. È nella seconda stagione che si riconosce Moffat. Non ci sono parole per descriverla: bisogna vederla. Vi spoilero solo che nella 2×01 Mark vede un filmino dell'ex moglie mentre fa l'amore con il nuovo compagno nella loro camera da letto. E questa è la cosa meno disturbata di tutta la stagione!
Dopo Joking Apart è la volta di Chalk, altra sitcom che racconta la scuola dal punto di vista dei professori. Anche di questa serie ci sono purtroppo solo due stagioni per un totale di 12 episodi. La serie è stata sospesa perché ritenuta offensiva per il corpo docente. Onestamente lo capisco, considerati gli anni in cui è andata in onda (1997–1998) e il fatto che – e credetemi NON avrei mai pensato di poterlo dire – è persino più disturbata di Jocking Apart. E credetemi, ce ne vuole!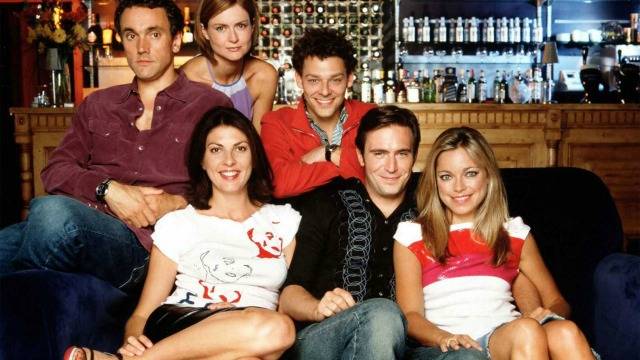 Poco prima, nel 1996, Moffat conosce la produttrice Sue Vertue, sua futura e attuale moglie, con cui nel 2000 crea Coupling, che tratta l'evoluzione della loro relazione. Rispetto a Chalk e a Jocking Apart, questa serie (quattro stagioni per un totale di 28 episodi) è più delicata, ma sempre irriverente e spassosa, tanto da essere spesso paragonata a Friends. Il successo di questa serie è notevole (basti pensare che è stata persino doppiata in italiano e ne esiste una versione americana, sempre scritta da Moffat, andata in onda però per solo una stagione) perché brillante, spassosa, a tratti impietosa, ma sempre intelligente. Tutto è ben dosato, perfettamente inserito nel contesto.
Curiosità: i nomi dei protagonisti sono Steve e Susan. Molto antisgamo, Moffat, complimenti! Inoltre, frequenti sono i riferimenti a Doctor Who, specialmente nell'ultima stagione, andata in onda nel 2004, l'anno prima della messa in onda della prima del New Who, quando Moffat era già parte della squadra di sceneggiatori scelta da Russel T. Davies, probabilmente con lo scopo di pubblicizzarla. È altrettanto probabile che la quarta stagione di Coupling sia stata l'ultima proprio a causa di Doctor Who.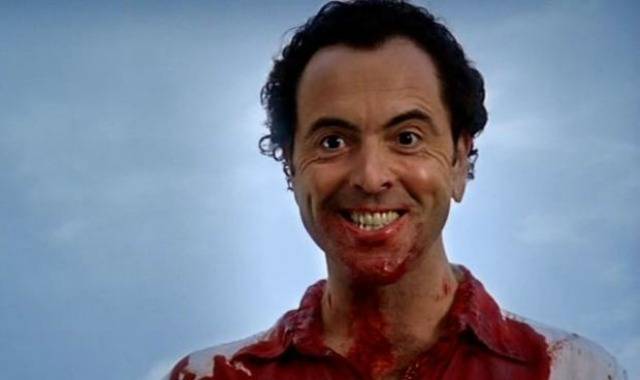 E veniamo adesso a Jekyll. Questa miniserie in sei puntate, uscita nel 2007, la conoscono davvero in pochi, eppure tutti i fan di Sherlock (e pure di Doctor Who) dovrebbero vederla. Infatti mette in luce molte cose che poi si ritrovano in questa serie, quasi fosse una prova generale: ambientazione contemporanea, Jekyll che ricorda Moriarty, le due detective che sono la versione canon e lesbica di John Watson e Sherlock Holmes (Stefano, non è che se fai Sherlock più bassa non ti sgamiamo, eh) con tanto di parent lock e Mark Gatiss che spunta a tradimento.
Chiudo questo articolo con un altro paio di piccole curiosità. Michelle Gomez, scelta da Moffat per Missy, è la moglie di Jack Davenport che interpreta Steve in Coupling. Steven Spielberg ha voluto Moffat come co-sceneggiatore del cartone animato Le avventure di Tintin: il segreto dell'unicorno nel 2010. L'avrebbe voluto anche nel seguito, ma Moffat declinò perché troppo impegnato a dirigere DW. Spielberg gli avrebbe allora dato la sua benedizione, dicendo: il mondo sarebbe un posto più povero senza Doctor Who.
Vi segnalo, infine, un mini episodio di Doctor Who realizzato da Moffat nel lontano 1999 per Comic Relief. Qui vi mostra tutto quello che ha poi realizzato come showrunner della serie: il Dottore sposato, i Dalek che inseriscono la loro tecnologia nelle altre razze (ad esempi in The Time of the Doctor), il Maestro che prima cerca di ucciderlo e poi lo aiuta, il Dottore che non può più rigenerarsi e invece poi si rigenera lo stesso in… una donna. In effetti, manca solo questo. È per questo che se ne parla così tanto? Nel frattempo, ci godiamo Peter Capaldi.