# #
Mentre sorseggio il caffè nella mia tazza rigorosamente TARDIS, scrivo questa recensione di Doctor Who con sentimenti contrastanti.
# #
La puntata (scritta da Frank Cottrell-Bryce, "In the Forest of the Night") in sé mi è piaciuta leggermente più di quella della scorsa settimana: cattivi inquietanti che urlano "Black Mirror", un plot twist significativo, un Dottore più vario, altri accenni al misterioso caveau e al giuramento.
Tutto buono davvero … tranne per quel finale troppo frettoloso e una Bill Potts che è un ni, finora.
# #
Once, long ago, a fisherman caught a magic haddock. The haddock offered him three wishes in return for its life. The fisherman said, "I'd like for my son to come home from the war. And a hundred pieces of gold." The problem is, the magic haddock, like robots, don't think like people. The fisherman's son came home from the war, in a coffin. And the king sent a hundred gold pieces in recognition of his heroic death. The fisherman had one wish left. What do you think he wished for? Some people say he should have wished for an infinite series of wishes, but if your city proves anything, it is that granting all your wishes is not a good idea. […] In fact, the fisherman wished he hadn't wished the first two wishes.
Dopo l'episodio introduttivo della scorsa settimana, questa è la prima vera avventura per Bill a bordo del TARDIS, la ragazza sceglie il futuro (ovviamente) curiosa di scoprire se sarà bello e felice come lei immagina. La trama segue la tradizione, con il Dottore e la companion che arrivano su un pianeta apparentemente tranquillo per scoprire poi che in realtà è completamente disabitato a causa di una minaccia interna (vedi "The Girl Who Waited" o "Silence in the Library").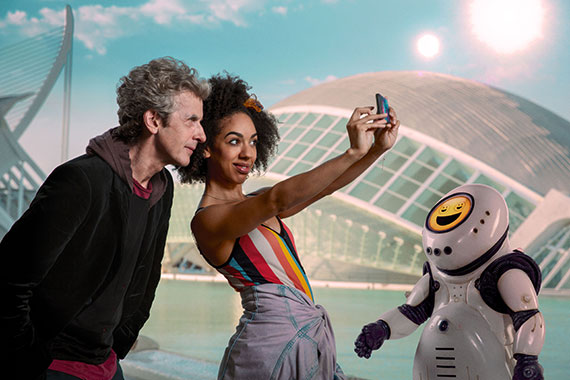 Sono due i punti che vanno tenuti a mente e dai quali si sviluppa l'analisi di questo episodio.
1) L'aspetto sociale torna come critica alla tecnologia, ai media e allo spasmodico bisogno di trovare in essi la risposta ad ogni nostra necessità. Un aspetto questo, insieme alla forte comicità, che rimanda direttamente all'era Davies.
2) Bill è una companion NORMALE, diversissima da Clara e Amy e molto più vicina invece a Rose e Donna (anche qui rimando all'era Davies).
Between here and my office, before the kettle boils, is everything that ever happened or ever will!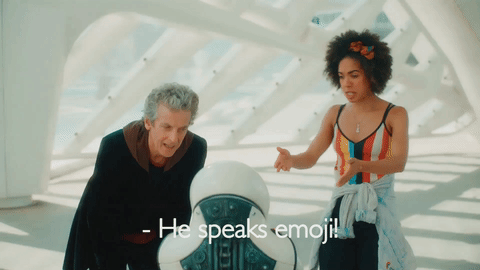 Erehwon (o anche nowhere a ben vedere!) è una colonia preparata a misura d'uomo, costruita per rispondere a tutti i suoi bisogni: mangiare, dormire, respirare aria pulita, relazionarsi. Per non dover fare il lavoro pesante sono stati inviati prima dei robot, o meglio degli emojibot: i Vardy (*coff *Vasta Narada *coff *). Robot intelligenti e intuitivi che costruiscono un posto ideale in cui vivere.
Il punto è che i Vardy, in quanto robot, sono stati creati dall'uomo per contribuire a realizzare un luogo in cui il dolore e la sofferenza non sono ammessi. Ma in quanto robot non esistono mezze misure e dalla morte di una singola persona, capiscono che il conseguente lutto è una minaccia per la felicità stessa, loro ordine primario. Da qui segue ovviamente un eccidio.
I Vardy, poi, capisce il Dottore nel tempo vissuto sulla colonia, hanno sviluppato una loro autocoscienza (questo spiega perché sono stati in grado di violare la prima legge della robotica di Asimov, gli emojibot hanno sviluppato un'autocoscienza quindi non sono tenuti a rispettare le leggi).
Quello che non funziona qui è la frettolosità con cui è stata conclusa la faccenda, al Dottore basta usare il cacciavite sonico, inutilizzato fino ad allora, per resettare gli emojibot.
What? Perché non farlo prima? Se hanno sviluppato un'autocoscienza perché non insegnar loro dove hanno sbagliato piuttosto che cancellargli la memoria? La convivenza con la colonia umana sarà possibile dato che non ricordano nulla di ciò che hanno fatto?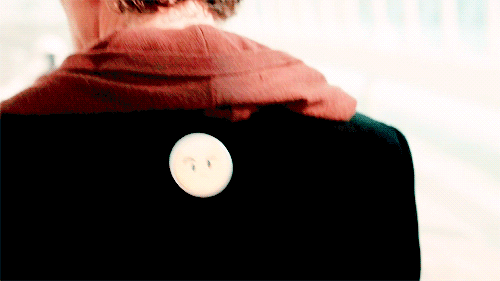 A parte questa piccola pecca di trama, la puntata scorre che è un piacere.
Utilizzando un tema quanto mai attuale e importante come l'effetto che la tecnologia, specialmente con i i social media, ha su di noi, Doctor Who riesce ancora una volta a modernizzarsi trattando argomenti del presente. La stessa Bill è una figlia di quest'epoca, trova persino il tempo di farsi dei selfie e si lamenta della batteria scarica!
La storia che il Dottore utilizza come metro di paragone per tutto il corso dell'episodio, ovvero "The Fisherman and the Haddock", è l'esempio perfetto per riassumere ciò che è avvenuto nella colonia. La coscienza senziente dei robot ragiona in modo diverso rispetto a quella umana e di conseguenza agisce in maniera diversa e più letterale, meno emotiva. Be careful what you wish for. Superando il confine televisivo di Doctor Who, è una lezione che dovremmo tutti imparare come il pescatore della storia.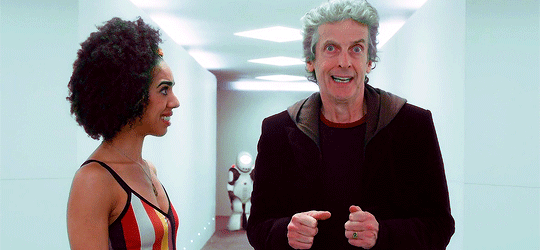 "Keep smiling" ripete il Dottore a Bill (assurdo parallelismo con Nosedive di Black Mirror) ed è quello che Facebook, Instagram, Snapchat e Twitter giorno dopo giorno ci inculcano. Prendi parte alla battaglia sul web, esprimi la tua opinione anche se non richiesta, schierati da una parte o dall'altra ma nel frattempo continua a sorridere.
You're never allowed to see your own mood. Concetto grottesco e realistico che in Doctor Who perde pesantezza in favore di un tono più comico e leggero. Il tutto serve a sottolineare più la felicità e l'entusiasmo di Bill che non, ad esempio, quell'angoscia presente in "Listen" con Clara o "Time of the Angels" con Amy.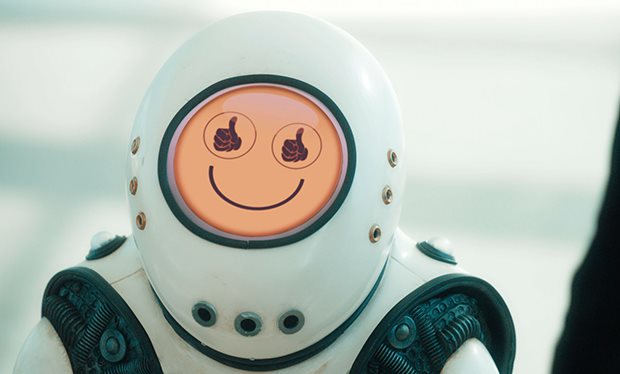 Una delle cose più belle del personaggio di Bill è la semplicità con cui parla al Dottore.
Bill rappresenta la voce dello spettatore e pone al Dottore quelle stesse domande che gli porremmo noi: perché il nome del TARDIS è in inglese? Perché i sedili sono lontani dalla console? Avere due cuori significa avere la pressione molto alta? Come può far saltare in aria le cose e farla franca?
Tutto senza malizia, quella malizia magari tipica di Amy che tempestava Eleven di domande e lo metteva in imbarazzo e senza nemmeno la curiosità maniacale di Clara. Bill è una ragazza semplice che ricopre il ruolo di companion in Doctor Who, senza prendere su di sé luce in eccesso e riportando il Dottore al centro della scena per una volta. Con Ponds e River e Clara, tutto questo si era perso.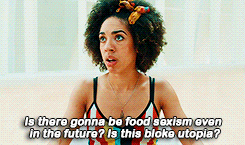 E soprattutto Bill è un libro aperto, ha quella dolcezza e umanità tipica di companion come Rose o Donna o Amy che hanno rappresentato in situazioni importanti non solo la voce della ragione ma la coscienza del Dottore. Bill piange per il futuro dell'umanità, per la morte e per la perdita di una casa. È un personaggio sensibile con cui riusciamo a entrare in empatia, anche se magari non ci ha ancora del tutto convinti.
– Why a phonebox?
-I told you
-Yeah, I get is a clocking device but why keeping that shape? Why do you like it?
-Who said I like it?
– You kept it.
– Come along *(lacrimuccia per il rimando a " come along Pond" )
Ma Bill è una companion anche molto sveglia e ce lo dimostra non solo il fatto che pur friggendo patatine alla mensa, segue le lezioni di fisica, ma soprattutto il suo acuto intuito. Non è forse spericolata come Amy o sicura come Clara ma è un personaggio che in due puntate ha già messo il Dottore alle strette e l'ha capito. Sta comprendendo in poco tempo chi ha di fronte.
You don't call the helpline because you *are* the helpline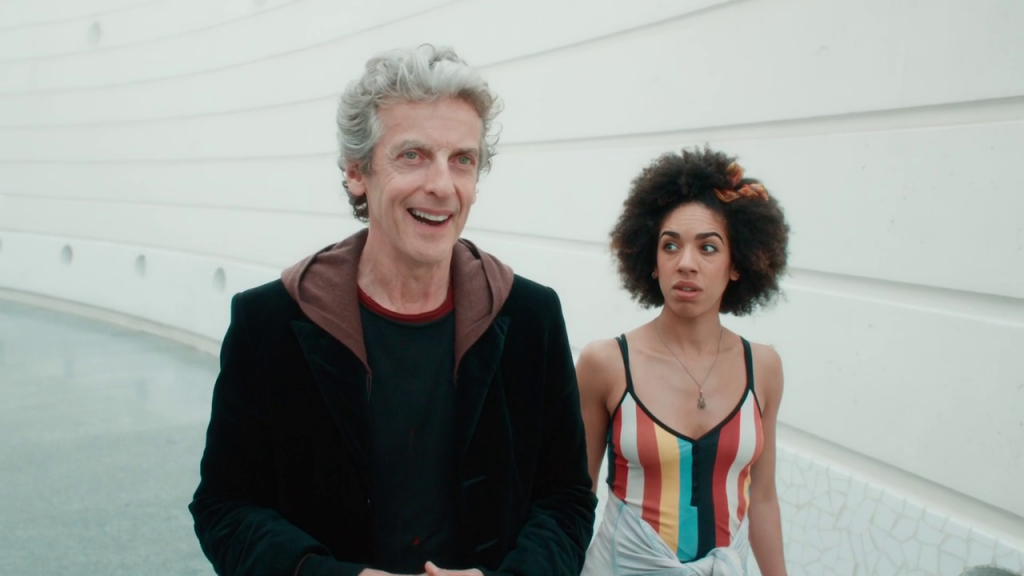 Da Bill e Pearl Mackie passiamo quindi a Capaldi e al suo Twelve.
Il Dottore si ritrova (di nuovo) su una colonia umana, come era accaduto a Eleven in "The Beast Below" e a Ten in "Utopia" e si trova (di nuovo) a dover salvare ciò che resta della razza umana. Vedere Capaldi sorridere ha un qualcosa di inquietante, abituati come siamo a vederlo con le sopracciglia incrociate. Una cosa molto interessante di questo episodio sono stati i diversi stati d'animo che il Dottore ha manifestato: euforia, curiosità, rabbia, dispiacere, paura, raccappriccio, ilarità e il sempre adorato scottish humor.
Bill: Why are you Scottish?
The Doctor: I'm not Scottish, I'm just cross.
Bill: Is there Scotland in space?
The Doctor: They're all over the place. Demanding independence from every planet that they land on
Riferimento non solo ad una simile battuta che Amy dice in "The Beast Below" (ma questo episodio potrebbe esserne considerato la versione 2.0) ma anche ad una conversazione tra Rose e Nine nella prima stagione di Doctor Who.
Non solo omaggi ai vecchi episodi di ma anche a David Bowie che, se nel primo episodio è stato citato velatamente con la stella nell'occhio, vive nelle parole di Capaldi ("I'm happy. I hope you're happy too"), d'altronde suo grandissimo fan.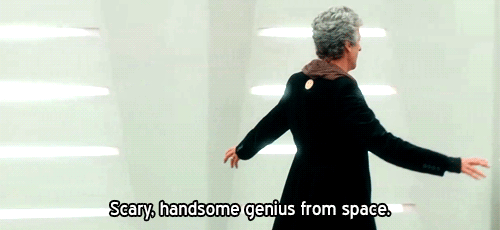 Capaldi ci regala un altro episodio degno di lui, l'accoppiata con Pearl deve ancora carburare ma le basi ci sono. È bello vedere come il Dottore sia messo sempre più alle strette da questa ragazza che non vuole essere lasciata indietro e ha già capito tantissimo di lui.
Il Dottore è sempre lo stesso e sempre diverso, è stato aggiunto del pepe che nelle prime stagioni con Capaldi, specie l'ottava, mancava e questo ci piace. Zittisce Bill, Nardole, i coloni e noi che ridiamo alle battute senza senso.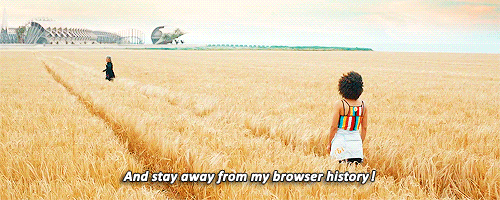 Ma ancora tantissime domande rimangono dopo questo episodio di Doctor Who e certamente rimarranno a lungo, dato che la strada è lunga. Un altro piccolo riferimento è stato fatto al caveau e il Dottore ha così detto: «Okay. I suppose I owe you an explanation. A long time ago, a thing happened. As a result of the thing, I made a promise. As a result of the promise, I have to stay on Earth. »
È stato detto nel primo episodio che il Dottore lavora all'Università da 50 anni, cosa potrebbe essere successo? In qualche modo è legato a Susan, visto quello che sappiamo sull'episodio di Natale? Cosa può essere di tanto importante da non fargli lasciare la Terra?
Do you know why I always win at chess? Because I have a secret move…I kick over the board.
Un saluto agli amici di Doctor Who "ita"