L'incubo più grande che ha tormentato Matt Groening rispetto alla sua ultima fatica, Disincanto, era il rischio che passasse per uno scimmiottamento di Game of Thrones. Le contromisure prese per evitarlo sono state molteplici. Innanzitutto il buon vecchio Matt ha sospeso la visione del capolavoro della HBO ben 3 anni fa, dopo aver scelto di lavorare su Disincanto.
"Non volevo esserne influenzato. È una parte così grande della nostra cultura e quello che fanno, lo fanno così bene"
Eppure fin dall'uscita del trailer qualche sospetto al pubblico è venuto. Infatti, proprio durante la visione del lancio della Serie animata, è stato mostrato un riferimento enorme all'ambientazione di Westeros: l'iconico Trono di Spade. Ovviamente non è un caso e sempre Groening ha ritenuto opportuno precisare il significato di questo "omaggio":
 "Abbiamo solo un riferimento a Game of Thrones, subito all'inizio, perché sapevo che la gente lo avrebbe voluto e volevo togliermelo di mezzo il prima possibile"
Questo non vuol dire che lui non apprezzi Game of Thrones, tutt'altro. Il 64enne produttore americano ne era ossessionato come tutti gli altri, ma ha smesso di guardarla solo per non venirne condizionato da un punto di vista artistico. Ma creare un'opera come Disincanto coinvolge molte più persone che il solo Groening. Infatti ha avuto molte difficoltà a tenere a bada i suoi scrittori, che invece continuavano a cercare di intrufolare riferimenti a GoT. Più volte è stato ribadito che Disincanto non doveva avere altre citazioni alla serie HBO! Eppure…
Guardando gli episodi di questa prima stagione, siamo sicuri che non siano state troppo ascoltate le parole di Groening. Ecco infatti i 7 riferimenti a Game of Thrones che siamo riusciti a trovare in Disincanto. E voi quanti ne avete scovati?
1) Il Trono di Spade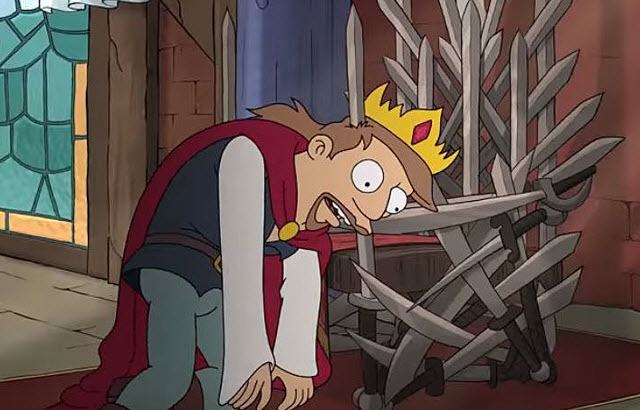 Partiamo ovviamente dal più esplicito e dall'unico confermato dalla stessa produzione: il Trono di Spade. Inserito nell'episodio pilota e nel trailer aveva lo scopo di togliere ogni desiderio al pubblico di cercare altri riferimenti a GoT. Tentativo miseramente fallito!
Molto divertente e nel tipico stile di Groening la scena del Principe Guysbert che si impala  accidentalmente sul trono fatto di spade. D'altra parte è quello che inevitabilmente succederebbe maneggiando un oggetto del genere. E se anche alla HBO decidessero di omaggiare Disincanto con una morte analoga? Cersei, fai attenzione!