Mainstream non sempre è sinonimo di qualità. A volte per una strana congiunzione di circostanze o per il forte eclettismo dell'opera (Dirk Gently insegna) alcune serie tv non ottengono il successo sperato e restano eccezionali prodotti di nicchia a uso e consumo di un pubblico devoto. È il caso di Dirk Gently, andato perfino incontro alla cancellazione, ma non solo. Scopriamo le cinque serie tv non mainstream che rasentano la perfezione per interpreti, intreccio e costruzione registica. Scoprirete alcuni gioielli di cui non immaginavate nemmeno l'esistenza. Serie strambe, originali, folli, appassionanti, avventurose e profondissime. Pronti a restare a bocca aperta?
1) The Booth at the End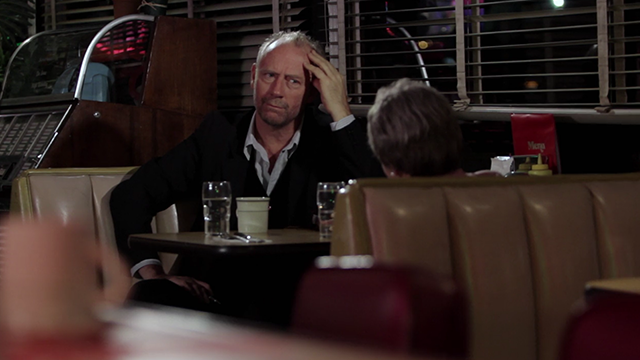 Tra le Serie meno note un vero gioiello, inedito in Italia per la sua seconda stagione, è The Booth at the End. La descrizione di questo piccolo capolavoro può sviare. Protagonista è un anonimo uomo seduto al tavolo di un tipico diner americano. Tutto qui? Sì e no. La narrazione si svolge quasi interamente all'interno di questo spazio concedendo pochissimo alle scenografie. Acquistano così profondità i dialoghi, il vero punto di forza di un'opera davvero originale.
L'elemento sci-fi è solo un pretesto narrativo: l'uomo seduto ha la capacità di esaudire qualsiasi desiderio. C'è un 'ma': l'interlocutore dovrà fare esattamente quanto il misterioso individuo gli chiede e rispondere sinceramente a qualunque domanda. Si tratta, a volte, di richieste moralmente ambigue, altre volte, invece, di pegni del tutto innocui.
Dieci personaggi per la prima stagione. Storie di una brulicante umanità, costantemente protesa al raggiungimento dei propri desideri. Si indaga a fondo nelle scelte umane, nella psicologia di ogni personaggio, nella loro morale. "The man" non obbliga mai. Non costringe a proseguire il cammino. Ma se si sceglie di farlo non c'è possibilità di negoziare o mentire.
Lo sguardo penetrante di uno straordinario Xander Berkeley (24, The Mentalist, The Walking Dead), nel ruolo di The Man, vale da solo la visione. Una serie tv sulla natura umana, sulle contraddittorietà dell'uomo e sul suo costante, inappagato desiderio d'amore. Imperdibile capolavoro di nicchia.