# #
Nella patria delle Serie televisive, gli Stati Uniti, da sempre è in voga un genere che molto ha a che fare con la storia stessa della nazione a stelle e strisce: il drama a sfondo politico. Numerosi sono gli esempi negli anni di serie incentrate sulla politica americana: West Wing, Scandal, Homeland e, soprattutto, la meravigliosa House of Cards, di cui ci siamo occupati a più riprese. In questo ambito si muove anche Designated Survivor
# #
Designated Survivor si muove in questo affascinante universo, inserendo però una costante precedentemente mai trattata, ossia quella del "Sopravvissuto Designato".

Ma partiamo dalla terminologia: in cosa consiste il meccanismo del "Sopravvissuto Designato"?
Il "Designated Survivor", in pratica, è una persona all'interno della linea di successione presidenziale, che viene sorteggiata per essere tenuta in luogo sicuro durante eventi in cui i membri della successione sono tutti presenti nello stesso luogo (ad esempio, durante la lettura, da parte del presidente degli Stati Uniti, del Discorso sullo stato dell'Unione, fatto nel Campidoglio). Questa procedura, nata durante la Guerra Fredda, persiste ancora oggi, con al momento questa linea di successione presidenziale:
Vicepresidente e presidente del Senato, Presidente della Camera dei rappresentanti, Presidente pro tempore del Senato, Segretario di Stato, Segretario al Tesoro, Segretario della Difesa, Procuratore generale, Segretario degli Interni, Segretario dell'Agricoltura, Segretario al Commercio, Segretario del Lavoro, Segretario della Salute e dei Servizi Umani, Segretario della Casa e dello Sviluppo Urbano, Segretario dei Trasporti, Segretario dell'Energia, Segretario dell'Istruzione, Segretario degli Affari dei Veterani, Segretario della Sicurezza Interna.
# #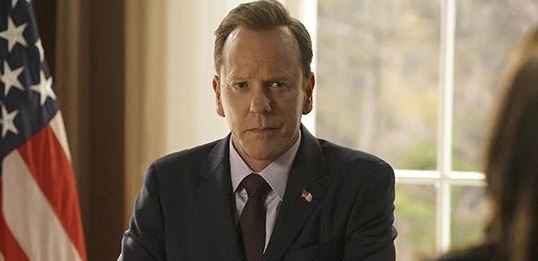 Finora questa procedura non è stata mai attuata, ma proprio da qui prende vita la serie trasmessa dalla ABC, e da Netflix in Italia. Infatti, l'episodio pilota inizia con un terribile attentato in Campidoglio, in cui muoiono tutti i membri del Congresso, compresi il presidente degli Stati Uniti, il vicepresidente e tutta la linea di successione alla presidenza. Il sopravvissuto designato, Tom Kirkman, segretario della Casa e dello Sviluppo Urbano – carica decisamente inferiore all'interno del Gabinetto presidenziale – diventa automaticamente il nuovo presidente degli Stati Uniti. Fin da subito, si renderà conto di avere a che fare con una crisi senza precedenti per la politica americana, fatta di sotterfugi, doppiogiochisti e incredibili complotti.
Designated Survivor si serve di un grande attore, forse mai valutato come merita. Di Kiefer Sutherland, infatti, si parla sempre troppo poco: memorabile la sua interpretazione di Jack Bauer, protagonista assoluto di 24, Serie che gli valse anche un Golden Globe come migliore attore protagonista nel 2002.
L'ottimo Sutherland è affiancato da un'altra vecchia conoscenza degli appassionati di serialità televisiva, ossia Natascha McElhone – già co-protagonista della serie Californication – la quale interpretala moglie di Kirkman la quale, in seguito all'attentato, diventa automaticamente First Lady. A completare il quadro una serie di attori presi da altre serie televisive di successo: Maggie Q, nel ruolo di un detective del FBI che indaga sull'attentato al Campidoglio, protagonista di Nikita; Italia Ricci, che interpreta il consigliere speciale del neopresidente, già presente in Chasing Life; e Adan Canto, capo del Gabinetto del presidente, già presente nella prima stagione di The Following.
Senza dimenticare, ovviamente, il doppio ruolo di un altro attore, Kal Penn, il quale nella serie è il portavoce ufficiale del presidente e ricopre anche il ruolo, dietro la macchina da presa, di consulente della produzione, avendo avuto un passato in politica: infatti l'attore americano di origini indiane, che in molti ricorderanno per il ruolo del dottor Lawrence Kutner in House MD, ha fatto parte dell'Office of Public Engagement (letteralmente: "Ufficio per il coinvolgimento pubblico") fortemente voluto dalla prima amministrazione Obama, motivo per cui Penn abbandonò la serie con protagonista Hugh Laurie, per dedicarsi al nuovo impegno.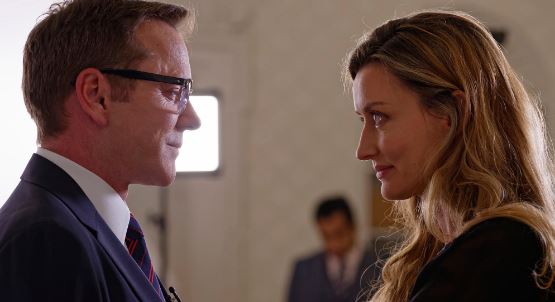 Designated Survivor è una Serie che rende meravigliosamente quella che è la politica americana, soprattutto in un momento così delicato come quello del post-elezioni presidenziali. Come House of Cards e Homeland, Designated Survivor prende fortemente dall'attualità (evidenti rimandi al terrorismo e alla componente razzista, molto forte negli States) partendo da un "nuovo 11 settembre" e creando un dramma pieno di suspense e colpi di scena.