Ha segnato più di una generazione. Diciannove edizioni. 4263 puntate. Ha fatto la storia dell'intrattenimento televisivo americano. Molti di voi avranno già capito di cosa e di chi stiamo parlando: il Late Show with David Letterman, chiamato più comunemente David Letterman Show, che raccolse il testimone dal precedente Late Night with David Letterman. Due programmi caratterizzati dalla presenza di grandi ospiti: attori americani (e non), politici, registi, scrittori, menti geniali e non. Tutti oggetti e soggetti all'occhio del buon David Letterman e, soprattutto, alle sue domande. Il David Letterman Show ci ha regalato momenti epici, a volte anche colpi di scena. È di quelli più famosi che parleremo in questo articolo, ripercorrendo più di due decenni di alta televisione. Quella che segue, a ogni modo, non è una classifica.
1) I doppi sensi con Madonna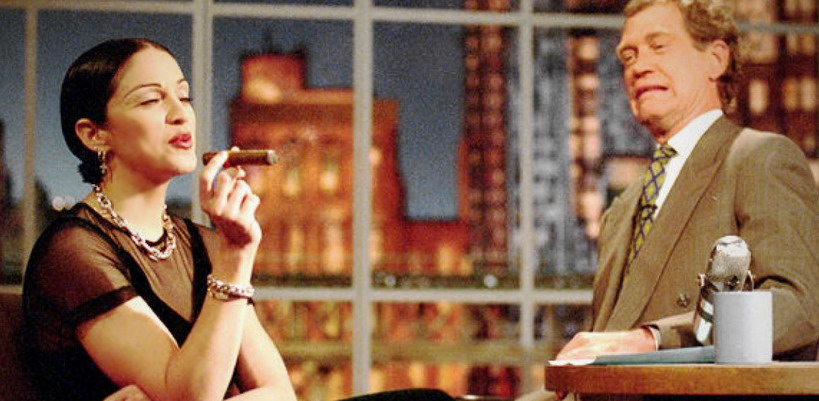 È nel 1994 che David Letterman ospita Madonna e, considerando il personaggio, di certo non era la classica ospitata che gli avrebbe fatto dormire sogni tranquilli. Ma la pop star più trasgressiva degli ultimi decenni ha scelto di andare oltre, mettendo volontariamente il conduttore in difficoltà. A onor del vero, tuttavia, il buon David non se la cavò male. Madonna inizia a provocare dicendo al pubblico: "Gli sto chiedendo di annusare le mie mutandine ma non lo vuole fare", esibendo effettivamente un pezzo di biancheria intima. In seguito, Letterman la provoca chiedendole di baciare un uomo tra il pubblico, ma la cantante rifiuta. Lei si vendica subito dopo quando, accendendosi un sigaro, dà inizio alle 14 f-word che coloreranno l'intervista: "Incidentally, you're a sick f**k", dice rivolgendosi a Letterman. Un momento di evidente imbarazzo è quello in cui la star guarda il microfono sopra di lei e dice: "That microphone is really long", guardando maliziosamente il pubblico.