Interno casa di
Jax e Tara
. Jax è sul divano con indosso una coperta con su scritto Sons of Anarchy
Jax: Taraaa, amore aiutami, ho un terribile crampo al polpaccio. Amore, corri, fa malissimo!
Tara: Jax, Ommioddio sono due ore che sei immobile su quel divano è ovvio che… Aspetta un attimo, perché non mi sembri dolorante? 
Jax: Mi è passato tutto non appena ti ho vista, mia giovane e bellissima moglie. C'è della birra in fresco per il tuo maritino?
Tara: Non ci credo mi hai fatto venire qui solo per chiedermi una birra?
Jax: Assolutamente no amore, pensi sempre male di me. Volevo anche chiederti una cosa importante. 
Tara: Su, sentiamo!
Jax: Che c'è per cena?
*Tara sbuffa alzando gli occhi al cielo*
*Suona il campanello*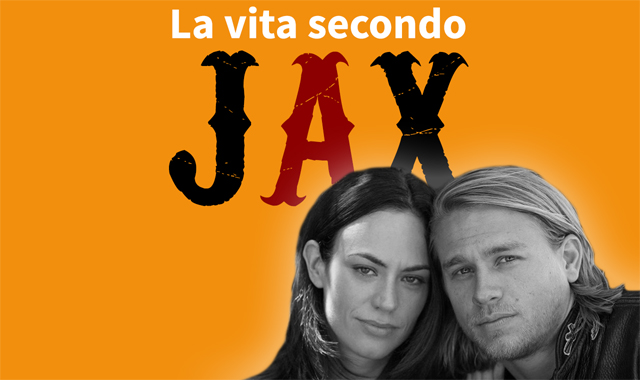 Tara: Jackson puoi andare tu? Io farcisco il tacchino per il Ringraziamento.
Jax: Sì vado io cara, ma non usare il bisturi per aprirlo come l'anno scorso. Il tacchino ha già una fessura da cui puoi passare.
Tara: È deformazione professionale!
*Jax apre la porta ed entra Bobby*
Bobby: Ciao fratello, ho sentito odore di farcitura, Tara sta preparando il tacchino per domani?
Jax: Sì, è in cucina.
Bobby: Sta usando di nuovo il bisturi?
*Tara dall'altra stanza*
Ha Ha, sto già combattendo con un tacchino, non mi servono due galli vicino!
Bobby: Doc, lo so che è deformazione professionale. Come quella volta in cui hai provato a sterilizzare i ferri con cui stavo riparando la mia moto.
Jax: Ha Ha Ha sì, e quella volta che l'abbiamo trovata a estrarre la pallottola dal torace di quell'irlandese che stavamo per seppellire? Quante risate!
Tara: Se avete finito di fare i cretini, mi servirebbe una mano qui! 
Bobby: Cosa facciamo, andiamo ad aiutarla? 
Jax: Di solito quando mi chiede una mano mi fingo morto, lo fanno i camaleonti africani. L'ho visto in un documentario.
Bobby: Adesso guardi anche i documentari? 
Jax: Certo, con chi credi di avere a che fare!
Bobby: Jax ti conosco da anni, non hai mai guardato nulla di educativo.
Jax: Ok ok, hai ragione. L'ho sentito in un cartone che guardavo con Abel. Anche i Sons of Anarchy amano i cartoni!
Bobby: Appunto!
Tara: Allora? C'è qualcuno che vuole venire a darmi una mano? 
Jax
: Noi abbiamo un affare da sistemare immediatamente con i messicani! Chiedi ad Abel di aiutarti tesoro!
Tara: Ma ha cinque anni!
*Jax e Bobby seduti a un tavolo poco dopo*
Bobby: Però non avresti dovuto mentire a tua moglie!
Jax: Non le ho mentito! Le ho detto che avevamo da fare con i messicani e dove siamo?
Bobby: Al Tex Mex vicino casa tua
Jax: E cosa abbiamo tra le mani?
Bobby: Un burrito
Jax: Ed è buono?
Bobby: Da perdere la testa. Ma mi sembra che stiamo divagando qui…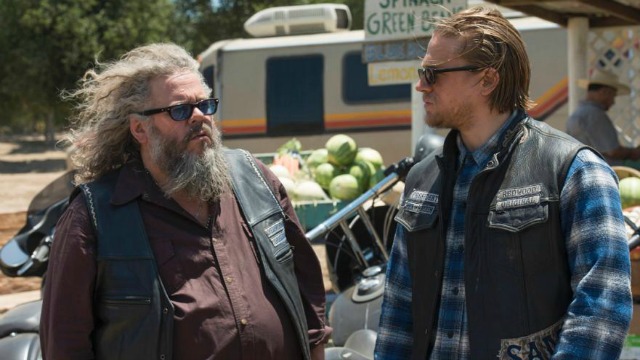 Jax: Ok fratello, hai ragione. Sei sempre stato il più saggio.
Bobby: Lo so, andiamo.
Jax: Va bene. Finiamo il burrito, prendo una porzione di quesadillas e poi andiamo. 
Bobby: Ah, nient'altro Jax?
Jax: Hai ragione, prendiamo anche dei nachos.
Bobby: Ecco, è bello vedere che mi ascolti! 
*Tornati a casa Jax e Bobby entrano in cucina*
Jax: Tesoro, scusaci ma abbiamo fatto fuori due burritos super unti!
Tara: Jax sai che non mi piace quando parli così, è da razzisti!
*Occhiolino di Jax a Bobby*
Bobby: Tara possiamo aiutarti? 
Tara: Sì grazie Bobby. Puoi prendere dal cassetto la tovaglia con la scritta Sons of Anarchy?
Jax: Ci penso io, mia dolce e bellissima consorte!
*Jax apre il cassetto e comincia a rovistare tra le tovaglie mettendole tutte sottosopra*
Tara: Jackson Francis Teller!
Jax: Ma Francis non è il mio secondo nome!
Tara: Ah allora alcune volte mi ascolti! Ti ho spiegato cento volte che basta alzare gli angoli delle tovaglie per trovare quella che cerchi. Lascia stare faccio io. Come sempre. Filate in salone che qui siete solo d'intralcio!
*Bobby e Jax vanno in salone*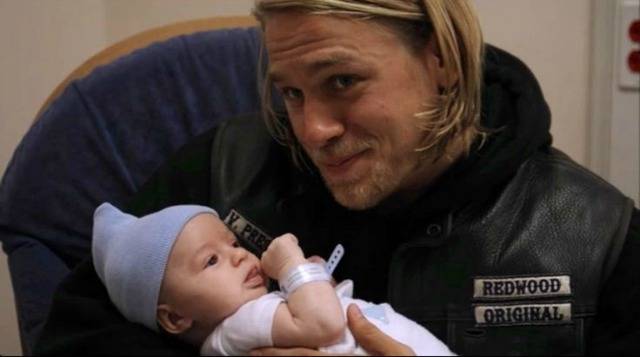 Jax ridacchiando: Vedi fratello, è questo il segreto: farle credere che non so fare nulla così farà tutto da sola.
Bobby: Sei geniale Jax. Davvero un genio del crimine!
Abel: Papà, perché state ridendo?
Jax: Ciao ometto! Stiamo ridendo perché il tuo papà, oltre a essere il capo dei Sons of Anarchy, è un genio e la sua genialità sta nel nasconderlo a tutti! Ma aspetta! Perché hai in mano la bambola di Elsa di Frozen?
Abel: Quelle dei Trasformers che mi hai preso mi fanno paura papà. A me piace Elsa!
Jax: Non ci credo. Non posso credere a quello che sto sentendo. A mio figlio, il mio orgoglio più grande, piace Elsa di Frozen?
Bobby: Abel, hai toccato un tasto molto dolente. Jax, non credi sia meglio affrontare questo discorso un'altra volta?
Jax: No. Questo discorso va affrontato ora. TARA! TARA! SMETTILA DI DIVERTIRTI CON LE TUE STOVIGLIE DA LAVARE E VIENI IMMEDIATAMENTE QUI!
Tara: Jax, che succede? Perché urli?
Jax: Tara, tu sapevi che a nostro figlio piace Elsa di Frozen?
Tara: Sì, certo. Quella bambola gliel'ho comprata io! 
Jax: Certo, e ora tocca a me fare il cattivo! Abel, vieni qui, in braccio a papà. Ascoltami. Elsa non va bene per te. Lei si allontana dalla sua famiglia invece di chiedere aiuto. Invece di trovare una soluzione ai suoi problemi con sua sorella. Ti comprerò la bambola di Anna. Lei lotta per le persone che ama, lei sì che è un esempio da seguire. Un esempio di…
Bobby: Un esempio di coraggio e lealtà, sì Jax. Lo sappiamo. Lo hai ripetuto per mezz'ora dopo la fine del film.
Tara: Andiamo Abel. Andiamo prima che tuo padre ricominci a cantare il tema di Frozen. Se ti piace Elsa, gioca con Elsa.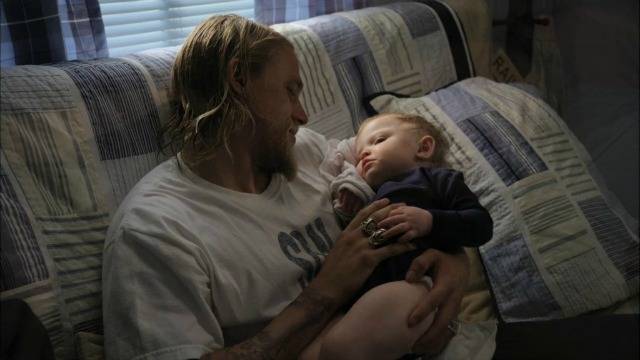 Jax: Giammai! Un vero membro dei Sons of Anarchy non fugge davanti ai problemi, non fa come Elsa, ma come Anna. 
Tara: Eccolo che ricomincia. Andiamo Abel.
Bobby: Jax, non ti sembra di aver esagerato con la tua crociata contro Elsa? 
Jax: Certo che no, fratello. Quando a carnevale Abel vorrà vestirsi come un personaggio di Frozen non potrò tollerare che sia Elsa. Anna sarebbe perfetta. Oppure Olaf. Olaf è adorabile. 
Bobby: No quello di Olaf è il mio costume! Ho già chiesto a Chucky di cucirmelo!
Jax: E come fa? Senza le mani intendo…
Bobby: È bravissimo a cucire! Usa la bocca, dovresti vederlo!
Jax: Preferisco evitare, grazie.
*Squilla il telefono di Jax*
Jax: Pronto? Davvero? Siete disposti a incontrarli? Benissimo. Organizzo tutto io, ci vediamo a casa mia per il pranzo del ringraziamento. No, no non dovete portare nulla figuratevi. Cucina mia moglie. Va bene, a domenica allora.
Bobby: Jax, gli irlandesi sono pronti a incontrare i messicani? 
Jax: Sì, verranno qui per pranzo domenica. È perfetto, i bambini saranno da Wendy.
Tara: Ho sentito bene, Jax? 
Jax: Sì tesoro ascolta, sarà un pranzo importante per i Sons of Anarchy e tu sei ufficialmente il nostro Angelo del Ringraziamento.
Tara: Ok, preparerò un altro tacchino. Ma te lo dico, amore, se finisce in un bagno di sangue anche questa volta io non pulisco!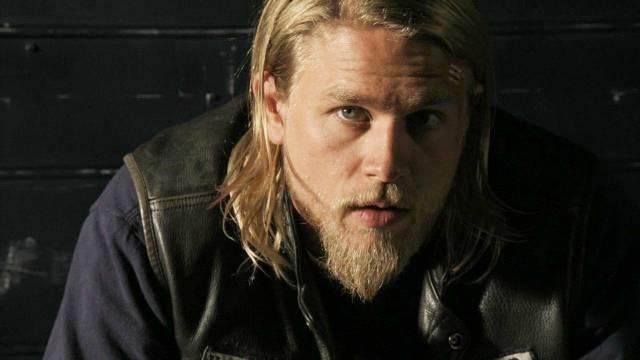 Jax: Non succederà tranquilla. 
Tara: Certo, me l'hai detto anche l'altra volta e ancora trovo denti sparsi per la casa! 
Jax: Allora più che l'Angelo del ringraziamento sei la Fatina dei denti!
Tara: Giuro che mi fai venire voglia di colpirmi alla testa con questo forchettone quando fai così!