C'era una volta, da qualche parte in California, un giovane principe chiamato Jax Teller, erede al trono del piccolo regno dei Sons of Anarchy. La libertà era il loro stile di vita e in nome di essa conducevano la propria esistenza oltre i limiti della legalità.
I SAMCRO vivevano di leggi proprie non da tutti condivisibili forse, ma tutti all'interno del regno avevano inciso a fuoco nella propria anima quel codice d'onore, e ognuno era tenuto a rispettarlo.
Il re e la regina controllavano ogni cosa e si assicuravano che tutto funzionasse a modo loro, a partire dal giovane principe.
Jax Teller fin dalla nascita era stato destinato a quel mondo, e in esso era sprofondato senza alcun desiderio di sfuggirne. Poi conobbe Tara Knowles.
La storia di Jax e Tara inizia molto prima della vicenda che ci è stata mostrata nella prima stagione di Sons of Anarchy. Quando si conobbero erano ragazzi e il peso del mondo ancora non gravava sulle loro spalle.
Si innamorarono con il coraggio di due adolescenti che del futuro ancora non sanno niente. Amori del genere non si dimenticano: te li porti dentro ovunque cerchi di fuggire, ti penetrano nelle ossa e ti posseggono a tal punto che prima o poi, volente o nolente, dovrai tornare a farci i conti.
Tara nel tempo riuscì però a scorgere alle spalle del ragazzo che amava il demone che ne avrebbe segnato l'inevitabile destino, e semplicemente tentò di ascoltare quella voce che le sussurrava all'orecchio di fuggire il più lontano possibile se non voleva finire male.
E così fece. Ma da una maledizione non ci si libera tanto facilmente, e l'angelo della morte aveva già scritto la propria storia.
Fin dalla prima stagione ci ritroviamo a comprendere nelle azioni più semplici dei due personaggi il loro significato più profondo. Tara salverà Abel riportandolo alla vita e riportando a suo padre una speranza che non credeva di avere. Allo stesso modo Jax salverà la vita di Tara, ma condannando se stesso e la donna che ama a una vita segnata inevitabilmente dalla morte.
Jax Teller non era come i Sons of Anarchy, ne faceva parte, certo, ma sopra di lui aleggiava lo spettro di un padre che in un qualche modo cercava di guidarlo verso un mondo di pace. Uccidendo il federale che minacciava la vita della sua donna, però, compie il primo vero grande gesto che lo avrebbe condotto inevitabilmente verso le tenebre.
Diversamente, Tara è un'anima pura, è l'unica davvero in grado di strappare Jax dal mondo dei Sons of Anarchy, l'unica in grado di realizzare la speranza di JT che suo figlio avesse un futuro migliore del suo. E Jax ne è consapevole. In un qualche modo si aggrappa a Tara, le mostra i demoni più oscuri annidati nella propria anima sperando, e pregando, che gli restasse accanto. E Tara smette di fuggire.
Non c'era mai stato dubbio alcuno nel cuore di Jax: Tara era l'unica donna, a prescindere da sua madre, dalla lontananza, dal suo mondo e da tutto il resto. E Tara sapeva che per quell'uomo avrebbe fatto qualunque cosa, sarebbe andata dritta all'Inferno solo per drogarsi ancora una volta di lui se fosse stato necessario.
Ed è così che varcò le porte del suo personale Inferno.
Accecati dall'amore non si erano resi conto che inoltrandosi in quel bosco avrebbero perso inevitabilmente ogni speranza di salvezza, illusi da un'ombra di felicità che oscurava le terribili conseguenze del loro destino.
La brava ragazza si innamorò di un bravo ragazzo, nato in un mondo sbagliato.
Come nelle più tipiche tragedie del Bardo, tutto sembra perfetto in principio, e noi scorgiamo all'orizzonte un lieto fine che sembra farsi sempre più reale. Il percorso è assolutamente perfetto fino alla fine della quarta stagione.
Il principe cresce, scopre lentamente i segreti che si celano dietro alla morte del proprio padre, e davanti a lui sempre più concretamente si realizza la speranza non solo di vendicarlo ma anche di compiere le sue ultime volontà.
Jax Teller trova in Tara la motivazione e la forza per strappare il suo club, il suo piccolo regno, dalle grinfie di un usurpatore che ha ormai perso ogni scrupolo. Il cammino verso la legalità sembra sempre più possibile, e per quanto il percorso sia arduo, vede una meta davanti a sé, e nello sguardo della donna che ama vede quanto tutto questo debba essere realizzato.
Con lei lentamente costruisce la propria famiglia, una stella che illumina la notte più oscura. Ma il Club è fatto di sabbie mobili, da cui più cerchi di sfuggire più vieni tirato nell'abisso (dovreste leggere questo per capire). Jax aveva già visto quel destino compiersi: l'aveva visto nella disperazione del suo migliore amico che teneva esanime il corpo della sua donna, e ne aveva visto l'inevitabile catarsi nello sguardo privo di luce con cui Opie gli dà il suo ultimo saluto.
Jax Teller sapeva a cosa avrebbero portato le sue scelte, sapeva che restando incatenato al Club avrebbe maldetto tutto ciò che amava. Tuttavia sordo a quell'appello, continua a vivere dell'illusione di essere diverso, di non essere come tutti gli altri.
Ma a volte è davvero troppo tardi per fare la cosa giusta.
Gemma li aveva allontanati fin dal principio: lei non voleva Tara e Jax insieme perché sapeva che quella donna aveva il potere di portarle via suo figlio. Vedeva in Tara quella forza pari alla sua ma opposta nelle intenzioni. Esattamente come Gemma, Tara è disposta a tutto per i suoi figli, è pronta a sacrificare anche se stessa se questo vuol dire salvarli dal destino del padre.
Tara non avrebbe fatto lo stesso errore di Gemma: avrebbe strappato via i suoi figli dal male di quel mondo a ogni costo, consapevole che quel costo sarebbe stata la sua stessa vita. Ed è questo il momento in cui Jax Teller torna a essere diverso, torna a vedere in Tara il giusto che ormai stava dimenticando.
Ma Gemma non può permettere che il suo mondo venga capovolto, non è pronta a lasciare le redini della sua famiglia a un'altra leonessa. Gemma è l'amore di madre cieco incapace ormai di vedere l'errore che aveva costruito intorno a sé, mentre Tara custodisce ancora quell'innocenza di un mondo non accecato dalla violenza e dal sangue.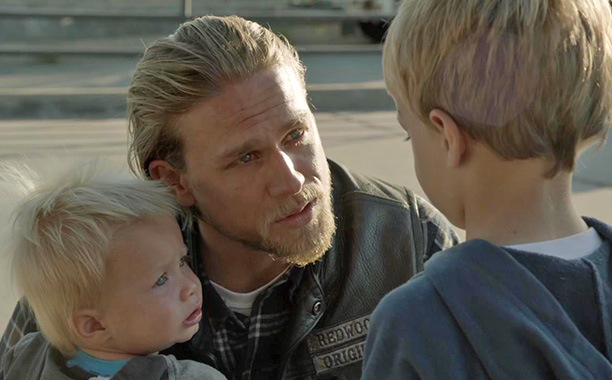 Figlie di due mondi diversi, saranno entrambe vittime del loro stesso amore.
Gemma non sa che uccidendo Tara uccide il suo stesso figlio. Jax perde l'ultima goccia di purezza della sua anima, perde se stesso, perde la stella polare in grado di guidarlo nelle tenebre. Morendo Tara, muore anche Jax e la sua sorte è segnata fin da quel primo momento disteso nella sua cucina, mentre tiene tra le braccia l'amore della sua vita.
L'ultima stagione è solo una lunga agonia verso l'inevitabile fine (di cui vi abbiamo raccontato qui).
La vendetta accecò Amleto, facendo sì che distruggesse tutto ciò che di più caro avesse in nome di un piacere effimero di cui non avrebbe mai goduto. Così Jax Teller persegue la sua vendetta che gli esplode tra le mani rendendosi conto che l'unica vendetta doveva essere contro se stesso.
Tuttavia Tara era davvero stata capace di portare la luce nella vita di Jax.
Improvvisamente ogni risposta appare nitida nella mente del nostro principe divenuto Re. Ogni cosa va esattamente al proprio posto e per amore di Tara compie la sua ultima volontà. Jax Teller salverà i loro bambini permettendogli un futuro in mondo privo di tenebre, e in un qualche modo permetterà a quell'amore maledetto di avere un lieto fine.
Jax Teller torna laddove i suoi sbagli sono stati segregati, si abbandona a una morte che gli permetterà alla fine di raggiungere la sua luce, la sua stella, il suo amore immortale.